(Publicado en Soy Country, 1-5-10)
Rebelde con causa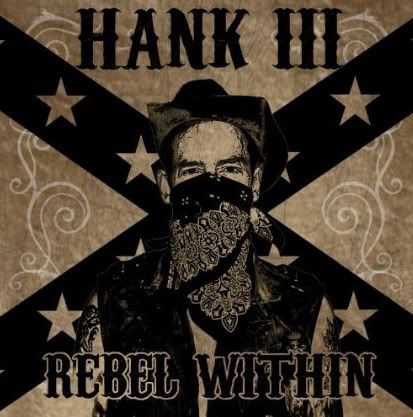 El 25 de mayo sale a la venta en Estados Unidos "Rebel Whitin´", el nuevo disco de uno de los artistas más extremos, irreverentes, originales, rebeldes y, sin embargo, escrupulosamente fieles a la tradición musical country que podamos encontrar:
Hank III
.
'Country music' sin concesiones, con trazas de punk rock y alma genuinamente hillbilly. Hank III te puede gustar, te puede horrorizar, pero no te dejará indiferente.



Se ha llegado a afirmar que si Hank III no tuviera el apellido Williams, no sería nadie. Obviamente el apellido abre puertas, pero conocemos a muchos familiares de artistas con escaso talento que no han llegado a nada. En su misma familia hay varios ejemplos (y no me refiero precisamente a Hank Jr.). Sin embargo Shelton Hank, ha conseguido ser él mismo sin renunciar a la legítima herencia que le corresponde.


Ya
hemos hablado de la campaña
en la que participa para reinstaurar honoríficamente a su abuelo Hank en el
Grand Ole Opry
. Una causa justa que despierta nuestra simpatía y solidaridad. No se puede manosear la memoria de nuestras leyendas para justificar una falsa continuidad y al mismo tiempo ignorar su legado musical.
Con este disco Hank III se libera definitivamente de
Curb Records.
Una relación malsana que le ha traido por la calle de la amargura y que estuvo a punto de dejarle en la ruina. En su opinión este disco no cree que supere a
"Straight To Hell"
, pero sinceramente cree que es un buen disco con canciones más country como 'Drinkin' Ain´t Hard To Do', más toque Assjack con 'Rebel Whitin' o con mensaje como '#5' dedicada a un amigo enganchado en la heroína.
Hemos hecho una batida en YouTube para incoporar a este post temas del nuevo disco interpretados por Shelton en directo en los últimos meses y hemos encontrado 6 temas. Tres de ellos con buena calidad, que son los que mostramos y los otros tres están enlazados.
01. Gettin' Drunk and Fallin' Down
02. Rebel Within

03.
Lookin' For A Mountain

04. Gone But Not Forgotten
05.
Drinkin' Aint Hard To Do
06. Moonshiner's Life
07. #5
08. Karmageddon
09.
Lost In Oklahoma
11. Tore Up And Loud

12. Drinkin' Over Momma
Por cierto que, estos días, Hank III anda subastando en
ebay
unas jugs, o jarras de licor artesanales de los Apalaches, con su nombre. Las 50 jarras de la colección Hank III las ha realizado el artesano
Clete Meaders
y están numeradas y firmadas por ambos, Clete y Hank III, que pretenden rescatar esta forma ancestral de alfarería. Supongo que con una de estas jarras es más fácil cantar eso de 'Gettin' Drunk and Fallin' Down'
Fuente:
Saving Country Music