14-15-16 Septiembre. Pineda del Mar, Barcelona
El evento country más importante del año viene para quedarse
Dave Jorgeson, Shawn Allen y Patrick Glenn, desde Texas a Pineda
Catalunya country: The Steel Horse Band y Back To Texas
Entrevista exclusiva a la organización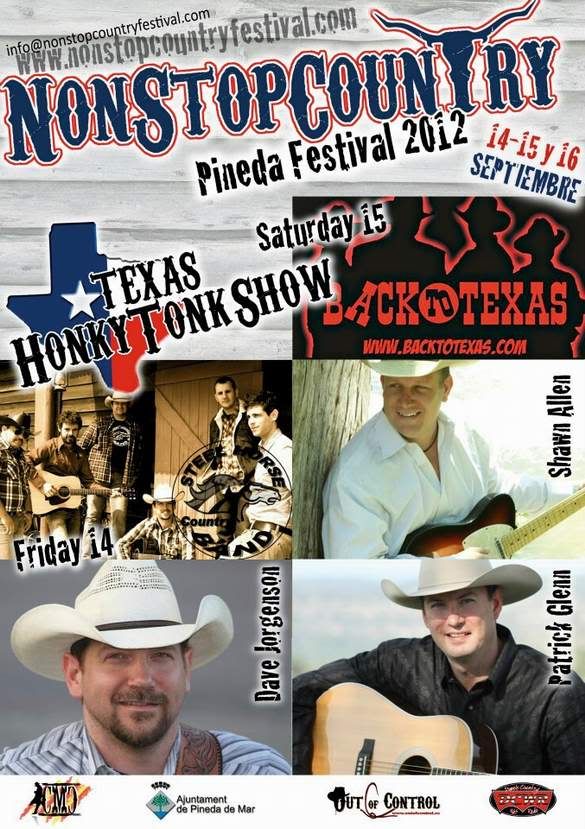 Comenzamos esta andadura de escountry.com hace un par de años con un artículo titulado "Festival de Música country de CatalunYA!" en el que intentabamos concienciar a todos los aficionados country sobre la imperiosa necesidad de unir fuerzas para dar a luz a un festival de música country en Catalunya y es justo que, a modo de cierre de una etapa para nuestra web, dediquemos un nuevo artículo a este mismo sueño, afortunadamente ya hecho realidad.
Gracias a la decisiva influencia de la ACPM, asociación catalana dedicada a la promoción de la música country y su base operativa de Country Music Catalunya, este gran festival se celebra este mismo fin de semana en Pineda del Mar con un cartel fantástico tanto en música como en baile, dadas las lógicas limitaciones presupuestarias a las que tiene que hacer frente un primer festival de estas características.
NonStopCountry no es una fiesta más. Es un evento de 3 días multidisciplinar con cantidad de actos para todos los gustos pensados para satisfacer a la mayoría de los aficionados catalanes y españoles a la cultura country. Estoy convencido de que, hoy por hoy, un evento como este no se podría organizar mejor. Porque el nivel con el que se lanza el festival es absolutamente profesional, a la altura de cualquier festival country internacional europeo de calidad, con una potente base musical con tres artistas americanos, los dos grupos catalanes mas destacados dispuestos a darlo todo sobre el escenario y los mejores profesores y bailarines mediterráneos. Realmente notable y excepcional para ser una primera edición. Un festival a precios populares que no se puede perder ningún aficionado catalán a la música country.