(Publicado en Soy Country, 10-10-10)
La faceta más comercial de Johnny Cash
Por Hanny Haakman
Victoria Station
(1975)
Victoria Station
era una cadena de restaurantes temáticos creada por tres amigos, graduados en la Cornell Hotel School. Inspirado por la famosa estación londinense utilizaron cabinas telefónicas de un rojo brillante, taxis ingleses, recuerdos de trenes históricos y auténticos vagones de transporte de ganado (Boxcars) que convirtieron en coches restaurante, creando un ambiente cálido y divertido. El primer restaurante fue abierto en San Francisco en 1969. El éxito era instantáneo y el proyecto se convirtió en una cadena.
Tom Blake, manager y director del departamento de marketing recuerda lo siguiente:
"Nuestra nueva agencia de publicidad, Pritikin and Gibbons, nos dijo que nos convendría un portavoz para la compañía, alguien conocido a nivel nacional en todas las ciudades donde teníamos restaurantes o donde pensábamos abrir nuevos. Jerry Gibbons dijo que tenía que ser alguien identificable con el tema trenes y nos sugería contratar a Johnny Cash para cantar nuestros anuncios por su amor hacia los trenes y sus canciones sobre ellos. Al dejar las oficinas de la agencia Dick Bradley, el presidente de nuestra compañía me dijo: 'Consíguelo, no importa lo que cueste'.
Pasaron 4 meses y me presionaron para conseguir a Johnny, pero siempre estaba de gira y no quiso firmar nada ni dejarnos usar su nombre sin haber visto uno de nuestros restaurantes. Por fin lo conseguí y estuve esperando a Johnny y June en su hotel. En unos momentos una limusina nos llevaría a nuestro restaurante al norte del aeropuerto, aquí en Miami, Johnny, June, su manager Lou Robin y yo entraríamos para una visita y luego la limo nos llevaría al Miami Beach Convention Center donde tenían que dar dos conciertos esa noche. Después la limo les llevaría a su hotel y esperaba, entonces, poder cerrar el trato. Emil, el chofer, un cubano, (había solicitado el mejor chófer de la flota) llevaba ya 45 minutos conduciendo. En el poco español que sé le pregunté cuánto hacía que está en la empresa. En lugar de recibir una contestación de "unos 10 años" me comunica que hace 3 semanas que ha llegado de Cuba y que hacía dos días que ejercía de chófer. Cuando dijo que no sabía dónde estaba el Convention Center quise morirme. Desde su asiento June dijo: 'Tom, parece que nos hemos perdido, tendremos que ir directamente al Convention Center'.
No pudimos visitar Victoria Station, Yo estaba desesperado. Pero conseguimos que Johnny, June, Johnny Jr (supongo que se refiere a John Carter) y Rosey Nix, la hija de June visitaran nuestro restaurante al día siguiente y firmamos con Johnny para hacer nuestros anuncios. Durante los siguientes dos años y como parte de mi trabajo, viajaba a menudo con Johnny y June y asistí a unos 25 de sus conciertos".
A raíz de este compromiso, Johnny Cash escribió la canción "Destination Victoria Station" para la cadena, (aunque un año más tarde Lionel Trains diría que la escribió para ellos). La canción ha sido incluido en el álbum del mismo título para el que Cash regrabó muchas de sus viejas canciones de trenes, como "Hey Porter", "Casey Jones", "Waitin' For a Train" y "Wreck of the Ol' 97" y como canción nueva (aparte de la que da el título) "John Henry". En adición a las canciones regrabadas también regrabó su voz en "Wabash Cannonball" y "Orange Blossom Special", manteniendo en ambas la música original.
"Destination Victoria Station" (NOTA: subido por nuestro amigo Fernando Gil de
Rock, Blues, Country, Clásicos
desde Buenos Aires, Argentina):
El álbum se ofrecía como un CBS Special Product y solo podía ser comprado en restaurantes Victoria Station, lo que probablemente habrá convertido el álbum en rareza para coleccionstas.

Actualmente ya solo queda Victoria Station Restaurant en Salem y alguna franquicia en Asia y Oceanía.
Lionel Trains
(1976)
A veces lo impensable ocurre y 1967 fue el año de la quiebra de la Lionel Corporation. En 1969 la compañía vendió las matrices y demás herramientas para la fabricación de sus productos a General Mills autorizando el uso de la marca. General Mills dio a Lionel categoría de una división de su filial Model Products Corporation. Sin embargo, General Mills no compró la compañía y la marca pertenece a Lionel LCC hasta nuestros días.
La tendencia fue pensar que el nombre de Lionel era mágico y que pasados éxitos y méritos ayudarían a notables cifras de venta de trenes de juguete. James Fenley, Vicepresidente a cargo de Producción y Operaciones propuso entrar en contacto con celebridades y corporaciones de renombre para promocionar. Le hicieron caso y los trenes Lionel fueron llevados y promocionados por corporaciones como Sears Roebuck, True Value Hardware o J.C. Penney Company. Una estrella famosa del country/western, Johnny Cash, fue contratado para hacer y promocionar un álbum con canciones sobre trenes, lo que llevó a "Destination Victoria Station", un álbum que hoy es considerado "Collector's Item". Ya avisé sobre esto. Supongo que se las habrán arreglado entre ellos sobre quién inspiró el álbum.
Recurrieron a Johnny Cash por su cariño hacia los trenes y todo lo relacionado con lo ferroviario, tal como ilustra la siguiente noticia:
Johnny Cash Salva la estación de la demolición


(Si visitas la página original -sólo tienes que clicar en la foto de aquí abajo, cuando llegues clicka en la primera diapo y se abrirá
con una breve explicación
, pasa el ratón por la parte superior derecha de las "diapos" y se abrirán sucesivamente )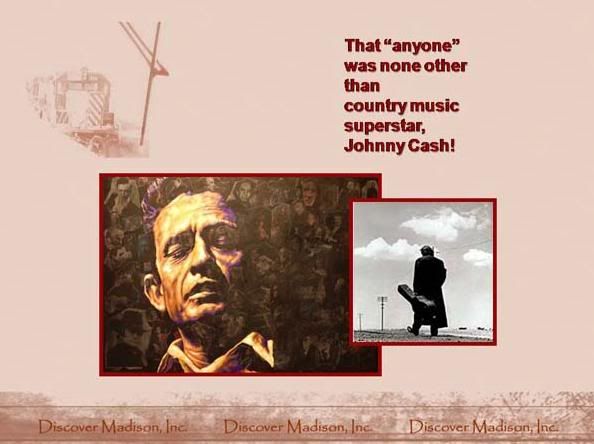 En 1850 Kentucky obtuvo los derechos para construir y operar una línea ferroviaria de Louisville a la línea estatal en dirección Nashville y en 1952 la Asamblea General de Tennessee autorizó a las ferroviarias de Edgefield y Kentucky construir una vía que conectaba Bowling Green con Clarksville. Había nacido la Louisville/Nashville, la L&N.
Construida en 1910, la estación Amqui había sido el punto central de la comunidad de Madison durante muchas décadas. En los días de máximo tráfico ferroviario pasaban por allí de 40 a 50 trenes. Sin embargo, en la segunda mitad del siglo pasado La L&N dejó de pasar por allí. Después de años de servicio el depósito mostraba un estado deplorable y tuvo fecha para ser demolido. El sistema ferroviario lo ofreció a cualquiera que estaba dispuesto financiar el traslado. Johnny Cash, gran amante de los trenes, se ofreció y se quedó con el depósito en 1979 pagando $25.000,-- para el traslado, un importe importante en aquella época. Lo hizo trasladar a su propiedad en Hendersonville colocándolo junto a The House Of Cash desde donde llevaba sus asuntos. Lo restauró y expuso allí su colección de curiosidades ferroviarias y la colección de antigüedades de June.
A la muerte de Johnny Cash, en el 2003, la empresa Halo Properties compró el edificio y lo devolvió a la ciudad de Madison en 2006. Fue colocado cerca de su lugar original para ser revitalizado como museo o centro de vistantes.
La nueva estación y Centro de visitantes Amqui ofrecerá características que honran el pasado y ofrecerá instalaciones para la comunidad de Madison actual. Incluirá un museo que explorará la conexión entre vías ferrocarriles y música Americana. Una sección del museo pondrá de relieve el legado de Johnny Cash y June Carter Cash, que han tenido un gran impacto sobre la industria de la música, en Tennessee y en la comunidad de Madison.
Promoción oficial Album "A Believer Sings The Truth" (1979):
CBS Promo Johnny CASH Christmas special + Jack Lemmon Birthday (1980):
Bulova (1982) :
A las 2,29 del mediodía del 1 de Julio de 1941 en New York City, NBC, filial de WNBT transmitió un anuncio de 10 segundos antes de la transmisión de un partido de beisbol entre los Brooklyn Dodgers yLos Philadelphia Phillies mostrando un reloj Bulova puesto sobre un mapa de los Estados Unidos, al tiempo que se oía una voz pronunciando el eslogan de la compañía "America runs on Bulova time!".
El anuncio de Bulova era el primer anuncio legal en televisión del mundo y costó a la compañía Bulova Watch el escandaloso precio de……$9,00. En el Reino Unido el primer anuncio no saldría hasta el 21 de Septiembre de 1955 en la ITV y era del dentífrico Gibbs S.R: Toothpaste.
Johnny Cash prestó su imagen pra la campaña de Bulova que presentaba las caras de 1983, famosos del momento como la actriz Morgan Fairchild, el líder de The Who -Roger Daltrey- o el exboxeador Muhamad Ali que protagonizaba el "gag" del spot:

Canadian Trust (1985):
Mr. Alexander Morley es el Vice presidente del dep. de cajeros automáticos del Banco TD (Toronto Dominion) que en 1978 instaló sus primeros cajeros automáticos. 5 años más tarde, en 1983, Canada Trust instaló cajeros automáticos también, en Ontario, que fueron bautizados y conocidos como los "Johnny Cash Money Machines", o también "Johnny Cash 24Hours Money Machine". Mr Morley recoge curiosidades de estas máquinas y sus anécdotas desde los primeros días.
Recuerda que la primera que vio en Toronto le pareció el mejor juguete que había visto nunca y rápidamente abrió una cuenta en TD en la que no podía ingresar dinero pues su trabajo a media jornada de entonces no se lo permitía. Recuerda también estar muy impresionado por las máquinas Johnny Cash que Canada Trust introdujo en 1983 con la ayuda de una campaña de marketing implicando al cantante -tenían incl. una imagen del cantante en cartón y a tamaño real puesta de pie-).
Más adelante TD adquirió Canada Trust y cambió el aspecto de las Johnny Cash machines convirtiéndolas en verde. Con el tiempo dejaron de llamarse Johnny Cash Machines y pasaron a llamarse Green Machines o ATM's (Automatic Teller Machines). Mr. Morley todavía explica una anécdota más sobre las ABM (Automatic Banking Machines):
"Cuando era joven, iba a la Universidad de Kinston y tomaba un camino mucho más largo que necesario para llegar a una oficina de Canada Trust, solo por "The Johnny Cash Thing". Pensé que era muy "gu
ay".
Es conocido el hecho que Cash propuso matrimonio a June en un escenario de London, Ontario y que June tardó mucho rato en contestar. Cuando en 1991 actuaron en la Western Fair en London, Ontario, ante unas 10.000 personas, Johnny y June bromeaban sobre la asociación de Cash con Canada Trust a través de sus Johnny Cash machines (otra conexión con London). Cash dijo:
"Se supone que diga 'I'm Johnny Cash, tu Money machine las 24 horas'.
Esta vez June tenía su respuesta preparada:
"Espero que funcione para tí. A mí me vale"
.
1º anuncio (sonido un tanto deficiente):
('Life's too short to walk the line'):
(Life's too short to walk the line):
Chice Hotels (1991):
Choice Hotels es una cadena hotelera norteamericana con estableciemientos en otras partes del mundo como Latinoamérica y Europa. Su publicidad basada en famosos como Sonny Bono, Tip O´Neil o Vnna White, en 1991 contaba con una cara famosa, Don Adams el popular Superagente 86 de la serie de los 60:
A finales de ese mismo año
Del dario The Baltimore SUN por Michael Pollick (6 nov. 1991):
"El lunes El Rock and Roll Hall of Fame anunció que el cantante Johnny Cash será el nuevo miembro para el año 1992. Pero la auténtica señal de que Mr. Cash ha sido inmortalizado llegó ayer, cuando filmó tres anuncios de maletas para Choice Hotel International. Al fin y al cabo, el Rock Hall of Fame planeado para Cleveland con un coste de $65 millones no estará acabado hasta 1994, pero la cadena hotelera de Silver Spring, que trabaja con la agencia de publicidad de Baltimore Gray Kirk/Van Sant, ha gastado $52 millones en los caprichosos anuncios de maletas."
Cuentan la historia aquí e incluyen el spot publicitario siguiendo la divertida idea de salir mágicamente del equipaje:
La cantante LeAnn Rimes ha grabado recientemente una versión del éxito de 1962 de Hank Snow 'I've Been Everywhere'. Choice Hotels sigue ofreciendo los anuncios con la versión de Johnny Cash desde el año 2005.
Taco Bell(1992):
Taco Bell es unacimportante cadena americana de fast food conocida por sus tacos, plato típico mexicano. Pero en este anuncio se querían desmarcar del Taco e incorporar nuevos platos. Por eso Johnny Cash cantaba que en ningún otro sitio tenían más opciones por menos "cash" (dinero).
Willie Nelson, otro Highwayman también fue la imagen de Taco Bell:
Incluso Little Richard hizo otro divertido spot para la marca de fast food anunciando el pollo (o montándolo) rodado en el National Joshua Tree, con la compañía de Howie Mandell:
En referencia a la imagen publicitaria de Johnny Cash el periódico The Chicago Tribune escribió:
"La legendaria estrella de country and western, Johnny Cash, sabe bien cómo hacer para ganarse a sus clientes. The Man in Black, que en principio de los 1970's había aceptado la tarea de ser el portavoz de Amoco Oil Co., ahora aparece como la voz de Taco Bell. Su primer anuncio de 30 segundos para PepsiCo Inc. aparecerá el domingo por la noche en la cadena Fox TV. Si la tarea de impactar sobre los consumidores le sale la mitad de bien que con Amoco, Taco Bell habrá hecho un buen trato. Una investigación casi una década más tarde ha dado como resultado que los consumidores aún identificaban al cantante con el gigante del petróleo".
Sin duda la imagen de Johnny Cash se imprimía con fuerza en la retina y en la mente de los consumidores norteamericanos. Por eso, grandes compañías confiaban en él, y lo siguieron haciendo en los años posteriores.
Levi´s 501 (1993):
Anuncio del modelo estrella de Levi´s, el 501 con bragueta de botones. Filmado en Monument Valley. No estoy segura, pero a mí me parece que el vaquero de pelo plateado que da la bienvenido al jinete es Sam Elliott, al menos se le parece mucho, pero no encuentro datos.