(Publicado en Soy Country, 5-8-10)
El nuevo filme de Robert Duvall y Sissy Spacek junto a Bill Murray
La película
"Get Low" es otra de las gratas sorpresas que nos depara 2010, junto con "Crazy Heart". Este filme dirigido por Aaron Schneider, y escrito por Chris Provenzano y C. Gaby Mitchell, tiene como estrella indiscutible a un viejo conocido del blog que también intervino en "Crazy Heart": Robert Duvall. Junto a este actorazo, Sissy Spacek, ganadora de un Oscar por su papel en "The Coal Miner´s Daughter" (1983), el biotopic de la cantante country Loretta Lynn. Además, el histriónico y gran Bill Murray completa este tandem de lujo junto a actores como el joven Lucas Black, Gerald McRaney, Bill Cobbs, Andrea Powell, Rebecca Grant, Scott Cooper, y Chandler Riggs.
La película se proyectó por primera vez en el festival Internacional de Toronto y es distribuida por Sony Pictures Classics en Estados Unidos donde se estrenó a finales de Julio.
El argumento es muy sencillo. Nadie entiende a Felix Bush (Robert Duvall) que vive como un ermitaño en las profundidades del bosque. Corren rumores sobre él, como que debe haber matado a alguien a sangre fría o que ha hecho un pacto con el diablo. Así que la ciudad entera se sorprende cuando Felix aparece por allí solicitando un "funeral en vida" por sí mismo. Frank Quinn (Bill Murray), el dueño de la funeraria ve la oportunidad de hacer dinero y accede. Las cosas se complican cuando el protegido de Quinn, Buddy Robinson (Lucas Black) revive un antiguo misterio que tiene que ver con una viuda local llamada Mattie Darrow (Sissy Spacek). Cuando se celebra el funeral de Felix, este revela a los vecinos porque ha estado sólo en los bosques tantos años.
La Banda Sonora Original
El 27 de julio Ronder Records editó la banda sonora de la película.
El filme contiene nuevo material grabado especialmente para él por Alison Krauss (su primera canción desde 'A Hundred Miles or More' en 2007) o The Steel Drivers, que más tarde aparecen en la película. Los Steel Drivers editarán su segundo álbum Reckless precisamente con Rounder el 14 de septiembre.
Jan A.P. Kaczmarek, ganador de un Oscar, y el dobrista Jerry Douglas (poseedor de 12 premios Grammy) escribieron las pistas, mientras que el resto de las piezas son material vintage interpretados por The Ink Spots, Gene Austin, Paul Whiteman y Bix Beiderbecke.
Get Low Track Listing:

01. Lay My Burden Down – Alison Krauss
02. If I Didn't Care – The Ink Spots
03. Jesus Come For Me – The SteelDrivers
04. Sitting Mule/Drive to Town ‐ Score – Jerry Douglas
05. Drive to Town for Clothes ‐ Score – Jerry Douglas and Stuart Duncan
06. No Haircut ‐ Score – Jerry Douglas
07. Farewell Blues – Paul Whiteman
08. Monkey Bay – Jerry Douglas, Edgar Meyer & Russ Barenberg
09. Whiskey Before Breakfast – The SteelDrivers
10. East Virginia Fast – The SteelDrivers
11. North ‐ Score – Jerry Douglas
12. Bush Shows Maddie Around ‐ Score
13. Angelina Baker – The SteelDrivers
14. The Mystery of Felix ‐ Score
15. I'm Looking Over A Four Leaf Clover ‐ Bix Beiderbecke (aka Billy Murray & Jean Goldkette Orchestra)
16. My Blue Heaven – Gene Austin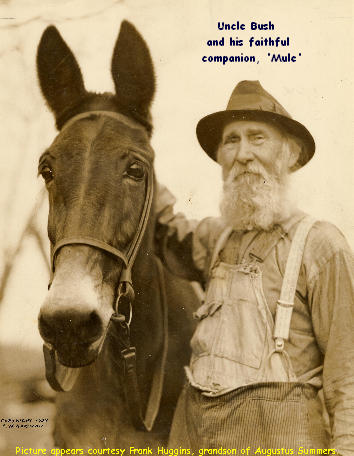 La historia real
La película "Get Low" está basada en una historia auténtica que ocurrió en el condado de Roane, en Tennessee. El auténtico Felix Bush Breazeale, Tío Bush Breazeale, vivía en Kingston Tennessee en los años 30. Era famoso por sus modales agrestes y poco convencionales. Durante años, Felix vivió completamente solo en el bosque, rehusando la compañía de todos salvo la de su mula. La película, en este caso, busca posibles explicaciones a este comportamiento y al hecho de querer celebrar este funeral en vida el 26 de junio de 1938.
La idea caló a nivel popular. El poder de la prensa pronto expandió la noticia a escala nacional. Este funeral adelantado fue contado por la Associated Press, UP y fotografiado por Life Magazine. El joven Don Whitehead que más tarde sería corresponsal de guerra y dos veces ganador del premio Pulitzer también estuvo allí.
El 26 de junio el funeral atrajo a la mayor cantidad de gente que se recuerda en Roane hasta esa fecha, entre 8.000 y 12.000 personas. Se vieron automóviles de al menos 14 estados diferentes que tuvieron que aparcar en un radio de dos millas alrededor de la capilla Cave Creek Baptist. John Cook, un vecino, cobró 25 centavos por aparcar en sus tierras y recaudó 300 dólares en un sólo día. Todos hicieron negocio, los vendedores de perritos calientes y bebidas, los floristas, etc. A las 2 de la tarde el lugar del oficio estaba a tope.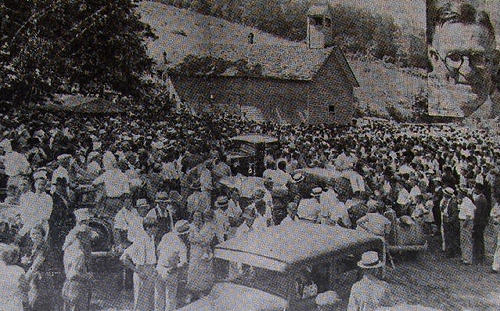 El cortejo del funeral llegó tarde debido al intenso tráfico. Finalmente la funeraria Hawkins del condado de Loudon, trajo el ataud artesano de madera de nogal. La multitud luchaba por acercarse que los oficiales de policia apenas podían abrir paso a la comitiva para que tomara sitio al frente de la tienda instalada en el exterior de la iglesia. Los niños eran aupados por sus padres para poder ver. El tío Bush estaba sentado enfrente de su ataud vestido con una nueva camisa, un nuevo traje de chaqueta, corbata, etc, donados por Halls de Knoxville. Durante unos instantes atrajo la atención de todos los fotógrafos.
Los Friendly Eight Octette de Chattanooga interpretaron una serie de canciones. Fred Berry de Knoxville dijo que cantaron 'There's a Gold Mine in the Sky'. Aquí la escuchamos en la versión contemporánea de Arthur Tracy.
El reverendo Charles E. Jackson de Paris, Illinois, ofició el sermón del funeral. La atmósfera festiva pronto cambió para adecuarse a esta solemne ocasión. Dijo:
"Este servicio no es una mala idea. Muchas cosas buenas deberían venir de un servicio sin las habituales lágrimas y el dolor de los corazones. Nos proporciona una oportunidad de pensar en el mañana y anticipar la grandeza de la aventura llamada muerte. El señor Breazaele y yo, nunca pretendimos hacer nada más que un servicio solemne".
Al concluir, Breazeale dijo que fue el sermón más hermoso que había oido y que cuando mueriese no habría otro.
Como conclusión del programa formal, Bush le dió la mano a cientos de personas, amigos y simpatizantes, autografió muchos programas oficiales, firmando con una "X". Bush Brezale quedó convertido así en la mayor celebridad de Roane, Tennessee, agasajado por los equipos locales de beisbol e incluso fue invitado a una entrevista de radio en Nueva York. A la vuelta le preguntaron como había ido y respondió:
"Oh, estupendo, eran unos chicos muy agradables y me trataron maravillosamente, pero para ser honestos, la comida no valía un pito".
Curiosamente, la familia Breazeale era una de las prominentes de la historia de Roane desde el siglo XVIII, formada por juristas y abogados, sobre todo, aunque también hubo un Breazeale que, además de abogado fue editor de un periódico y escritor, John Wood M. Breazeale.
Felix "Bush" Breazeale nació en 1864, en Dogwood Road en Roane. Fue el mayor de 8 hermanos y primo de un famoso abogado de Nueva York, Martin Littleton. Bush nunca se casó. Comentó sobre este tema:
"La que quería, no pude tenerla y las que podía tener, no las quería".
Felix "Bush" Breazeale vivió otros 5 años, como granjero en la casa familiar y ultimamente con su sobrino Bert Breazeale. Le gustaba cazar zorros. Murió a la edad de 79 años el 9 de febrero de 1943. Aunque Bush había pedido que no se celebrase otro funeral, Clarence Johnson de Cave Creek celebró un oficio en un frío día, antes de que los restos de Bush fueran enterrados en el cementerio local de Cave Creek.
Fuentes:
Roanetn
Clan Breazeale
Get Low Web Oficial
Get Low Wikipedia
Music Row
Wild About Movies