(Publicado en Soy Country, 1-8-10)
Las grabaciones de Buck Owens para Warner Bros

Por Antón García-Fernández

Memphis, Tennessee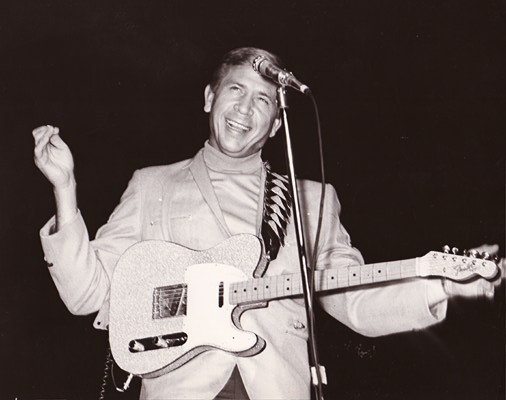 El contexto
A mediados de la década de los setenta, Buck Owens estaba atravesando momentos muy difíciles en el plano personal. En 1974, Don Rich, su amigo y estrecho colaborador musical,
(ambos en la foto de arriba)
una parte fundamental de sus Buckaroos, falleció en un trágico accidente de moto. Rich, además de tocar la guitarra y el violín, de componer canciones y prestar su voz a muchas de las grabaciones de los Buckaroos, se encargaba de todo lo referente a la organización de las giras y a la parte más burocrática y de relaciones públicas de la banda. Lo que era peor, Buck se quedaba sin su más cercano confidente; no es difícil imaginar el vacío que, con su muerte, Rich dejaba en su vida y en su carrera.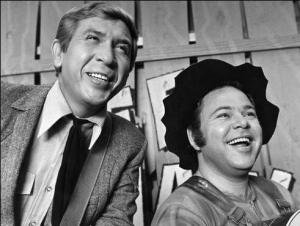 Eso sí, la carrera de Owens seguía en la cumbre: durante más de diez años había colocado número uno tras número uno en las listas de Billboard, creando un corpus de grabaciones country que hoy en día se consideran clásicas y fundando un sonido, el
Bakersfield Sound
, que sería influencia fundamental de los New Traditionalists de los años ochenta, una influencia que todavía se detecta en el country de raíces de nuestros días. Además, la figura de Buck era bien conocida por los cientos de miles de televidentes que seguían
Hee Haw
, el programa de música y humor campestre que presentaba junto a Roy Clark
(ambos en la foto de la izquierda).
Pero, sin duda acuciado por el dolor provocado por la muerte de su amigo íntimo, Buck decidió que había llegado la hora de dar un giro a su sonido. El momento parecía adecuado para hacer algo que no había hecho antes: grabar en Nashville con músicos de sesión y editar dichas grabaciones con Warner Bros., no con Capitol. Y los resultados de estas sesiones, que tuvieron lugar entre 1976 y 1982, supusieron un cambio drástico en la música de Owens, que, sin embargo, no perdió ni un ápice de su calidad y vitalidad.
En el nuevo sonido de Buck Owens se escuchan ecos de grupos country pop setenteros como los Eagles o America, junto con toques de ese
Nashville Sound
creado a finales de los sesenta por Billy Sherrill y George Jones. No en vano, el productor de estas sesiones para Warner Bros. es Norro Wilson, que había compuesto algunas canciones para el Possum a principios de los setenta. Y aunque Buck se estaba plegando a los designios de Nashville, algo opuesto a lo que estaban haciendo Waylon Jennings o Willie Nelson, algunos de los temas tienen un inconfundible sabor outlaw.
Y, por supuesto, en las sesiones participaron los mejores músicos de estudio que era posible reclutar en Nashville a mediados de los setenta, nombres ya legendarios como Hargus "Pig" Robbins (piano), Henry Strzelecki (bajo), Johnny Gimble (mandolina) o Pete Drake (steel guitar).
Las grabaciones
El primer fruto de las sesiones para Warner Bros. salió a la luz en 1976 con el título de "Buck 'Em" y un Buck Owens de apariencia ruda en la portada, vestido de vaquero bajo el sol de California. En el disco se nota la mano de Norro Wilson: los arreglos son más elaborados y se le concede una mayor importancia a la producción. Desde el primer tema, 'We're Gonna Build a Fire' cuyas armonías vocales a cappella remiten a los Eagles, es evidente que Buck está intentando ofrecernos un disco de country pop. De hecho, el álbum incluye una versión del 'Hollywood Waltz' del grupo californiano. La canción que cierra el disco, 'California Okie', fue la que más presencia tuvo en las listas country, alcanzando un modesto puesto 43. Una de las joyas de este primer disco para Warner Bros. es la excelente revisión del 'Lady Madonna' de los Beatles en clave country, un ejemplo perfecto de cómo una versión de un clásico del cuarteto de Liverpool puede sonar fresca y diferente.
Como vemos, el público no respondió con demasiado entusiasmo a esta primera entrega de la nueva fase de la carrera de Buck Owens, y quizá por ello, el segundo disco que editó con Warner Bros., titulado "Our Old Mansion" y publicado en 1977, reduce ostensiblemente la dosis de country pop. Aunque se inicia con la hermosa balada 'Let the Good Times Roll', temas a ritmo de shuffle como 'Cinderella', 'A Different Kind of Sad' o 'He Don't Deserve You Anymore' (ya grabada para Capitol) nos presentan a un Buck mucho más tradicional. Además, el propio Owens es autor de muchas más canciones en este segundo disco que en el primero. Curiosamente, "Our Old Mansion" tuvo menor repercusión en listas que "Buck 'Em", y la canción que llegó más alto en las listas, 'World Famous Paradise Inn', sólo logró encaramarse al puesto 90 en la clasificación country. Sin embargo, "Our Old Mansion" es un álbum excelente, que nos presenta a un Buck Owens en plena madurez demostrando que su creatividad y el nivel de calidad de su música continuaban intactos.
Aunque Buck grabaría algunos temas más para Warner Bros. entre 1978 y 1982, quizá con la intención de editar un tercer álbum, el proyecto nunca llegaría a completarse. Eso sí, la elección de material es ciertamente ecléctica, mezclando country tradicional ('Seasons of My Heart') con canciones compuestas por Delbert McClinton ('Victim of Life's Circumstances') o los Bee Gees ('Massachusetts'). Una de las piezas registradas en 1979 a dúo con Emmylou Harris, 'Play 'Together Again' Again', evidente tributo a la música del propio Owens, llegaría al número 11 de las listas country, convirtiéndose en su mayor éxito para Warner Bros. hasta la fecha.

Buck, Yoakam y el Nuevo Tradicionalismo
La primera mitad de los años ochenta heredó de la década anterior la fiebre del country pop, exacerbada merced al éxito en pantalla de la película Urban Cowboy en 1980: así, el country que triunfaba en las listas estaba marcado por arreglos melosos que poco tenían que ver con el sonido country más tradicional con el que generalmente se asocia la música de Buck Owens, y sí con algunos de los temas incluidos en los álbumes grabados para Warner Bros. Todo esto cambió mediada la década, con la aparición en la escena country de los nuevos tradicionalistas, un grupo de jóvenes valores entre los que se encontraban Marty Stuart, George Strait, Randy Travis, Rodney Crowell, Vince Gill, Keith Whitley, Johnny Rodriguez y muchos otros que abogaban por un regreso a las raíces y por una concepción más clásica del sonido y la estética country. Este conjunto de músicos supuso un verdadero soplo de aire fresco para una industria que se estaba enfrentando a serios problemas de creatividad. Entre todos ellos, Dwight Yoakam era, sin duda, el que más directamente acusaba la influencia del Bakersfield Sound de Buck Owens.
En 1986, Yoakam estaba cosechando sus primeros éxitos con revisiones de 'Honky Tonk Man"' de Johnny Horton, y 'Little Sister', compuesta por Doc Pomus y Mort Shuman y anteriormente grabada por Elvis Presley, y su propia 'Guitars, Cadillacs'. La mayor parte de sus canciones se caracterizaban por un sonido country más puro y más cercano a ese freight train sound originalmente creado por Buck. Ambos se conocieron cierto día de 1987 en Bakersfield, donde Yoakam tenía una serie de actuaciones: Owens subió al escenario en uno de dichos conciertos y ambos terminaron grabando para Reprise una versión a dúo de 'Streets of Bakerfield', un tema ya editado por Buck en 1971, ornamentado en su nueva encarnación por el acordeón de Flaco Jiménez. El single, editado en 1988, se catapultó al número 1 de las listas country, reavivando la carrera de Buck Owens y marcando el final de su contrato con Warner Bros.
La reedición
En 2007, Rhino Records editó el doble CD "The Warner Bros. Recordings", que recoge la totalidad de las grabaciones que Buck Owens realizó para el sello. El primer disco incluye los dos álbumes, "Buck 'Em" y "Our Old Mansion", junto con un tema inédito de 1977 titulado 'You're Gonna Need a Doctor', escrito por el propio Buck al más puro estilo del George Jones de los setenta y en el que su ex-esposa, Bonnie Owens, aparece en los coros. El segundo disco recopila los singles y varios temas que se archivaron y nunca llegaron a editarse; la regrabación de 'Streets of Bakersfield' junto a Dwight Yoakam cierra una colección verdaderamente recomendable que nos presenta a un Buck Owens dubitativo, intentando redirigir una carrera que hasta esos momentos había sido fabulosa. Las notas de esta cuidada reedición corren a cargo de Rich Kienzle, quien ofrece interesante información sobre el contexto que produjo estas sesiones pero muy poco análisis del material grabado, cuyo eclecticismo es prueba fehaciente de los experimentos sonoros que Buck Owens introdujo en su música en este período de su discografía y que, con contadas excepciones, resultan de gran interés.
Fuente
:
Rich Kienzle. Notas de Buck Owens: The Warner Bros. Recordings. Rhino/Warner Bros., 2007