(Publicado en Soy Country, 6-2-10)
Un concierto legendario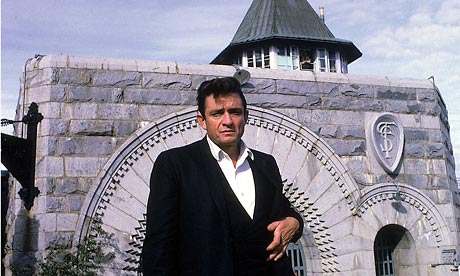 Introducción
Johnny Cash
es una de las mayores leyendas de la música americana. Pero ¿cómo se forjó esta leyenda?. Hannelore Haakman Van Den Bergh, Hanny, una de las mayores especialistas hispanas en Johnny Cash, nos desvela en este excepcional artículo uno de los momentos clave de la historia de Cash: la grabación de su álbum
"Folsom Prison Blues"
.
La prisión estatal de
Folsom
es una prisión en la ciudad de
Folsom
, California, a 32 kilómetros de Sacramento y es, tras
San Quentin
, una de las mayores prisiones del "golden state". Era muy conocida por sus durísimas condiciones carcelarias y, entre 1895 y 1937, fueron ahorcados un total de 93 presos.
Es poco conocido, tal y como nos revela Hanny, que Johnny Cash actuó varias veces en Folsom Prison, la primera en 1966 y la más especial, la que hoy nos ocupa, en 1968, con dos grabaciones realizadas en la cafetería de la prisión. Según Johnny Cash,
"fue la audiencia más entusiasta para la que he tocado jamás"
.
A finales de los años 60, había 1800 presos en Folsom, cada prisionero de Folsom tenía su propia celda y estaba inscrito en un programa de educación. Rara vez un preso volvía a prisión. En 2009, había 4.427 presos, las bandas organizadas eran los protagonistas de la cárcel y la mayoría de los presos son reincidentes. Johnny Cash fue una influencia positiva en la política penitenciaria americana señalando la dirección correcta y, desgraciadamente, hoy su inspiración y lucha no parece que se tienen demasiado en cuenta.
Afortunadamente nos queda el tesoro musical de ese concierto legendario. Es hora de disfrutarlo y descubrir mucho más de él.
Andoni Urkiaga
Johnny Cash: At Folsom Prisom
(1968)
Por Hannelore Haakman Van Den Bergh
No creo descubrir nada nuevo al decir que este álbum está considerado como uno de los mejores álbumes en directo de la música ligera.
La base para este álbum se crea a miles de kilómetros de los estudios Sun (donde fue grabado el single) cuando John R. Cash llega a Landsberg, Bavaria, Alemania, a la base de las Fuerzas Aéreas de los EEUU en esta ciudad. Atrás en Dyess, Arkansas, quedan su familia, los campos de algodón y en, San Antonio, Texas, la que sería su mujer y madre de sus 4 hijas,
Vivian Liberto
.
El interceptor y descodificador radiofónico que llegó a la base de Landsberg traía como bagaje su amor por la música country y góspel, sus firmes creencias religiosas, el hábito de trabajar duro y su determinación que algún día la voz que se escuchaba en la radio sería la suya. Con algunos compañeros de la base había formado un grupo, The Landsberg Barbarians (un juego de palabras a partir de Bavaria) y también había empezado a escribir canciones. viendo a su '
Hey Porter
' publicada en la revista del ejército "
Stars and Stripes
".
Es en Landsberg donde empezó a escribir
'Don't Take Your Guns To Town'
cuyo protagonista, Billy Joe, debe su nombre a uno de los Barbarians, Bill Joe Carnahan y otro Barbarian, su compañero de camarote, Ben Perea, recuerda que casi inmediatamente después de haber visto la película "
Inside the Walls Of Folsom Prison
" Cash empieza a escribir 'Folsom Prison Blues'.
La película de
Crane Wilbur
de 1951 era de serie B con pretensión de documental y contenía escenas de máxima crueldad y violencia que tuvieron un gran impacto en Cash. Había crecido en un ambiente de pobreza, pero donde reinaba respeto y solidaridad con los que eran aún menos afortunados que los Cash y no creo que hubiera presenciado más violencia que la que podía haber en el patio del colegio si es que hubo.
La parte creativa e imaginativa del artista que llevaba dentro trataba de hacerse una idea de lo que sentiría si estuviera en un lugar como Folsom. En aquellas fechas se escuchaba un disco de
Gordon Jenkins
con la canción, 'Crescent City Blues' y la letra de 'Folsom Prison Blues' tiene mucho prestado de esta canción mientras que la línea
"I shot a man in Reno, just to watch him die" (le disparé a un hombre en Reno sólo para verle morir)
probablemente fue inspirado por el '
T For Texas'
('Blue Yodel nº1') de
Jimmy Rodgers
que contiene la frase
"I'm gonna shoot poor Thelma, just to see her jump and fall" (voy a disparar a la pobre Thelma, sólo para verla saltar y caer)
Aunque también es cierto que Cash, en entrevistas, dijo haber llegado a esta frase después de preguntarse qué podría ser el peor motivo para matar a alguien y nació la famosa frase que acentúa al mismo tiempo algunas inexactitudes de la canción: por matar a un hombre en Nevada no te mandaban a Folsom que está en California. Asimismo, ningún tren con dirección a San Antone (Texas) pasaba cerca de Folsom.
Letras de FOLSOM PRISON BLUES
(Johnny Cash)
INGLÉS
I hear the train a comin'
it's rolling round the bend
and I ain't seen the sunshine since I don't know when,
I'm stuck in Folsom prison, and time keeps draggin' on
but that train keeps a rollin' on down to San Antone..
When I was just a baby my mama told me. Son,
always be a good boy, don't ever play with guns.
But I shot a man in Reno just to watch him die
now every time I hear that whistle I hang my head and cry..
I bet there's rich folks eating in a fancy dining car, they're probably drinkin' coffee and smoking big cigars.
Well I know I had it coming, I know I can't be free
but those people keep a movin'
and that's what tortures me...
Well if they'd free me from this prison,
if that railroad train was mine
I bet I'd move just a little further down the line
far from Folsom prison, that's where I want to stay
and I'd let that lonesome whistle blow my blues away.....
ESPAÑOL
Oigo el tren viniendo
está doblando en la curva
y no he visto el brillo del sol desde no sé cuando,
estoy pegado a la prisión de Folson, y el tiempo sigue prolongándose
pero ese tren sigue rodando abajo hacia San Antone ...
Cuando yo era solo un bebé mi mamá me dijo: 'Hijo siempre sé un buen chico, nunca juegues con armas'.
Pero le disparé a un hombre en Reno solo para verle morir.
Ahora, cada vez que escucho ese silbido agacho la cabeza y lloro.
Apuesto a que hay gente rica comiendo en un vagón restaurante de lujo
ellos están probablemente bebiendo café y fumando grandes cigarros
Bueno yo sé que tenia que venir, sé que no puedo ser libre
pero esa gente sigue moviéndose
y eso es lo que me tortura ...
Bueno, si ellos me liberaran de esta prisión
si ese tren de ferrocarril fuera mío
Apuesto a que movería solo un poco más abajo la linea
lejos de la prisión de Folson, ahi es donde quiero estar
y dejaría a aquel silbido solitario llevarse mi blues ...
'Folsom Prison Blues' (1956):
'Crescent City Blues', canta la mujer de Jenkins:
'T For Texas', Jimmie Rodgers:
Es hora de hacer un salto hacia delante. Estamos en Memphis, año 1956, y 'Folsom Prison Blues', grabado en Julio de 1955 en los
estudios Sun
y publicado en Diciembre, entra en las listas de "Hot C&W Sides de Billboard", listas que a partir de 1962 se llamarían "
Hot Country Singles
", donde ocuparía el 4º puesto. La cara "B" del single era '
So Doggone Lonesome
':
En 1957 un Johnny Cash ya casado, con grupo musical,
The Tennessee Two
(Sam Phillips había convertido John R. Cash en "Johnny Cash" que en su opinión sonaba más amable y sería más comercial) ya había grabado para el
sello Sun
y recibió una petición para actuar en la prisión de
Huntsville
, Texas. Por lo general, artistas que ya habían conseguido éxitos "Top Ten" ni consideraban actuar en una prisión, pero Johnny Cash seguía sus propias reglas.
El concierto se celebraba en el exterior y poco antes del comienzo cayó una lluvia torrencial. The Tennessee Two ya habían colocado sus instrumentos y
Luther Perkins
sufrió una pequeña descarga al tocar las cuerdas de su guitarra, después de lo cual, todos, autoridades penitenciarias y músicos, se pusieron a trabajar para adecuar el espacio para instrumentos, amplificadores y músicos y finalmente pudieron empezar a tocar.
Marshall Grant
no recuerda cuánto tiempo estuvieron tocando bajo la lluvia mientras que los prisioneros pidieron una y otra vez 'Folsom Prison Blues'.
A través del concierto de Huntsville, Cash había iniciado una sólida relación con San Quentin State Prison en California que condujo a un concierto el día de Año Nuevo de 1959. Aquel día tenía entre su público a un joven que se sintió muy influenciado por Cash, por su música, por lo que transmitía y por cómo conectaba con la audiencia. Fue el inicio de una una amistad duradera y nueva vida para lo que sería y otra leyenda del country:
Merle Haggard
.
A partir de Huntsville, los conciertos en prisiones eran una constante para el grupo. Los inquilinos de las prisiones querían a Johnny Cash, (quien, dicho sea de paso, rechazaba cobrar por estas actuaciones) apreciaban su forma de ser y percibían que él ni los juzgaba ni rechazaba, sino que los aceptaba como seres humanos a los que la vida en ocasiones había llevado a tomar decisiones equivocadas. Era un público entregado que intuía lo que el cantante opinaba sobre el sistema penitenciario de la época, al tiempo que en su mente empezó a formarse la idea de grabar un álbum en directo en una prisión. La propuso en 1962 a
Columbia
y el sello rechazó la idea.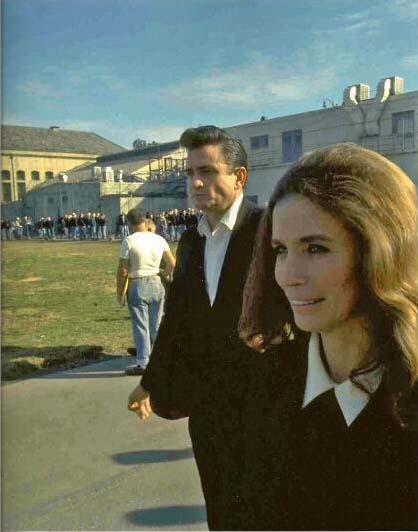 En 1966 ofreció el primer concierto (de un total de 4) en Folsom a petición de un asesino convicto, Earl Green, quien aprovechó una visita del reverendo Floyd Gresset, pastor de una iglesia que Cash visitaba en ocasiones, insinuando la posibilidad de que Cash actuara en Folsom Prison. Cash aceptó y preguntó después del show al director de eventos, "Coach" Kelly su opinión sobre la posibilidad de hacer otro show y grabarlo todo en directo. La respuesta llegó rápido:
"Cuando Quieras".
Cash,
Bob Johnston
(productor de CBS de Bob Dylan y de Cash entre otros) y el Departamento de California de Correccionales pusieron manos a la obra y fijaron como fecha sábado 13 de enero de 1968. CBS Columbia seguía estando en contra e, incluso, amenazó a Johnston con un posible despido: "
Arruinarás tu carrera y nunca más volverás a trabajar para CBS"
a lo que Johnston contestó:
"Bueno, tu mandas."
Lo cierto es que Johnny Cash necesitaba algo nuevo. No había tenido un éxito desde que en 1964 'Understand Your Man' llegara al primer puesto. Era una canción escrita en un ataque de rabia porque su mujer, Vivian, para la que había escrito también '
I Walk The Line
', se negaba a concederle el divorcio, después de apenas 14 años de matrimonio, y mientras Cash y
June Carter
ya habían iniciado su romance.
El cantante necesitaba urgentemente algo parecido a un "come-back", lo que no era fácil para Columbia, pues en aquella época promocionar a Johnny Cash era tarea delicada ya que su estado era impredecible debido a su adicción a las anfetaminas y barbitúricos. No había manera de saber en qué estado acudiría a los compromisos o qué trastada cometería. Por fortuna resultó que en la fecha escogida Johnny Cash y Vivian Liberto acababan de divorciarse y Cash pasaba por una época de menos abuso de drogas.
Bob Johnston, el productor, había llamado a San Quentin y a Folsom Prison. Folsom era el primero en contestar de manera que el concierto se celebró allí.
Se optó por hacer dos conciertos en un día, de esta forma de haber puntos débiles o si un concierto salió mejor que el otro, Columbia podría hacer los arreglos oportunos en los estudios y seleccionar las canciones. El primer concierto tendría lugar a las 9.40 am ante unos 1000 convictos y el segundo a las 12.40 pm.
Al igual que Horace Logan (no Frank Page), el presentador del
Louisiana Hayride
, acuñó en su día la célebre frase
"Elvis has left the building".
Bob Johnston indicó a Hugh Cherry, el presentador en Folsom, que Cash se introduciría a sí mismo y dando instrucciones a Cash de ir directo al micro y decir
"Hello, I'm Johnny Cash".
Después, una vez calmada la audiencia Luther Perkins, guitarrista de
The Tennessee Three
(en 1960 W.S."Fluke" Holland y su batería se habían incorporado al grupo, por lo que se cambió Two por Three) entonaría las primeras notas de 'Folsom Prison Blues'.
Desde el escenario Johnny conectaba con el público de una manera fácil y natural, estableciendo una relación de tú a tú. Los residentes de Folsom sentían que más que cantar canciones, les explicaba historias cantando, historias con las que se podían identificar. Era una voz que sabía dar sonido a los sentimientos que todos ellos habían experimentado en algún periodo de sus vidas. Sabía mostrar dureza y agresividad. Como aquí en '
Cocaine Blues
':
Pero Johnny también expresa dulzura, nostalgia y miedo a la soledad como en
'Send A Picture of Mother':
Glen Sherley
era uno de los huéspedes de Folsom y en ocasiones escribía canciones que cantaba. Escribió una canción sobre la capilla en Folsom, 'Greystone Chapel'. Grabó la canción en una cinta que dio a Lloyd Kelly, el responsable de diversión y espectáculos, con la esperanza que la cinta llegara a las manos de Johnny Cash. Kelly dio la cinta al reverendo Floyd Gresset y éste la hizo llegar a su destino. El día de la grabación del álbum, Cash cantó la canción en los dos conciertos, dándole créditos a Sherley que estaba en 1ª fila, haciendo de él el hombre más feliz del mundo.
El interés de Johnny Cash fue más allá del contacto con los presos. Abogaba a favor de una reforma penitenciaria, ejerciendo presión sobre el subcomité del Senado de los EEUU y sobre el mismísimo presidente
Richard Nixon
con quien tuvo un encuentro en el despacho oval en Julio de 1972 y aprovechó para hablar de la reforma.
Se había comprometido con la liberación de Glen Sherley, quien fue puesto en libertad en 1971. Cash había asegurado a las autoridades que avalaba la reinserción social de Glen Sherley y lo empleó como songwriter en su editorial "House of Cash", además de llevárselo de giras.
La idea de hacer 2 conciertos resultó ser acertada. En el segundo concierto los músicos estaban cansados y la voz de Johnny daba muestras de estar sobrecargada. Había una notable diferencia entre los dos conciertos y las canciones incluidas en el álbum eran casi todas del primer concierto. Del segundo solo dos canciones encontraron su camino hacia el álbum: 'Give My Love To Rose' (no encontré version de 1968). Esta es del álbum "The Man Comes Around" y le valió un Grammy en 2003:
Y 'I Got Stripes':
Lo que no cambiaba ni se resentía era el vínculo espontáneo existente entre el cantante y su público. Durante los conciertos los guardias habían transmitido mensajes para varios presos y al producir el álbum Bob Johnston incluía algunos de esos en "
Johnny Cash at Folsom Prison
" que salió al mercado en mayo de 1968.
No hubo mucha promoción porque por aquellas fechas Columbia se estaba centrando más en artistas de música Pop, como
Barbara Streisand
,
Simon and Garfunkel
y
Bob Dylan
(aunque yo no me habría atrevido llamarlo "Pop"). La música country no era la que mandaba en las ventas y de todas formas Columbia nunca había estado muy a favor de este proyecto. Pero contra todo pronóstico el single tuvo gran aceptación y empezó a escalar las listas, primero las de Pop y una semana más tarde (1 de Junio de 1968) las de country, obligando a Columbia a una promoción de urgencia.
Entonces, de repente, los deejays dejaron de tocar el single. El 5 de Junio de este año asesinaron a
Robert Kennedy
en Los Angeles y la línea
"I shot a man in Reno just to watch him die"
"bloqueó" el
airplay
. Columbia y Bob Johnston acordaron editar un single de 'Folsom Prison Blues' sin la polémica línea a lo que Cash se opuso rotundamente pero finalmente tuvo que ceder. Columbia puso unos cuantos miles del single revisado en el mercado y el disco pudo continuar su escalada.
El álbum se colocó en el puesto 13 de las listas Pop, nada frecuente para un álbum country. Solo
Glen Campbell
("
Gentle On My Mind")
,
Eddy Arnold
("My World") y
Bobbie Gentry
(Ode To Billie Joe) habían conseguido semejante éxito en listas Pop. A mediados de Julio el álbum y el single ocuparon el 1º puesto en las listas country y el 13 y 32 respectivamente en las del Pop.
Cuando en 1956 la misma canción había llegado al puesto nº 4 Gordon Jenkins no se daba por enterado, o, a lo mejor no le informaron. Pero ahora se había convertido en una canción de mucho éxito que se oía continuamente en la radio. Gordon Jenkins (
en la foto de la izquierda)
reaccionó y llevó Cash a juicio por plagio. No podía reclamar sobre la melodía porque era una melodía tradicional y como tal no había copyright, pero en la letra había demasiadas similitudes. Finalmente Cash y Jenkins llegaron a un acuerdo fuera de los tribunales y Cash a través del pago de una cuantiosa suma se quedó con los derechos a la canción.
No sé si realmente es uno de los mejores álbumes "live" que se haya hecho. No sabría elegir entre éste y el "
live" de San Quentin
y hay muchos álbumes directos que no he escuchado ni tendré ocasión de escuchar pero opino que es un álbum que ofrece todo lo que creo que un "directo" debe tener: buena música en ocasiones quizá algo improvisada lo que da un toque especial, músicos que lo dan absolutamente todo en el escenario y complicidad con el público. Y un público entregado, como éste "Johnny Cash at Folsom Prison" había dado a Johnny Cash el
come-back
que necesitaban él y the Tennessee Three.
Fueron actuando por toda la geografía Norte-Americana y la de Europa también y donde fueran se agotaron las entradas. Al álbum le seguiría otro "live" en 1969, "Johnny Cash at San Quentin". En este año Johnny Cash era el artista de más ventas en los EEUU (dejando atrás a The Beatles) y "at Folsom" le allanó el camino hacia
su propio show
para la cadena
ABC
en la televisión. En 1971 fue el protagonista de "
This Is Your Life
". (La versión estadounidense de "Esta es su vida"), a la que no pudo asistir Glen Sherley, pero hizo acto de presencia a través de una emocionante filmación poco antes de ser excarcelado:
Glen Sherley, Harlan Sanders, Earl Green son solo algunos presos cuyas vidas fueron cambiadas por Johnny Cash y su concierto en Folsom Prison. Desgraciadamente Sherley no supo acostumbrarse a la vida fuera de la prisión, ni a la fama nia las entrevistas. Para él su casa era Folsom. Entre sus paredes se sentía seguro. El 11 de Mayo de 1978 Glen Sherley se quitó la vida.
EXTRAS
"Johnny Cash At Folsom Prison". El documental
DVD de "Johnny Cash at Folsom Prison" en 6 partes (en inglés con subtítulos en sueco):
PARTE 1ª
PARTE 2ª
PARTE 3ª
PARTE 4ª
PARTE 5ª
PARTE 6ª
"Set list"

del primer concierto: 9:40 a.m.
'Folsom Prison Blues'
'Busted'
'Dark as a Dungeon'
'I Still Miss Someone'
'Cocaine Blues'
'25 Minutes to Go'
'I'm Not in Your Town to Stay'
'Orange Blossom Special'
'The Long Black Veil'
'Send a Picture of Mother'
'The Wall'
'Dirty Old Egg-Sucking Dog'
'Flushed From The Bathroom of Your Heart'
'Joe Beam'
'Jackson'
'I Got a Woman'
'The Legend of John Henry's Hammer'
'Green, Green Grass of Home'
'Greystone Chapel'
'Set list' del segundo concierto: 12:40 PM
'Folsom Prison Blues'
'Busted'
'Dark as a Dungeon'
'Cocaine Blues'
'25 Minutes to Go'
'Orange Blossom Special'
'The Legend of John Henry's Hammer'
'Give My Love to Rose'
'Dirty Old Egg-Sucking Dog'
'Flushed From The Bathroom of Your Heart'
'Joe Beam'
'Jackson'
'Long Legged Guitar Picking Man'
'I Got Stripes'
'Green, Green Grass of Home'
'Greystone Chapel'
'Greystone Chapel' (repeat)
"Johnny Cash At Folsom Prison".
Reedición de 1999
1. 'Folsom Prison Blues' – 2:42
2. 'Busted' – 1:25
3. 'Dark as a Dungeon' – 3:04
4. 'I Still Miss Someone' – 1:38
5. 'Cocaine Blues' – 3:01
6. '25 Minutes to Go' – 3:31
7. 'Orange Blossom Special' – 3:06
8. 'The Long Black Veil" – 3:58
9. 'Send a Picture of Mother' – 2:05
10. 'The Wall' – 1:36
11. 'Dirty Old Egg-Suckin' Dog' – 1:30
12. 'Flushed from the Bathroom of Your Heart' – 2:05
13. 'Joe Bean' – 3:05
14. 'Jackson' (con June Carter) – 3:12
15. 'Give My Love to Rose' (con June Carter) – 2:43
16. 'I Got Stripes' – 1:52
17. 'The Legend of John Henry's Hammer' (Johnny Cash, June Carter) – 7:08
18. 'Green Green Grass of Home' – 2:13
19. 'Greystone Chapel' – 6:02
La única diferencia con el LP original de 1968 es la inclusión de la canción Joe Bean.
Última entrevista de Johnny Cash
Habla de Thelma (Jimmie Rodgers, Blue Yodel nº1) más o menos en el minuto 3' 50".
Glen Sherley, familiares:
hija Ronda Sherley, hijo Glen Sherley. Bruce Sherley, hijo, Marshall Grant explicando ensayos.
Fuentes:
Michael Streissguth: "Johnny Cash at Folsom Prison: The Making of a Masterpiece"
Steve Turner: "The Man Called Cash". The Life. Love and Faith of an American Legend
Marshall Grant: "I Was There When It Happened. My Life with Johnny Cash"
Folsom Prison Wikipedia