(Publicado en Soy Country, 16-12-09)
Preludio del movimiento outlaw
Waylon Arnold Jennings
, nació en 1937, en Littlefield, Texas y representa, junto a
Willie Nelson
,
David Allan Coe
o
Tanya Tucker
una de las cabezas visibles del llamado movimiento "outlaw" de los años 70. Aquella generación que, desencantada de la comercialidad de Nashville, hizo sus maletas y fue a Texas a buscar la libertad creativa y musical antes que edulcorar su música con orquestas y arreglos crossover.
Waylon aprendió a tocar a los 8 años tomando lecciones de su padre. Trabajando como DJ conoció a
Buddy Holly
y se hicieron amigos entrando a formar parte de los
Crickets
con tan sólo 21 años, como bajista, durante una gira por el Medio Oeste a principios de 1959.
A muchos os sonará la historia. El 3 de febrero de 1959,
"the day that music die",
el día en el que murió la música, Buddy Holly, tras un concierto, tomó el asiento de la avioneta de regreso en lugar de Waylon. En el avión viajaban tres artistas que entrarían en la leyenda: Buddy Holly,
Ritchie Valens
, y
J. P. "The Big Bopper" Richardson
. La avioneta se estrelló a las afueras de Clear Lake, Iowa. No hubo supervivientes. En su autobigrafía de 1996, Waylon afirma que al ceder su asiento, Buddy le dijo:
"Espero que el viejo bus se congele"
. Y Waylon le contestó bromeando:
"Bien, espero que el viejo avión se estrelle".
Este suceso le afectó amargamente y abandonó la música durante unos años, volviendo a trabajar en la radio como DJ, pero finalmente volvió a actuar y a grabar en Phoenix, Arizona, con el nuevo sello de
Herb Alpert
llamado
A&M Records
. Editó algunos pocos singles incluyendo "
Four Strong Winds"
(escrito por Ian Tyson) y "Just To Satisfy You" (coescrito con Don Bowman). Además, grabó un álbum en el sello BAT que se tituló JD's, como el local donde solía actuar. Las copias se vendían en el propio local y se imprimían de 500 en 500.
Tuvo tiempo para ser el guitarrista de P
atsy Montana
en un álbum que la estrella grabó en Arizona en 1964. Entonces
Duane Eddy
y
Bobby Bare
recomendaron a Waylon a
Chet Atkins
, que por aquel entonces producía numerosos álbumes de éxitos para
RCA Victor
. El propio Bobby Bare grabó su versión de "Four Strong Winds" tras escuchar la versión de Waylon. Así que en 1965 la prometedora estrella se trasladó a Nashville a vivir.
Nashville Rebel. La película.
Por aquel entonces le posicionaron como el "rebelde de Nashville" y rodó su primera película con el mismo título, en el que podemos ver ya la madurez de un artista especial con un estilo propio.
La promoción, decía
"Con una guitarra en su mano, una chica en su brazo y un talento para los problemas en sus puños, luchó a su manera desde el anonimato hasta el apogeo de la única forma que sabía"
. Ya vemos lo que tapaba el mástil de la guitarra y dadas las calenturientas mentes de la época, supongo que, entre camas y mamporros, esperarían batir records de taquilla. Sin embargo, la película tuvo poco tirón así que en vez de un actor más, ganamos un gran artista para la música country.
El argumento es sencillo, un joven, Arlin Grove vaga por una carretera del sur con una guitarra al hombro y recién licenciado del ejército. Pero es descubierto como cantante y guitarrista, actúa en Nashville, se enamora, se casa, se emborracha pero finalmente su mujer le endereza y finalmente llega a actuar en el
Grand Ole Opry
.

Waylon Jennings - Arlin Grove
May Frann

(foto derecha)

- Molly Morgan
Archie Campbell
Ott Devine - Grand Ole Opry Manager
Ralph Emery
- Grand Ole Opry Presentador
Sonny James
Cousin Jody
Loretta Lynn
Gordon Oas-Heim
, como Wesley Lang
Tex Ritter
Porter Wagoner
Cece Whitney
, como Margo Powell
Doyle Wilburn
Teddy Wilburn
Faron Young
Henny Youngman
Canciones extraidas de la película:
Nashville Rebel (1966). Banda sonora original
RCA Records: LPM/S-3736, Diciembre 1966
Reeditado 1999 RCA/BMG - CD # 3736e: Versión con estéreo electrónico.
Grabado Abril/Julio/1966,
RCA Victor Studio,
Nashville, TN
Sello RCA Victor
Productor Chet Atkins
Waylon Jennings
- Guitarra, Vocales
Fred Carter - Guitarra
Shirl Milete - Guitarra
Chip Young - Guitarra
Gerald Gropp - Guitarra, Armónica
Weldon Myrick - Steel Guitar
Roy Huskey - Bajo
Hargus 'Pig' Robbins - Piano
Richie Albright - Batería
Joe Babcock - Vocales
Mary Greene - Vocales
Sandra Posey - Vocales
Hurshel Wiginton - Vocales
Temas:
01. Silver Ribbons
(Jim Robinson, Johnny Wilson y Vern Meroney)
02. Nashville Bum
(Jennings, Glenn Corbin y Frankie Miller)
03. Green River
(Harlan Howard)
04. Nashville Rebel
(Harlan Howard)
05. I'm a Long Way from Home
(Hank Cochran)
06. Tennessee
(Harlan Howard)
07.
Norwegian Wood (This Bird Has Flown)
(John Lennon y Paul McCartney)
08. Hoodlum (Instrumental)
(Jay Sheridan)
09. Spanish Penthouse (Instrumental)
(Jay Sheridan)
10. Lang's Theme (Instrumental)
(Jay Sheridan)
11. Rush Street Blues (Instrumental)
(Jay Sheridan)
12. Lang's Mansion (Instrumental)
(Jay Sheridan)
"Nashville Rebel" (1966) es el tercer álbum de Waylon Jennings para RCA Victor, de 1966. Una de sus curiosidades, aparte de la versión de los
Beatles
de "Norwegian Wood" de su álbum
Rubber Soul
(1965) es que hay 5 temas instrumentales.
Shooter Jennings
interpreta a su padre en, "I'm a Long Way from Home" en la banda sonora de '
Walk the Line
' (2005) sobre la vida de
Johnny Cash
. Además, tres temas, incluyendo "Nashville Rebel" son de
Harlan Howard
, uno de los compositores más legendarios de Nashville.
Cuando el álbum fue editado, se creó un falso estéreo electrónico en las canciones de la segunda cara. No fue hasta su reedición en Cd, en 1999, en que "Norwegian Wood (This Bird Has Flown)" se editó en estéreo auténtico.
A principios de los 70 y por influencia de
Willie Nelson
formó parte de ese grupo genial de artistas a los que se les dió por llamar "outlaws". Término que ha sido manido hasta la saciedad y con el que ahora se presentan algunos que están teledirigidos. Pero concluyamos nuestra historia. A finales de los 70, una serie de álbumes a dúo con Willie Nelson, culminaron en el éxito "
Mamas Don't Let Your Babies Grow Up to Be Cowboys
". Y en 1979, grabó el tema central de la serie
'Los Duques de Hazzard'
, en el que hizo el papel de narrador durante las siete temporadas que duró el show.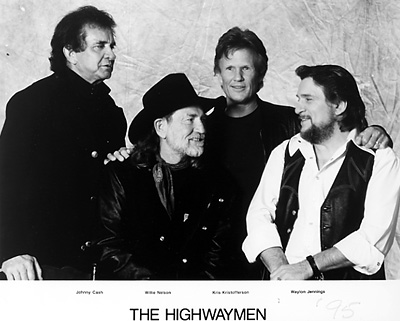 Posteriormente, formó el grupo
The Highwaymen
con otros tres monstruos de la música country: Willie Nelson, Johnny Cash y
Kris Kristofferson
. Me parece entrañable la foto de la izquierda con Johnny, Willie y Waylon mirándose y Kris abrazando a Waylon y a Willie. Una imagen vale más que mil palabras sobre la camaradería y la amistad.
Su último álbum en solitario lo grabó en 1998. En 2001, fue elegido miembro del
Country Music Hall of Fame
y en 2002 falleció, dejándonos en el recuerdo una carrera modélica de renovación y compromiso con la música country y éxitos inmortales como "
I've Always Been Crazy
", "
Honky Tonk Heroes
", "
Luckenbach, Texas (Back to the Basics of Love)
", "Amanda", "Good Hearted Woman" o "Are You Sure Hank Done It This Way".
Fuentes:
Waylon.com
Waylon Jennings Wikipedia
Waylon Jennings CMT
Nashville Rebel IMDB
Nashville Rebel Wikipedia
Nashville Rebel Soundtrack