(Publicado en Soy Country, 24-11-09)
Broadway aguarda el estreno de la obra.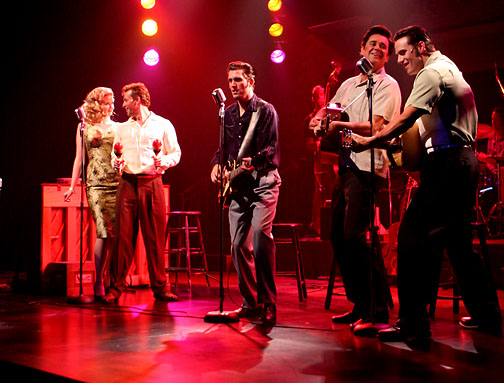 El 4 de diciembre de 2009, se cumple el 53 aniversario de una de las jam sessions más legendarias de la música country, rock & roll, rhythm & blues y góspel. Se trata de la grabación que tuvo lugar en los
estudios Sun
, con el mismísimo
Sam Philips
a los mandos grabando la que sería, a la postre, una cita única y legendaria por la dimensión de las carreras de sus protagonistas y, no tanto, por la calidad de las mismas.
La reunión, al parecer, fue pura casualidad.
Carl Perkins
había ido acompañado de sus hermanos, Clayton y Jay y del batería
W.S. Holland
, para grabar nuevo material, incluyendo una versión de
Matchbox
. Por allí andaba también el último fichaje de Sam,
Jerry Lee Lewis
que iba a tocar el piano en la sesión de Perkins y que ya entonces comenzaba a despuntar.
La fortuna quiso que esa tarde se pasase por allí
Elvis Presley
con su novia Marilyn Evans, a pesar de que Elvis ya había fichado por
RCA
. Elvis se acercó a hablar con Sam Philips y escuchó la grabación de Carl y le gustó, entonces fue al estudio y un poco más tarde la jam sesión comenzó. Sam Philips que era un águila para reconocer lo extraordinario, comenzó a grabar.
La grabación fue praticamente un trío entre Carl, Jerry Lee y Elvis. Y los celos entre estos dos últimos eran patentes y desencadenaron el fin de la grabación.
Johnny Cash
sólo intervino en Bluberry Hill, un tema que luego se perdió.
Tras 46 temas Elvis dijo adiós y "left the building". (abandonó el edificio). La famosa foto de la reunión fue realizada por un fotógrafo del periódico local Memphis Press-Scimitar. Al día siguiente un reportero de dicho periódico, Bob Johnson, dio la noticia titulando el artículo
"Million Dollar Quartet".
La "diosa" de la fortuna quiso de esos jóvenes rabiosamente geniales se convirtieran en los representantes musicales más genuinos, originales, inmortales y distintivos de su generación.
Aún hoy esos artistas siguen acaparando noticias, interés y pasión. En el
Apollo Theather
de Chicago se representa estos días el musical
"Million Dollar Quartet"
bajo el lema "The Night that Rock & Roll Came Alive", algó así como la noche en la que el rock & roll vino a la vida. El musical se nos antoja interesante y aunque, obviamente, los personajes originales son algo imposible de recrear, los actores, en el papel de Elvis encarnado por el cantante rockabilly
Eddie Clendening
o Jerry Lee Lewis interpretado por
Levi Kreis
, o
Lance Guest
en el papel de Johnny Cash destacan de forma peculiar, al contemplar los videos.
Levi Kreis vs Jerry Lee Lewis:
Obviamente se trata de una obra con una historia y una música inspirada en las sesiones musicales, no es, por tanto, una recreación fiel de las sesiones. Pero aunque ese día Jerry Lee no interpretó
Great Balls of Fire
, ni Elvis cantó
Long Tall Sally
, o Johnny Cash se unió con
Folsom Prison Blues,
temas todos ellos que se han incluido en la obra,hay que ser flexibles y convenir que lo que se muestra es la expresión de una época, la magia de un movimiento, sentimiento, pasión y, en lo posible, dar a conocer a las nuevas generaciones la rebeldía, el talento y el legado de estos artistas geniales.
Así lo ha comprendido
Chuck Mead
(en la foto de la izquierda),
ex líder de
BR5-49
, el director musical de la obra, garantía en mi opinión más que suficiente para avalar musicalmente esta aventura.
En abril les esperan los míticos escenarios de Broadway, en Nueva York, donde desean volver a triunfar como lo están haciendo en Chicago. Los componentes de Million Dollar Quartet han estado por toda la ciudad promocionando la obra y nos han dejado interesantes videos, más completos, incluso, que los promocionales de la página de YouTube oficial:
Como complemento unos videos de Eddie Clendening (Elvis Presley) con su grupo habitual, los Blue Ribbon Boys:
Fuente:
Allmusic.com