(Publicado en Soy Country, 5-12-09)
Por Dr. Fernando Gil
Rock Blues Country Clásicos
Buenos Aires, Argentina
Comenzaremos una serie de notas en las cuales abordaremos la actividad country de uno de nuestros principales referentes:
Jerry Lee Lewis
. Identificado como un ícono del rock & roll, Jerry ha sabido también de muchas grabaciones, discos y canciones del género country, el cual ha abordado conforme su estilo particular y propio. Uno de los discos estrictamente country, es este que comentaremos ahora: "Sings The Country Music Hall Of Fame Hits" Volumen 1 y Volumen 2.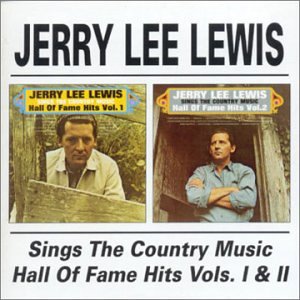 Se trata de un doble disco editado en 1969, por la discográfica Smash, con un total, entonces, de 24 canciones (12 en cada disco). El álbum, luego en 2002, ha sido comercializado por Beat Goes On en forma de CD, incluyéndose las 24 canciones en una sóla pieza.
El disco contiene una gran cantidad de clásicos del género, tanto en versiones más movidas, como baladas lentas, y algunos temas también correspondientes al country blues.
Entre las versiones más ritmicas, podemos enumerar: '
Jambalaya
', el clásico de
Hank Williams
; 'O
h Lonesome Me
!'; o la corta pero agradable 'Why Don't You Love Me Liked You Used To Do?' (¿Por qué no me amas como solías hacerlo?).
El country blues tiene su lugar, mediante el clásico del género '
I'm So Lonesome I Could Cry'
(verdadera obra de arte del estilo). '
Four Walls
' también se adapta perfectamente al country blues.
Por su parte, el country hard, es mayoría. Muchas baladas y canciones del más puro estilo son halladas, como '
Heartaches By The Number
', 'Mom and Dad's Waltz', 'Born to Lose', 'You've Still Gonna Place In My Heart', '
I Love You Because
', 'Pick Me Up On Your Way Down' o 'One Has My Name (The Other Has My Heart)'. Como ejemplo de este estilo, nuestro amigo Javier Vegas ha editado este magnífico video con el tema Born to Lose.
No podía faltar '
Jackson
' en un álbum country, menos en uno de las ambiciones de este. Como sabemos, 'Jackson', una movida versión del género, se canta a dúo con una voz masculina y otra femenina. Jerry contó en este tema, con la colaboración de su hermana, la talentosa
Linda Gail Lewis
, quien también participó en el tema que cierra la compilación: 'Sweet Thang'.
El álbum reeditado contiene las siguientes canciones.
01. I Wonder Where You Are Tonight
02. I'm So Lonesome I Could Cry
03. Jambalaya (On the Bayou)
04. Four Walls
05. Heartaches by the Number
06. Mom and Dad's Waltz
07.
Sweet Dreams
08. Born to Lose
09. Oh, Lonesome Me
10. You've Still Got a Place in My Heart
11. I Love You Because
12. Jackson
13.
I Can't Stop Loving You
14. Fraulein
15.
He'll Have to Go
16.
More and More
17. Why Don't You Love Me (Like You Used to Do)?
18. It Makes No Difference Now
19. Pick Me Up on Your Way Down
20.
One Has My Name (The Other Has My Heart)
21. I Get the Blues When It Rains
22.
Cold, Cold Heart
23. Burning Memories
24. Sweet Thang
En definitiva, un muy buen compendio de la música country, en uno de los álbumes más trascendentes de la carrera de Jerry. Habrá muchos más, que los iremos igualmente comentando. Pero como base, como plataforma, como compendio country, conocer esta obra es imprescindible.
Smash SRS-67117
Abril/1969
Producido por
Jerry Kennedy

Grabado:
Feb 25/1969, Columbia Studio, Nashville (7,8,9)
Feb 26/1969, Columbia Studio, Nashville (1,2,3,4,5,6,11)
Feb 28/1969, Columbia Studio, Nashville (10,12)
Smash SRS-67118
Abril/1969
Producido por Jerry Kennedy
Grabado:
Feb 26/1969, Columbia Studio, Nashville
Feb 28/1969, Columbia Studio, Nashville (3,9,12)
Jerry Lee Lewis - vocal/piano
Jerry Kennedy - guitarra solista
Ray Edenton, Chip Young - guitarra rítmica
Harold Bradley - guitarra bajo
Pete Drake, Lloyd Green - steel guitar
Bob Moore - bajo
Buddy Harman, Kenneth Buttrey - batería
Kenneth Lovelace - fiddle
Hargus Pig Robbins - piano/órgano
Coros:
The Jordanaires (Neal Matthews, Gordon Stoker, Raymond Walker, Hoyt Hawkins, Duane West),
Dorothy Ann Dilard, Louis Nunley, Jeannie Ogletree, William Wright

Fuente:

Lp Discography