(Publicado en Soy Country, 15-10-09)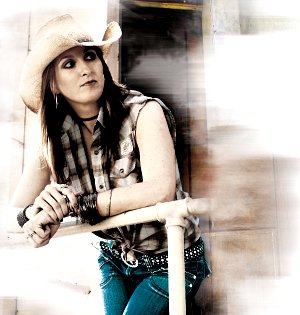 Viajamos "down under".
Jayne Denham
irrumpió en la escena musical australiana hace dos años con su super éxito "Chick Ute", que tocó la fibra sensible de los fans de música country local apelando a la fraternidad de las chicas
UTE
, el pick up truck australiano. Esta estampa reivindicativa femenina que recuerda a la de
Gretchen Wilson
en Estados Unidos es la que ha cultivado en su dos trabajos discográficos.
El single "Chick UTE" fue seguido por su álbum de debut "Sudden Change In Weather" calificado como un álbum de debut soberbio por
Capital News
, la revista australiana de referencia en música country.
El álbum, estuvo en el top 10 de diversas listas australianas indie, y fue muy popular especialmente en el Territorio Norte de Australia y posteriormente en Europa. El video clip estuvo durante 16 semanas en el top 30 de
CMC
. El éxito de Jayne Denham le llevó a actuar actuar en festivales de música country de toda Australia, incluyendo Tamworth y en el escenario principal en la Munster Gympie.

Su segundo single fue "Cousin Jude", basado en la historia real de una atractiva mamá trabajadora que un buen día decidió trabajar en los espectaculares camiones de 22 ruedas, largos trailers que recorren las interminables carreteras australianas. A raíz de este éxito Jayne ganó el 2008 Independient Country Music Awards en la categoría de Rising Star (promesa).




"Country Girl with a Rock and Roll Heart", su tercer single, fue "Pick of the Week " en el canal televisivo CMC y llegó al top 10. Fue incluido en la lista Hot 3FM Top Hits de 2008. Es entonces cuando Jayne llamó la atención la atención del reconocido productor australiano de música country Garth Porter y este se ofreció a producir su siguiente álbum. Las canciones del nuevo trabajo"Shake This Town" son una colaboración entre Garth Porter, Colin Buchanan y Jayne y sus amigos compositores que co-escribieron las canciones de este nuevo trabajo.
El primer lanzamiento a la radio del nuevo álbum, "Shake This Town ', volvió a entrar en el Top 30 australiano y llegó al número 2. Tras este éxito ha llegado "Shake This Town". Su video fue "Pick of the Week 'en CMC, y número 4 en listas tras
Adam Brand
,
Keith Urban
y
Steve Forde
. El nuevo álbum es un reflejo del estilo de country rock de Jayne con baladas más reflexivas.