(Publicado en Soy Country, 6-12-09)
Junto a Maggie Gyllenhaal, Robert Duvall y Colin Farrell
encabeza esta prometedora producción de bajo presupuesto.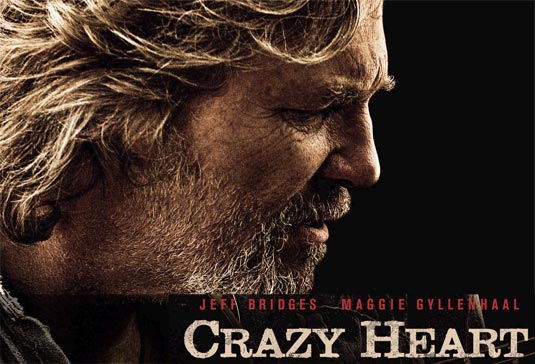 El New York Times ha publicado recientemente dos artículos sobre la película que puede ser una auténtica revelación en los Oscars:
'Crazy Heart'
y que podría dar el Oscar a su protagonista, el actor
Jeff Bridges
tras cuatro nominaciones a este premio.
No me extraña, aparte de ser un gran actor sólo con ver el
trailer
en la web de la película se me ponen los dientes largos, con ese tema hipnotizante de fondo de
Ryan Bingham
y
T Bone Burnett
titulado "The Weary Kind".
Hasta hace unas semanas 'Crazy Heart' era una producción de bajo presupuesto más sobre un cantante de música country fracasado, pero la incontestable calidad de su director, sus formidables actores - y su "gurú" musical: T Bone Burnett, responsable musical de éxitos cinematográficos como
Walk The Line
,
Cold Mountain
u
Oh Brother Where Art Thou?
han catapultado a la película a la primera página de actualidad y han obligado a adelantar el estreno y la promoción del filme. Además, se da la circunstancia de que es la última colaboración del músico y compositor
Stephen Bruton
, fallecido este año en Los Ángeles.
La película recuerda en su planteamiento a
Tender Mercies
(1983) con
Robert Duvall
, que ganó dos Oscar, precisamente al mejor actor y al mejor guión. Pero los que la han visto aseguran que cada uno hace su propia clase de interpretación. Aunque, casualmente Robert Duvall vuelve a participar brevemente en esta filmación como talismán, como si quisiera que Jeff Bridges, por fin, se llevease la estatuilla finalmente.
La película tiene humor, tiene dolor y tiene un antihéroe, Bad Blake (Beff Bridges) un cantante de música country que recuerda mucho en lo físico a
Waylon Jennings
, pero que está arruinado y cuya vida dura, con demasiados matrimonios fracasados, demasiados años, demasiados años de carretera y demasiada bebida le están pasando factura. En esta encrucijada de su vida aparece Jean (
Maggie Gyllenhaal
), una periodista que descubre al hombre real tras el músico. Es en este momento cuando Bad tiene que luchar en su camino a la redención y aprender de la manera más difícil como una vida dura puede enloquecer al corazón.
(Foto Lorey Sebastian, NewYork Times)
Cómo se gestó el filme
La historia tuvo su punto de inflexión en julio en Sun Valley, Idaho. Jeff Berg, presidente de
International Creative Management
, junto con Thomas E. Dooley, director financiero de
Viacom
, analizaban el destino de "Crazy Heart" producida por
Country Music Television
, que tuvo una inversión escasa de Paramount que tenía los derechos para distribuir la película, pero no estaba interesada.
Berg, cuya agencia representa al escritor de la película y director, Scott Cooper, quería el permiso de Dooley para venderla a un rival, para que no acabase editándose directamente en vídeo y lo consiguió, abriendo el camino para una compra por Fox Searchlight Pictures, una división del gigante News Corporation.

Posteriormente Fox Searchlight trasladó el estreno de la película de principios del próximo año al 16 de diciembre de este año, justo a tiempo para calificar para los Oscar. Además, ahora, Jeff Bridges puede promover la película, ya que no habría estado disponible para su promoción en la primavera ya que va a participar en el nuevo proyecto de los hermanos Cohen, otra buena noticia, ya que es un remake de "
True Grit
" (1969) de
Henry Hathaway
con
John Wayne
y
Glen Campbell
.
Una vez que 'Crazy Heart' fue mostrada a los grupos de iniciados de la industria, Jeff Bridges, un muy querido veterano que nunca ha ganado un Oscar a pesar de cuatro nominaciones desde 1972, ha ido geneando un espectacular boca a boca por su fantástico papel como Bad Blake, una leyenda country en horas bajas cuyas actuaciones se han reducido a boleras y bares.
A pesar del glamour de la alfombra roja de los Oscar, para llegar ahí la realidad es que antes hay un batalla feroz y los ejecutivos del estudio han estado debatiendo si ir a la captura del Oscar, porque esta promoción puede añadir decenas de millones de dólares a los gastos de comercialización de una película que, como "Crazy Heart," podría no dar ni para cacahuetes, como comentan en el
New York Times
.
Cuentan el caso de
Slumdog Millionaire"
, con la que ganaron el Oscar y se embolsaron más de 141 millones de dólares y también el fallido intento de las alabadas pero fallidas a nivel de premios de "
Frost / Nixon
" o "
El Curioso Caso de Benjamin Button
".
Finalmente Fox Searchlight apuesta 'Crazy Heart' y por Jeff Bridges frente a actuaciones como las de hace
George Clooney
, por su papel en "
Up in the Air
", y
Morgan Freeman
, por "
Invictus
".

Cooper que, además, es actor y que figura en los créditos de "Get Low" y "Gods and Generals", dijo que estaba contento de haber salvado este, su primer esfuerzo, de dirección de una película en la que ha trabajado por casi cinco años.
Invirtió personalmente en los derechos de la novela de
Thomas Cobb
, fuente de la película, y pasó no poco tiempo dando vueltas a las historias de Merle Haggard, el tipo de vieja estrella que inspira a Bad Blake. Cooper dijo que se sentía afortunado de haber hecho "Crazy Heart" a tiempo.
"Si fuera a hacer esta película ahora, nunca la haría"
, dijo, refiriéndose a la desintegración continua de las pequeñas producciones.

El rodaje
Las filmaciones de 'Crazy Heart' tuvieron lugar en Albuquerque, Galisteo y Santa Fe -Nuevo México-, y Los Ángeles -California- durante el verano del año pasado. Concretamente el 18 de septiembre de 2008 se aprovechó un concierto de
Toby Keith
en Alburquerque, con público real incluido para rodar las escenas musicales sobre un escenario auténtico. En este video se ve al equipo de filmación, cámaras, etc. rodeando a los actores, mientras estos cantan un gran tema "Fallin´& Flyin´" que está incluido en la banda sonora:
Las fotografías muestran las explicaciones que
Colin Farrell
dió al público durante el rodaje de la escena junto a Jeff Bridges,
David Manzanares
, Robert Duvall y que como se puede apreciar a este último en la foto junto a Toby Keith demostrando que es un gran fan country. Ambas fotografías provienen del blog de uno de los asistentes, el sheriff local
Greg Solano
:
La música de 'Crazy Heart'
Cuando Jeff Bridges recibió el guión de la película se lo estuvo pensando unos cuantos meses. Ni siquiera se habían escrito las canciones que saldrían en la filmación. Pero Bridges se decidió a hacerla cuando recibió una llamada de su viejo amigo el compositor, productor e intérprete T Bone Burnett (en la foto de abajo de
Kevin Scanlon
para The New York Times):
"¿Recuerdas la película" Crazy Heart ?"
comenta Burnett que le dijo.
"Yo dije, 'Sí'. Entonces Bridges respondió,
'Pues vamos a hacerla'. Y los dos nos unimos al proyecto".
Contar con el productor de talentos como
Elvis Costello,
Roy Orbison
y
k.d. lang
es una oferta tentadora. T Bone Burnett es de Louisiana pero se crió en Texas y finalmente acabó en Los Ángeles. Su contacto con el mundo del cine se produjo en la película
"O Brother, Where Art Thou?"
, un exitazo de taquilla y ventas -7 millones de discos vendidos- gracias a su magnífica selección de bluegrass, gospel y old time.
Un trabajo que ganó 5 premios
Grammy
, incluyendo el de mejor productor para Burnett. Desde entonces ha supervisado más superéxitos como "Walk the Line" y "Cold Mountain". Para cada película el planteamiento era el mismo: la música o montaje antes tenía que hacerse antes del rodaje cuando lo normal es que primero se ruede y luego se grabe la música.
Pero "Crazy Heart", está influenciada por Merle Haggard y la música que Scott Cooper escuchó cuando de pequeño en Texas:
Lefty Frizzell
,
George Jones
y
Peggy Lee
, y cuyas historias de soledad, alcohol y pasión ha sabido plasmar en el guión sobre el cual se basaron T Bone Burnett y Stephen Bruton, para reflejar el estado anímico y vital de ese cantante country de ficción que se enfrenta a si mismo en un oscuro honky tonk.
Según Burnett:
"El podía cantar su derrota en un honky tonk. Pero probablemente no podría decirle a su novia, si tuviera una, o incluso un amigo, 'Estoy acabado'. Así que se convirtió en el punto de apoyo para el personaje".
La banda sonora original es un lujazo en toda la regla con artistas clásicos como
Buck Owens
, los
Louvin Brothers
, Waylon Jennings,
Kitty Wells
, George Jones o los
Delmore Brohers,
Townes Van Zandt,
y contemporáneos como Ryan Bigham o
Lucinda Williams
, además de los actores principales de la película y una canción mexicana de
Lydia Mendoza
de 1934.
01. Hold On You (Jeff Bridges)
02. Hello Trouble (Buck Owens)
03. My Baby s Gone (Louvin Brothers)
04. Somebody Else (Stephen Bruton) (Instrumental)
05. Somebody Else (Jeff Bridges)
06. I Don t Know (Ryan Bingham)
07. Wesley Plays Piano (Thomas Canning)
08. Searching (Kitty Wells)
09. I Don t Know (Jeff Bridges)
10. Once A Gambler (Lightnin Hopkins)
11. Are You Sure Hank Done It This Way (Waylon Jennings)
12. I Let the Freight Train Carry Me On (Delmore Brothers)
13. Color of the Blues (George Jones)
14. Joy (Lucinda Williams)
15. Fallin & Flyin (Colin Farrell & Jeff Bridges)
16. Gone, Gone, Gone (Colin Farrell)
17. If I Needed You (Townes Van Zandt)
18. Reflecting Light (Sam Phillips)
19. Mal Hombre (Lydia Mendoza)
20. Live Forever (Robert Duvall)
21. Brand New Angel (Jeff Bridges)
22. The Weary Kind (Ryan Bingham)
Aproximadamente tres meses después, con las canciones de "Crazy Heart" completadas, Burnett y Bridges pasaron a la fase de grabación.
"Tenía muchas ganas de sacar esto adelante",
dijo Bridges que canta en cinco de los temas respaldado por un super grupo de fiddlers pianistas, guitarristas y steel guitars reunidos por Burnett.
"Mi proceso es que yo trabajo en el tema, memorizo las lineas y hago el trabajo. Pero Bone tiene una especie de enfoque Zen donde crea un espacio para esto se produzca.
Me producía ansiedad".
"Ese es el título de la película"
, Burnett le dijo al instante. The Weary Kind será colocada en los créditos finales en los que habrá una mención especial para Stephen Bruton (en la foto de la izquierda), al que posiblemente se dedicará la película. Bruton murió de cáncer el pasado mes de mayo en casa de su buen amigo Burnett.
"Tengo que decir que aún tengo que superarlo"
, Burnett, con los ojos humedecidos.
"Pero me siento profundamente satisfecho de que la última aportación musical de Stephen vaya a ver la luz del día".
El equipo de 'Crazy Heart' habla sobre la película