(Publicado en Soy Country, 13-10-09)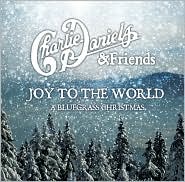 Todo artista country que se precie edita más tarde o más temprano un álbum navideño. Es una tradición seguida desde los años 50. Pero no nos imaginabamos que el fiero y austero de aspecto
Charlie Daniels
también tenía su corazoncito navideño y le gustarían el árbol navideño, el pavo y los villancicos.
Debe ser que ahora que luce más como un Santa Claus vaquero le ha llegado la hora. Pero curiosamente su nuevo disco "Joy To The World - A Bluegrass Christmas" es precisamente un trabajo de bluegrass con 12 temas navideños en CD y DVD, que serán imprescindibles en la colección de sus fans.
El álbum que sale hoy a la venta en Estados Unidos cuenta con colaboraciones de lujo como las de
Kathy Mattea
,
The Grascals
,
Dan Tyminski
, Suzanne y Evelyn Cox (de la
Cox Family
) y
Aaron Tippin
, otro duro de corazón tierno.
La selección musical contiene temas tradicionales que no podían faltar como
O Come All Ye Faithful
,
Silent Night
o
Joy To The World
, temas contemporáneos como Blue Christmas y composiciones del propio Charlie que imprimen carácter y autenticidad a este trabajo navideño en clave de bluegrass y sobre todo, mucho sabor sureño: Christmas Time Down South, Mississippi Christmas Eve, y A Carolina Christmas Carol.


Video promocional de 2008


Charlie Daniels: Joy To The World - A Bluegrass Christmas

Disco: 1
1. Christmas Time's a Comin' - The Grascals
2. Christmas Time Down South - Aaron Tippin
3. Blue Christmas
4. Mississippi Christmas Eve - Charlie Daniels
5. Hallelujah - Charlie Daniels
6. Christmas Song - Dan Tyminski
7. O Come All Ye Faithful - Kathy Mattea
8. God Rest Ye Merry Gentlemen - Evelyn Cox
9. Joy to the World - Charlie Daniels
10. Christmas Story - Charlie Daniels
11. Silent Night - Suzanne Cox
12. Carolina Christmas Carol - Charlie Daniels

Disco: 2
1. Christmas Time's a Comin' [DVD][Live] - The Grascals
2. Christmas Time Down South [DVD][Live] - Charlie Daniels, Aaron Tippin
3. Blue Christmas [DVD][Live]
4. Mississippi Christmas Eve [DVD][Live] - Charlie Daniels
5. Hallelujah [DVD][Live] - Charlie Daniels
6. Christmas Song [DVD][Live] - Dan Tyminski
7. O Come All Ye Faithful [DVD][Live] - Kathy Mattea
8. God Rest Ye Merry Gentlemen men [DVD][Live] - Evelyn Cox
9. Joy to the World [DVD][Live] - Charlie Daniels
10. Christmas Story [DVD][Live] - Charlie Daniels
11. Silent Night [DVD][Live] - Suzanne Cox
12. Carolina Christmas Carol [DVD][Live] - Charlie Daniels