La estrella de Bernal afianza su liderazgo artístico en Argentina
Yulie Ruth, cuyo nombre real es Julio Cesar Rutigliano, hace honor a su augusto nombre y con su nuevo trabajo "Tan Lejos de Texas" sigue ocupando el top de los artistas country masculinos en español por derecho propio. El nuevo trabajo del maestro argentino Ruth es un ameno conjunto de canciones country que beben de diversos estilos campestres, donde las letras ganan un espacio propio y nos muestra a un artista profundamente enamorado de la música country y de su esposa, la también artista Vane Ruth.
Sus canciones nos hablan de una fiesta en cada pueblo y en cada corazón. Tan lejos de Texas y tan cerca de Bernal, de la cosas cotidianas y de la gente sencilla. Momentos llenos de madurez y matices personales y rutas musicales que revelan que Yulie Ruth conecta directamente con la esencia de las raíces country. Por eso, Yulie retrata con fina maestría algunos de los momentos más brillantes de nuestra música: el honky tonk, el western swing, el movimiento outlaw...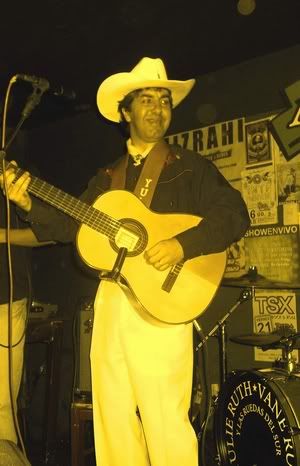 En sus partituras hay destellos y reflejos de Merle Haggard -que a su vez se retrata en la música de los años 20, Jimmie Rodgers, el swing, el rag time, el jazz de Nueva Orleans, el charleston...-, de Asleep At The Wheel, de Willie Nelson, de Waylon Jennings... ¿se pueden pedir mejores credenciales?
Sus héroes han sido siempre los vaqueros de la vieja escuela: Roy Rogers, Bob Wills, Hank Williams, Gene Autry, Ernest Tubb... y los que le siguieron Merle Haggard, George Jones, David Allan Coe, Mel Mc Daniel, Asteep at the Wheil, Riders in the Sky, Waylon Jennings y su favorito Wilie Nelson. Según Yulie:
"Nunca es suficiente a la hora de escuchar a Willie",
por eso, haber contado con el armonicista de Willie, Mickey Raphael, ha sido el summun para Yulie. Por el momento.
"Tan Lejos de Texas" se grabó durante el año 2010 en el estudio "Los Pájaros" bajo la sabia producción de Nelson Pombal. El disco contiene 14 canciones, 11 que pertenecen a Yulie Ruth y 3 covers adaptadas al español:
· 'Tan lejos de Texas' ('Miles of Texas' de Tom Campfield/Diane Johnston)
· 'Hoy Empecé a Amarte Otra Vez' ('Today I Started Loving You Again' de Haggard/Owens)
· 'Yo la he pasado genial' ('I Had a Beautiful Time' de Merle Haggard)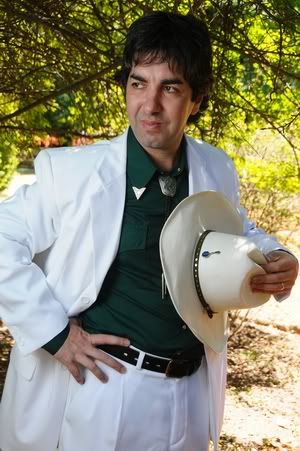 El objetivo de Yulie era unir algunos de los grandes íconos de la música country de Texas con las vivencias de su Bernal adoptivo. Ser el creador de 4 álbumes originales de música country en Argentina ("El Country vino para Quedarse" (2005); "Yodels" (2006), "Renegado" (2008), "Tan Lejos de Texas" (2011)) tiene su mérito y Yulie ha demostrado con profesionalidad liderar este género musical en su país a nivel artístico, junto a su inseparable Vane Ruth, quien enriqueció la grabación, como enriquece la música de Yulie, gracias a ese toque de ingenuidad típico de los viejos tiempos del Far West y a dos dúos impregnados de complicidad y amor.
Recordemos que en el disco colaboran los músicos americanos: Jeff Colson, Tommy Butler y Skeeter Wolfe (pedal steel), el alemán Franz Pink (mandolina) y la suiza Sophie Lussi (violinista). De Argentina: Mauro García Barbé y Diego Rodríguez (teclados), Ezequiel Binnewies (bajo), Lucas Chamorro (armónica), Juan Soria (guitarra), Pablo Novelli (batería), Matías Bahillo (trompeta), Iván Barrios (trombón), Herman Ringer (violín) y Heldo Fonseca (clarinete) con la producción de Nelson Pombal, la ingeniería musical de Leo García y la grabación en el estudio "Los Pájaros" (Lujan).
Una nómina de lujo que se traduce en un trabajo digno de haberse grabado en Texas. Un sueño hecho realidad para Yulie, que desde que tenía 12 años rasga la guitarra intentando encontrarle sentido a lo que le rodea. Sabemos Yulie tuvo sus escarceos con el rock, pero finalmente venció su pasión por el country y ese amor, como decía, dulcificado gracias a Vane Ruth, se muestra en cada canción de este pulido trabajo: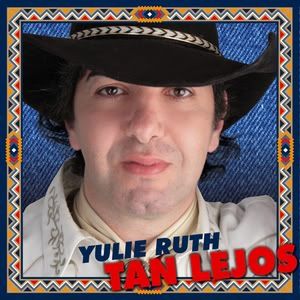 01. 'Hogar Dulce Hogar'
Uno de los temas más potentes de este álbum en el que se muestra a las claras que Yulie pasa por uno de los mejores momentos de su vida:
"hogar dulce hogar, dan ganas de llegar.."
. Y ya sabemos quien le espera allá. Dinámico, entretenido, con un sólo twang de guitarra contundente "a la Willie". Un hit en potencia.
02. 'Cowboys y Gauchos'
Recuerdo que cuando entrevisté a nuestro amigo Gustavo Laurino de Country2.com, el creador del gran Festival de San Pedro -el mayor de Sudamérica- para ICMDAY, realicé un paralelismo entre los gauchos y los cowboys, que a mi entender comparten espacios abiertos, trabajos similares, dificultades y sueños semejantes, sólo que unos beben mate y otros café alrededor de la hoguera. Hoy Yulie Ruth comparte esta misma impresión y la expresa en esta canción donde nos pinta una escena de camaradería en un bar o honky tonk imaginario:
"Cowboy y gauchos sienten igual..."
03. 'Tan lejos de Texas'
A ritmo de western swing en la onda de Asleep At The Wheel, Yulie nos presenta este tema en las que nos habla de algunos de sus ídolos, como David Allan Coe, Willie Nelson o Jason Roberts
-Texas Fiddle Man-
y del estado de la estrella solitaria... con evocación y nostalgia. La misma que sentimos todos los fans de la música country que vivimos tan lejos de las cunas de la música country. Tema con dinamismo en la que participa Vane Ruth a dúo haciendo el contrapunto a su marido en este tema de Tom Campfield y Diane Johnston.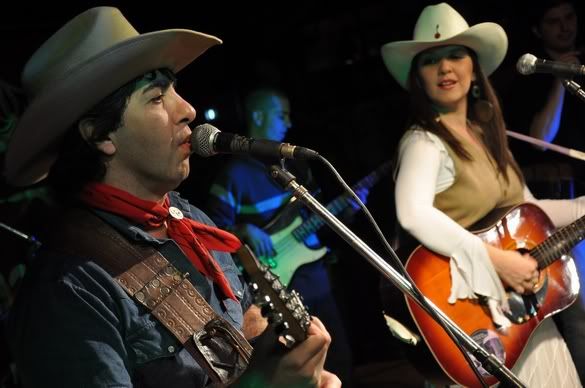 04. 'Decidí Tomarlo con Humor'
Hay filosofías que son de admirar y esta es una de ellas.
"Hay que saber perder, distinto es dar el brazo a torcer, si ahora tengo lo mejor, por qué guardar rencor, decidí tomarlo con humor".
De nuevo importantes influencias de Willie Nelson y del western swing texano de Bob Wills, clarinete incluido.
05. 'El Precio de mi Ayer'
Es contagioso, pegadizo, vibrante, y, además, es el adelanto del álbum, un tema con aires western y nativos, y con gran influencia, de nuevo, de uno los héroes de Yulie, Willie Nelson, para el cual invita a un colaborador excepcional, Mickey Raphael, el armonicista de la banda del legendario artista.
06. 'A Decir Verdad'
La influencia del amigo Waylon Jennings se pasea por la música de Yulie con esta canción que muestra el estado de felicidad de Yulie:
"A decir verdad lo tengo todo no se escapará de ningún modo, lo hemos construido codo a codo".
Con un gran trabajo en la steel guitar fundida por la armónica de Lucas Chamorro.
07. 'Ido en Quilmes'
Una simpática melodía que nos relata, con un ritmo inequívocamente Haggardiano (
"tarareando Silver Wings")
, el paso de Yulie Ruth a la música country:
"Que me perdonen los Stones, me quedo con George Jones, Freddy Powers y Johnny Cash, hasta que los conocí, hasta que los descubrí, estaba Ido en Quilmes".
08. 'Nada se compara a su amor'
De nuevo, volvemos a señalar rutas por el western swing con un excelente trabajo de steel guitar, en un tema de factura clásica y moderna producción. Y de nuevo nos muestra el excelente estado emocional del autor:
"Puedo despertarme un día en Texas y darle rienda suelta a un honky tonk, puedo encontrarme una fortuna, pero nada se compara a su amor"
. Que así sea.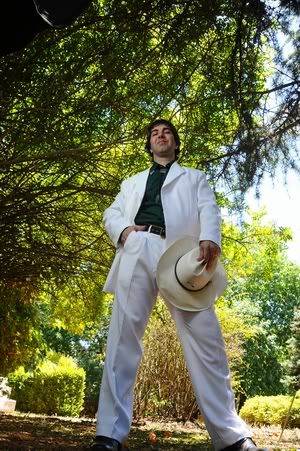 09. 'Amigo'
Tema country pop que intuyo que Yulie dedica a sus amigos y a su público por su fidelidad y por seguirle en infinidad de conciertos por toda Argentina.
10. 'Al Fin en Tus Brazos'
Otro de los grandes hits de este álbum "Tan lejos de Texas", lleno de momentos evocadores. Un honky tonk de bella factura, muy pegadizo, aderezado con un dúo con una impecable steel guitar con una guitarra twang para consolidar el positivismo general que transmite este trabajo:
"Al fin en tus brazos, no llegaba más, el viaje fue largo, eterno quizás, los días contados, me siento un rehén, fuera de prisión, sos mi mejor canción, me haces tanto bien".
11. 'Hoy Empecé a Amarte Otra Vez'
¿Y yo qué voy a decir, si soy un enamorado de la música de Merle Haggard? que me gusta este tema. Pero frente a la melancolía de Hag, Yulie experimenta un renacimiento primaveral y acompañado en los coros de Vane, lo convierte en un honky tonk a ritmo de two step y nos engancha con un mensaje que sale del corazón y con un inusual mix de steel guitar y mandolina en linea con el mejor nuevo tradicionalismo, que rubrica el tema con un yodel. Esto
escountry
, amigos.
12. 'Yo La He Pasado Genial'
Volvemos a viajar a los locos años 20 y a Bob Wills de la mano de Merle, al western swing, al piano, al clarinete y a la sección de viento. Otro tema optimista que indaga en las claves de la actual felicidad de Yulie Ruth.
13. 'Y Si El Viejo Pudiera'
Un tema más crossover con una guitarra a la Nelson y doble ritmo, que nos explica como fluye la vida y como se percibe en cada momento desde la juventud y desde la vejez:
"Y si el viejo pudiera volver el tiempo atrás y si el joven supiera que en esta cruzada es uno más".
14. 'Niña Mimada'
Esta canción es un juguete, una noche estrellada, una bella flor en la voz de Yulie y Vane Ruth. Nostalgia del ayer y esperanza en el futuro, fruto del amor y de una pasión común: la música.
En definitiva, con "Tan Lejos de Texas" Yulie Ruth alcanza la madurez interpretativa en un momento personal y profesional inmejorable. Un trabajo realmente interesante que nos habla de un artista netamente country que vive por la música country y para la música country, que tiene talento y que lo demuestra. Bravo, Yulie.