Jack White reinventa el sonido de la legendaria artista de country, rockabilly y gospel
Mientras esperamos la actuación de Wanda Jackson en el Rockin´ Race de Torremolinos el 5 de febrero, en el mismo cartel de los madrileños Jackpots, la reina del rockabilly vuelve a la actualidad con un disco producido por Jack White que aporta generosas dosis de modernidad y vanguardia a su música reinventando su sonido con un disco, cuanto menos, sorprendente.
Jack White es junto con Rick Rubin y T Bone Burnett uno de los artistas y productores más originales que hay en Estados Unidos. Tres monstruos que cuando tocan un producto musical lo regeneran y lo elevan a dimensiones superiores. Cada uno a su manera. Mientras Rick Rubin desnudó la música de Johnny Cash dibujando un potente lienzo musical minimalista y T Bone Burnett gusta de revelar la pristina simplicidad de la música tradicional para encontrar gemas deslumbrantes, Jack White sofistica y remodela la música de las leyendas llevándolas a la vanguardia musical. Ya lo hizo fantásticamente con Loretta Lynn que no ha parado de acaparar premios Grammy por ello y, ahora, lo ha vuelto a a hacer con otra leyenda insobornable de la música americana, la gran dama y pionera, Wanda Jackson, la reina del rockabilly.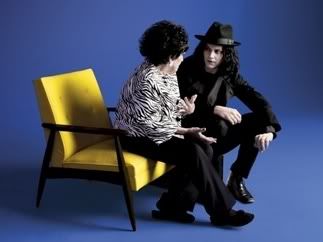 "The Party Ain't Over", que se edita el 25 de enero, es el primer trabajo de la artista en 8 años y contiene 12 canciones. Para la ocasión Jack White ha invitado a artistas como Jackson Smith (hijo de Patti Smith), Karen Elson (esposa de Jack WhiteWhite) o Jack Lawrence (de The Raconteurs y The Greenhornes), entre otros, así como a una amplia nómina de músicos, hasta 12 por tema.
Y lo que nos encontramos no es un disco en absoluto convencional sino una sorpresa en cada pista. Como la suntuosa fiesta latina beatnick de 'Rum & Coca Cola' o la impactante versión de 'Shakin´All Over' de Johnny Kidd and The Pirates. Jack White provoca la sugerente sensación de que estamos escuchando a Wanda Jackson por primera vez y que detrás de esa voz desgarrada, llena de espíritu juvenil no se encuentra una dama de 73 años que ha compartido escenario con los más grandes artistas del rock & roll y el country, desde Elvis Presley a Jerry Lee Lewis (al que menciona en la volcánica 'Thunder In The Mountain'), pasando por Buddy Holly o Gene Vincent, sino una adolescente editando un innovador conjunto retrovanguardista de canciones de rock & roll, country y gospel. Segun Wanda: "Jack me ha empujado al siglo XXI".
Y bien que lo ha hecho, por ejemplo en 'You Know I´m No Good' (Sabes que no soy buena), de Amy Winehouse en los que trata problemas de la vida diaria como el engaño, la mentira o las drogas, canción que fue editada como single de vinilo de 45 rpm.
Incluso cuando Wanda Jackson canta clásicos como 'Busted', 'Dust On The Bible' o 'Rit It Up' encontramos versiones tintadas de una nueva pasión que nos hacen valorar de nuevo la capacidad de la música original americana para regenerarse y aportar nuevos matices musicales al pasado, frente a los que pretenden enterrar y borrar de un plumazo los grandes hallazgos de ayer. Como 'Teach Me Tonight' con sonido retro años 40, country y rock and roll o el 'Blue Yodel #6' de Jimmie Rodgers que nos señala las raíces del auténtico sonido que puso al country en la senda de la música contemporánea, dando origen más tarde al rockabilly.
Wanda ha actuado el pasado sábado en el Grand Ole Opry y, ahora, le queda toda la promoción del disco en los principales programas televisivos americanoscon el de David Lettermann de mañana jueves y diversos shows en los que tocará su nuevo disco con Jack White y la Third Man House Band.
En
NPR
se puede escuchar el nuevo disco hasta el 25 de enero.
01. Shakin All Over
02. Rip It Up
03. Busted
04. Rum and Coca-Cola
05. Thunder on the Mountain
06. You Know I'm No Good
07. Like a Baby
08. Nervous Breakdown
09. Dust on the Bible
10. Teach Me Tonight
11. Blue Yodle #6
Fuente:
Wanda Jackson
NPR