Johnny Cash y el cine en 1970
Por José Mª Cuenca
El impacto de la música country en el cine siempre ha estado presente desde sus inicios. En este artículo me centraré en dos películas, ambas de 1970, que por cierto supusieron también mi inicio como aficionado incondicional al country.
"I Walk The Line" (1970)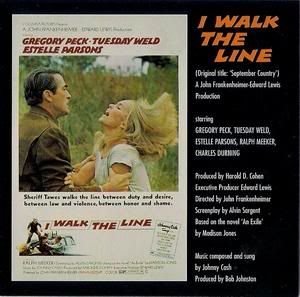 El título de esta película fue traducido en España como "Yo Vigilo el Camino", no confundir con "Walk the Line" ("En la Cuerda Floja) del 2005 y también con temática country y música de Johnny Cash.
Pues bien, "I Walk The Line" está interpretada por Gregory Peck dando vida al sheriff Henry Tawes, un hombre ya maduro que se siente hastiado del mundo en el que vive y recuerda con nostalgia su pasado cuando trabajaba en una zona rural de Tennessee. Su vida cobra un nuevo sentido al conocer a Alma McCain (Tuesday Weld), hija de un "moonshiner" que destila licor ilegalmente. Ellen Haney, la mujer de Henry, pronto se da cuenta de que está perdiendo a su marido respetable.
La banda sonora corre a cargo de un pletórico, por aquellos años, Johnny Cash es pura delicia con temas como, 'I Walk the Line" (en su versión más lenta). Esta divertida miniversión es precisamente de 1970, en directo, en el Show de Johnny Cash, junto a Kirk Douglas. En palabras de Johnny Cash, su actor favorito.
También incluía temas como 'Flesh and Blood' (bajo estas líneas), 'This Side of the Law', 'This Town', etc. Realmente esta película me enganchó totalmente a nuestra querida música country y también a la vida de la América rural o profunda, como suelen decir por aquí.
Banda Sonora Original
01. Flesh and Blood (Cash)
02. I Walk the Line (Cash)
03. Hungry (Cash)
04. This Town (Cash)
05. This Side of the Law (Cash)
06. 'Cause I Love You (Cash)
07. The World's Gonna Fall on You (Cash)
08. Face of Despair (Cash)
09. Standing on the Promise (Kelso)
10. Amazing Grace (Newton, Walker)
"Little Fauss & Big Halsy" (1970)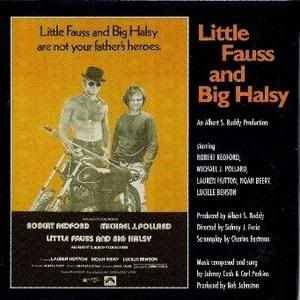 Esta película fue traducida en nuestro país como "El Precio del Fracaso" y estaba interpretada por Robert Redford, Michael J. Pollard y Lauren Hutton.
Historia de dos motoristas que tienen caracteres opuestos, uno es tímido y amedrentado, el otro autosuficiente y seguro de sí mismo. Estos antihéroes a los que la productora promocionaba como que "no son los héroes de tus padres" se asocian para participar en diferentes carreras y llegan a convertirse en buenos amigos, hasta que se enamoran de la misma mujer.
La banda también cuenta con música del maestro Johnny Cash y temas perfectos y poco conocidos como 'The Ballad of Little Fauss & Big Halsy' que cierra la película, 'Wanted Man' de Bob Dylan, 'Rollin´ free' e incluso una canción del legendario Carl Perkins llamada 'True Love is Greater Than Friendship', aquí interpretada por el propio Carl Perkins en el show de Johnny Cash en 1971.
Está película se rodó en Arizona y el Sur de California, y representó la confirmación de mi afición a la música country (the best music in the whole world).
Banda Sonora Original
01. Rollin' Free (Cash)
02. Ballad of Little Fauss and Big Halsy (Perkins)
03. Ballad of Little Fauss and Big Halsy (Perkins)
04. 706 Union (Suggs)
05. Little Man (Cash)
06. Little Man (Cash)
07. Wanted Man (Dylan)
08. Rollin' Free (Cash)
09. True Love Is Greater Than Friendship (Perkins)
10. Movin´(Perkins)