Ingeniero de sonido de la época dorada de Nashville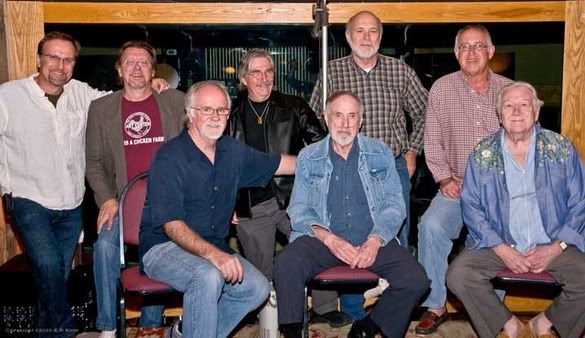 Jim Williamson (sentado entre Garth Fundis -izquierda- y Cowboy Jack Clement -derecha-)
en una reciente reunión en el Sound Emporium. Foto: Kerry Kopp
Hace unos días nos enteramos del fallecimiento de Jim Williamson el 20 de enero, pero la noticia de su muerte ha quedado en segundo plano debido al fallecimiento de Charlie Louvin. Posiblemente no sonará mucho su nombre, pero si nos referimos al ingeniero de sonido de Merle Haggard, Bob Dylan, Johnny Cash, Loretta Lynn, Marty Robbins, Kris Kristofferson, etc. nos encontramos con otra de las figuras clave de la época dorada de Nashville.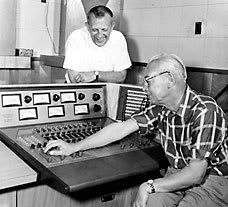 Williamson trabajó para al menos, 4 productores en el Country Music Hall of Fame: Don Law, Owen Bradley (de pie junto a Don Law en la foto de la izquierda), Ken Nelson y Billy Sherrill, grabando temas tan impresionantes como 'Coal Miner's Daughter' de Loretta Lynn, 'Stand By Your Man' de Tammy Wynette, 'Rose Garden' de Lynn Anderson o el álbum de Bob Dylan "Blonde on Blonde".
Nacido en 1935 en Carolina del Norte, Williamson trabajó en la division de radio de las fuerzas aéreas norteamericanas cuando estaba destinado en Florida. Posteriormente estuvo trabajando en unas lineas aéreas en Delaware a finales de los 50 y, como piloto civil, siempre fue un fan de la aviación llevándose a Loretta Lynn de paseo en avioneta el día en el que grabaron 'Coal Miner's Daughter'.



Tammy Wynette: 'Stand By Your Man'



Lynn Anderson: 'Rose Garden'




Su primer trabajo en Nashville lo obtuvo en Hi-Fi y después en la WSM-TV, hoy WSMV, a primeros de los 60 y en su nómina incluye diversos estudios de la época como los Columbia Recording Studios (Johnny Cash, Marty Robbins, los Statler Brothers...), Woodland Sound Studio o los Jack Clement Studios, donde Williamson fue el jefe del estudio. Más tarde fue promovido a Presidente en el reconstituido Sound Emporium donde grabó temas para Waylon Jennings, Don Williams, George Jones, Willie Nelson y Kenny Rogers, entre otros.
Según Merle Haggard, que trabajó con él durante 10 años: "Era uno de los ingenieros de sonido más hábiles con los que he trabajado en Nashville". Temas como 'That's The Way Love Goes', 'Ramblin' Fever' y 'If We Make It Through December' llevan su sello.

Merle Haggard: 'That's The Way Love Goes'



Merle Haggard:'If We Make It Through December'




También trabajó para Owen Bradley en Decca Records, contribuyendo a lanzar las carreras de Bill Anderson, Jack Greene y Conway Twitty, entre otros.
Williamson ayudó a Kris Kristofferson en los inicios de su carrera moviendo unas cintas que le había pasado. Finalmente le fichó Monument Records. Definitivamente, Jim Williansom tenía buen oído.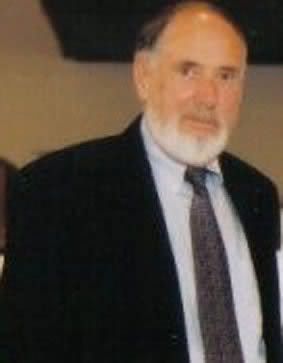 Williamson consideraba su trabajo como un servicio al artista y creía que el mismo era una ayuda artística para los artistas y músicos para capturar la mejor actuación posible. Pero su figura era algo más para mucha gente. Garth Fundis, que en asociación con Willianson produjo en Sound Emporium diversos éxitos para Don Williams, Keith Whitley y Trisha Yearwood dijo:
"Sabía escuchar y era como un padre para mucha gente. Era realmente un hombre asombroso, honesto hasta la médula".
Toda carrera tiene alguna sombra, pero incluso en esta ocasión Williamson salió airoso. El estudio para el que trabajaba le había obligado a grabar una sección de cuerda sobre una grabación original de Hank Williams para edulcorarla según los gustos de la época del
Nashville Sound
. Para Williansom era todo un problema porque los músicos tenían que ir al ritmo marcado por Hank y la música tenía que sonar en el propio estudio por lo que el eco de la música se colaría en la mezcla final. De madrugada Williamson modificó el estudio para que los músicos escuchasen la melodía de Hank por unos novedosos, por aquel entonces, auriculares, así que la música de Hank Williams quedó lo más fiel a la realidad que pudo.
En los últimos años Jim Williamson sufría de obstrucción pulmonar crónica. Ha muerto con 75 años de edad.
Hubiera cumplido 50 años de casado con su mujer Edith Flowers en septiembre.
Fuentes: