Nuevo vídeo del grupo hall of famer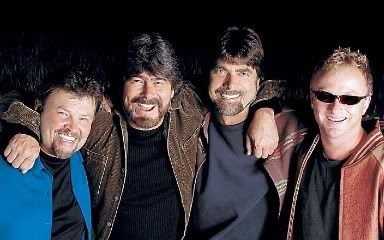 El grupo Alabama disuelto tras una larga gira triunfal por todos los Estados Unidos en 2003-2004 ha grabado un nuevo vídeo del tema de Waylon Jennings 'Are You Sure Hank Done It This Way'.
La canción ya ha sido versionada anteriormente por grupos como Uncle Tupelo (2003) y, recientemente, como decimos, por Alabama para el álbum de tributo a Waylon titulado
"The Music Inside: A Collaboration Dedicated To Waylon Jennings, Volume One"
, que será editado el 8 de febrero en USA. El adelanto de este disco ha sido, precisamente, el tema de Alabama, al que consiguen dar su toque personal.
'Are You Sure Hank Done It This Way' fue incluida en el disco de Waylon Jennings "Dreaming My Dreams", y fue en su día su cuarto single en llegar al número uno en listas de country. La canción 'Are You Sure Hank Done It This Way' (¿Estás seguro de que Hank lo hizo de esta manera?) no era precisamente complaciente con la industria de Nashville en su momento y, aún ahora, en la voz de suena con la misma sinceridad, frescura, ironía y calidad que cuando lo grabó en 1975 y lo cantó a lo largo de su sensacional carrera.
Fuente:
Alabama
Wikipedia