La música country en 1973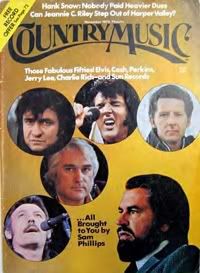 A partir de nuestro artículo sobre la radio americana de Torrejón de Ardoz hemos hecho amistad con Thom Whetston, un antiguo dj de los AFRTS que está realizando una gran labor redescubriendo antiguos shows de radio de la cadena internacional de la fuerzas aéreas norteamericanas. Auténticas joyas que se pueden volver a disfrutar hoy en día y por las que no pasan los años.
Hoy recuperamos gracias a Thom, un nuevo show de Gene Price de 1973, una de las estrellas radiofónicas de esta cadena de pequeñas radios de las bases aéreas americanas. Además ha tenido la gentileza de dedicar la publicación a los amigos country de España desde
AFRTS ARCHIVE
:
La música country en 1973

En este año The Dean Martin Show se convierte en el Dean Martin Presents Music Country durante el verano, Willie Nelson organiza su primer picnic del 4 de julio -evento que se sigue celebrando-, Billboard incrementa su número de singles a 100 (desde 75), debuta el programa radiofónico "American Country Countdown" de Casey Kasem y Don Bustany, que es copia del American Top 40 (también realizado por Kasem). El humorista Don Bowman es el presentador original pero en 1978 es reemplazado por Bob Kingsley. Recordemos que este programa también se emitía por la emisora de las fuerzas aéreas americana.

La nómina de éxitos en listas de 1973 es estupenda: 'Always on My Mind' de Elvis Presley, 'Dueling Banjos' de Eric Weissberg y Steve Mandell, '(Old Dogs, Children And) Watermelon Wine' de Tom T. Hall, 'I Wonder If They Ever Think of Me' y 'If We Make It Through December' de Merle Haggard, 'Ridin' My Thumb to Mexico' de Johnny Rodriguez, 'Louisiana Woman, Mississippi Man' de Conway Twitty y Loretta Lynn, 'Why me' de Kris Kristofferson, 'Behind Closed Doors' de Charlie Rich, o 'Amazing Love' de Charley Pride con 3 números uno en ese año.



Asesinato de David 'StringBean' Akeman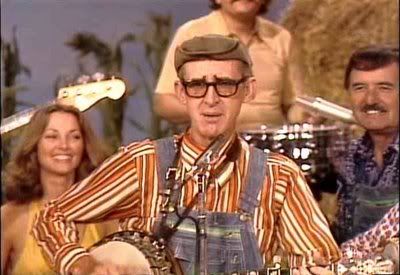 En 1973 también sucedío una noticia luctuosa, el 10 de noviembre David Akeman (alias StringBean) y su esposa, Estelle, fueron asesinados al sorprender a unos ladrones robando en su casa. Los cuerpos fueron encontrados al día siguiente por su viejo amigo y vecino Grandpa Jones. David desconfiaba de los bancos y frecuentemente llevaba grandes cantidades de dinero consigo que enseñaba a sus amigos, lo que atrajo fatalmente la atención de los ladrones. En 1994 descubrieron 20.000 dólares en su antigua casa escondidos en un hueco disimulado. Los dólares habían sido retirados de la circulación hacía años.
Los asesinos se David Akeman y su mujer fueron los hermanos John y Marvin Douglas que acabaron siendo capturados y sentenciados gracias al testimonio de Grandpa Jones que identificó una pistola de David entre las pertenencias de los hermanos. El asesinato tuvo una gran repercusión nacional ya que David 'StringBean' Akeman era muy popular gracias a su papel de banjista hillbilly en "Hee Haw" el famoso programa sindicado de Buck Owens.
David 'StringBean' Akeman nació en Annville, Kentucky en 1916. Y comenzó su carrera en la WLAP de Lexington, Kentucky, compaginando el espectáculo con su dedicación al béisbol en la liga semiprofesional. Precisamente jugando allí es como conoció a Bill Monroe que le fichó de 1943 a 1945. Durante este periodo también tocaba con Willie Egbert Westbrook como el dúo "String Beans and Cousin Wilbur" y frecuentemente tocaban en el mismo escenario de la banda de Monroe. David fue sustituido en dicha banda por Earl Scruggs.
Pronto, junto a Grandpa Jones, otro músico de banjo, con el que entabló amistad y con el que trabajó se convirtió en estrella del Grand Ole Opry. David 'Stringbean' tenía un divertido aspecto peculiar con una enorme camisa de cuadros, pantalones caídos... vamos un look de lo más actual:
Lo curioso es que en esta época, desde los años 40 y 50, David fue una estrella de la música country sin haber grabado un sólo álbum.
El primer álbum que grabó fue "Old Time Pickin' & Grinnin' with Stringbean" (1961), una colección de canciones folk, historias jocosas y bromas, le siguieron "Salute to Uncle Dave Macon" (1963) y "Old Time Banjo Picking and Singing" (1964).
Finalmente en 1969 se unió a la troupe de "Hee Haw", el show semanal de Buck Owens, un hito en la música country televisiva. Aquí le vemos interpretando 'Stop That Tickling Me' junto a Grandpa Jones, Roy Clark, Roni Stoneman y Bobby Thompson.
Fuentes:
AFTRS ARCHIVE
1973 in Country Music. Wikipedia
Conservapedia