Juntos por una buena causa
Los Grascals
ficharon virtualmente a Dolly Parton para su vídeo musical 'I´m Strong' rodado en el hospital de St. Jude. No es la primera vez que vemos un vídeo de este tipo grabado por separado ya que anteriormente vimos el estupendo vídeo del Conjunto San Antonio, nuestro grupo internacional más americano, con Jorge Moreno y su
'Jambalaya'
Sin embargo, los Grascals y Dolly Parton han tocado juntos en diversas ocasiones como en el CMA Fest interpretando una bluegrassera versión de 'Viva Las Vegas'.
"The Grascals & Friends - Country Classics with a Bluegrass Spin"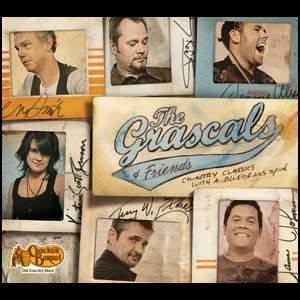 'I´m Strong' es el adelanto navideño de su nuevo álbum "The Grascals & Friends - Country Classics with a Bluegrass Spin" editado el pasado 10 de enero y que ya nos había sido anunciado por la revista
EFE EME
el pasado 21 de diciembre.
La emotiva canción fue escrita por el miembro de los Grascals Jamie Johnson y su mujer Susanne Mumpower-Johnson junto con Jenee Fleenor tras la visita del grupo al hospital y se inspiraron con las historias que allí escucharon. 'I Am Strong' lleva impreso un mensaje de esperanza para todos esos niños.
El álbum ha impactado en el número 1 en listas de bluegrass y en el 26 en listas de country y contiene 13 temas con diversas colaboraciones como las de Brad Paisley, Tom T. Hall, Charlie Daniels, los Oak Ridge Boys, Joe Nichols, Terri Clark, Randy Owen (Alabama), etc.

Los temas tocan varios palos de la musica country. Desde el Bakersfield Sound de 'Tiger By The Tail' y Buck Owens hasta el 'Louisiana Saturday Night' de Bob McDill, pasando por 'Folsom Prison Blues' de Johnny Cash, 'White Lighning' de George Jones, 'The Year That Clayton Delaney Died' de Tom T. Hall -junto con su colaboración-, o 'Mr. Bojangles' que aunque fue escrito por Jerry Jeff Walker triunfó en el pop en la voz de Neil Diamond.


Listado de canciones
01. Tiger By The Tail (con Brad Paisley)
02. Folsom Prison Blues (con Dierks Bentley)
03. Pain of Lovin' You (con Dolly Parton)
04. I Am Strong (con Dolly Parton)
05. Louisiana Saturday Night
06. The Year That Clayton Delaney Died (con Tom T. Hall)
07. White Lightning (con Darryl Worley)
08. The Devil Went Down To Georgia (con Charlie Daniels)
09. Leavin' Louisiana In Broad Daylight (con The Oak Ridge Boys)
10. Mr. Bojangles (con Joe Nichols)
11. Hank Williams Jr. Medley-Born To Boogie / All My Rowdy Friends Are Comin' Over Tonight
12. Cracker Barrel Swing (Instrumental)
13. I Am Strong (Tema extra) con las actuaciones de Dolly Parton, The Oak Ridge Boys, Darryl Worley, Charlie Daniels, Terri Clark, Randy Owen, Steven Seagal, Tom T. Hall, Joe Nichols y Ansley McLaurin