¡Elvis ha abandonado el edificio!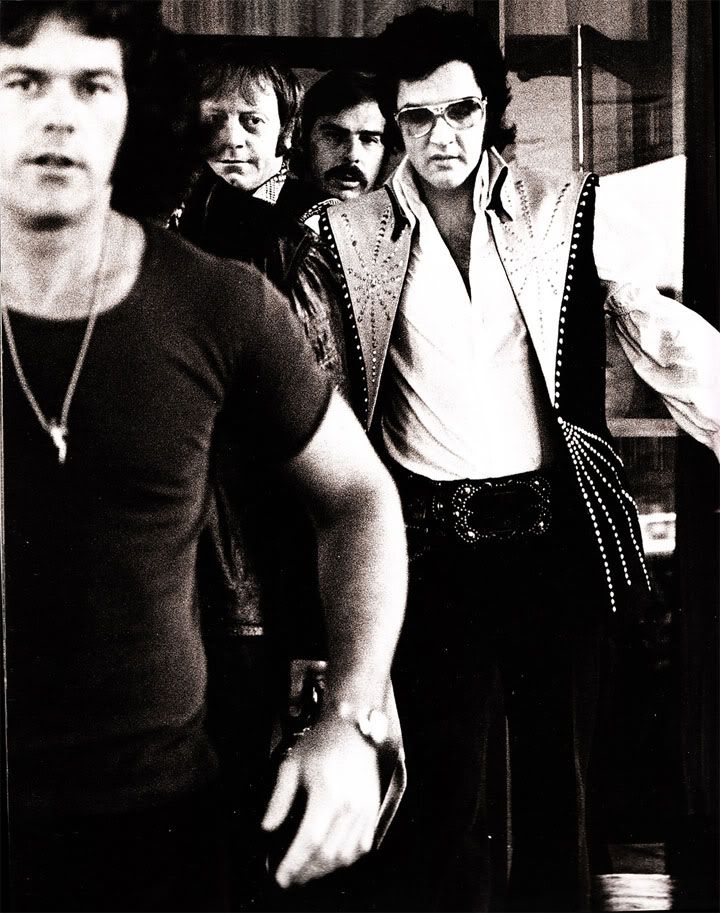 Cuando el 15 de diciembre de 1956, el promotor Horace Lee Logan pronunció esta frase por primera vez no se imaginaba que sus palabras se convertirían en un icono cultural de toda una época. La intención de Logan era que los jóvenes fans de Elvis no se levantasen de los asientos en masa y fueran a intentar ver a Elvis tras su concierto produciéndose el consiguiente alboroto y griterío.
Concretamente la frase pronunciada por Logan fue: "Please, young people... Elvis has left the building. He has gotten in his car and driven away.... Please take your seats." (Por favor, jóvenes, Elvis ha abandonado el edificio. Se ha montado en su automóvil y se ha ido en él... Por favor, tomen sus asientos)
Cada noche, Elvis era zarandeado, besado, tocado y asediado por las efervorizadas fans que salían corriendo a verle tras el concierto, por lo que antes de terminar la última canción salía por la puerta rumbo a su Cadillac que le estaba esperando con el motor en marcha y salía hacía su hotel o hacía Graceland. El presentador de los conciertos en los primeros tiempos, Al Dvorin, tomó nota de la frase de Logan y a base de repetirla en los conciertos en vivo que luego se editaban en disco la hizo famosa.
Según nos cuenta Antón García-Fernández, desde Memphis, Horace Logan, era uno de los locutores más populares del Louisiana Hayride, el programa de radio rival del Opry que se emitía en directo todos los sabados por la noche desde el Municipal Auditorium de Shreveport (Louisiana) a traves de las ondas de la emisora KWKH. Horace Logan, ademas, escribió un interesante libro titulado "Elvis, Hank, and Me", una biografia muy recomendable.
La frase "Elvis has left the building!" con el tiempo se ha convertido en un tópico recurrente y en un icono cultural americano refiriéndose a cuando alguien se ha ido de alguna manera, especialmente cuando la forma de irse es llamativa, por ejemplo en fallecimientos o incluso en el béisbol cuando un jugador hace un home run y la bola sale más allá de la valla hacia las gradas.
The Secret Sisters: Elvis has left... the dress!
Esta frase nos recuerda otro "abandono" de Elvis, en forma de chapa, del vestido de Laura Rogers de las Secret Sisters en la portada de su primer disco titulado "The Secret Sisters". Una "fuga" producto del programa de retoque e ilustración Photoshop (o un programa similar).
No sabemos por qué a alguien le puede molestar que un artista lleve una chapa de Elvis. El caso es que resulta bastante curioso, y un tanto naif que la chapa desaparezca para la portada del álbum cuando, es evidente que las fotos promocionales son idénticas y la chapa estaba ahí en la foto original de la izquierda.
Fuente:
Wikipedia