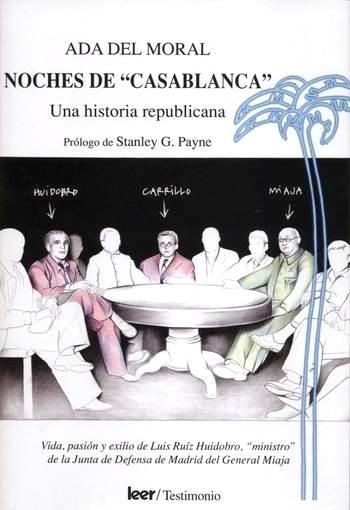 Ada del Moral Fernández, periodista y escritora, directora de la revista de la Unión de Actores y colaboradora de la revista Leer es una de las jóvenes promesas de la literatura española. Recientemente tuve el placer de asistir a la presentación con Cristina Alberdi y Francisco Márquez Reviriego como prestigiosos ponentes de su último libro "Noches de Casablanca. Una historia republicana" sobre la vida de su tío abuelo Luis Ruiz Huidobro, destacado personaje de la República Española que acabó su vida exiliado en México, rechazado por unos e incomprendido por otros, como suele suceder con las personas que reclaman sensatez en medio de una guerra civil.
"Noches de Casablanca. Una historia republicana", con prólogo del prestigioso hispanista Stanley G. Payne, es un interesante trabajo que refleja el mundo, en palabras de Ada, de
"la España moderna que trajo la república"
. Pues bien, tenemos la suerte de que Ada del Moral Fernández sea una consumada fan country. Lógicamente estos días anda muy ocupada de promoción por revistas, televisiones y emisoras de radio, pero aún así ha tenido tiempo para acordarse de nuestra web y enviarnos un interesante artículo escrito sobre Porter Wagoner que refleja la pasión de Ada por este inmenso artista country menos conocido en nuestro país y que, sin embargo, representa uno de los pilares fundamentales de nuestra música en los años 60 y 70.
Y como siempre, en toda buena movida country que se precie, Marty Stuart tiene unas palabras que la autora nos transmite con acierto para comenzar su artículo.

Porter Wagoner. The Wagonmaster (1927-2007)

Por Ada del Moral Fernández, Madrid

"Vino a mí como una tormenta. Era un relámpago
Electricidad pura. Fuego y lluvia
Estreché sus manos. Brillaba.
Toda mi vida se disolvió en su sangre
Sabía, armado por verdades
bellamente arcaicas, cómo me sentía.
El hombre delgado de las llanuras del Oeste"
"Peregrinos, Pecadores, Santos y Profetas"
Rutledge Hill Press, Nashville, Tenesse, 1999.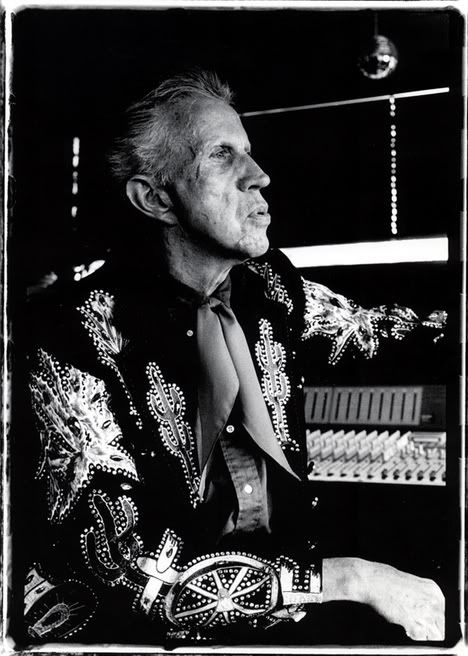 (Fotografía: Marty Stuart)
El último verano se lo fundió a giras como si supiera que el tiempo que le quedaba lo vivía de prestado. Así, se marcó un estrambote para dar el impulso definitivo a su disco Wagonmaster (2007, Anti-records) y, de paso, a su inmensa e inclasificable figura, acompañado por su pal Marty Stuart y un puñado de músicos que no suman juntos la mitad de sus años.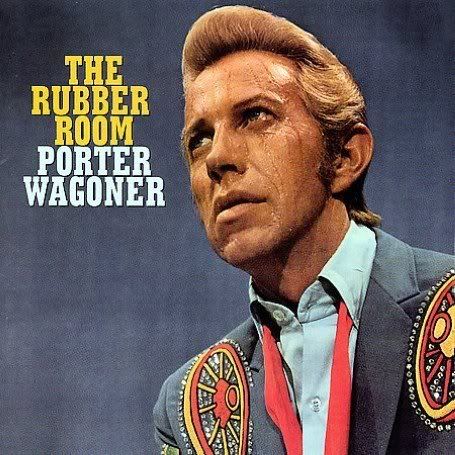 La fama de Wagoner en Europa se reduce a unos grupúsculos que adoramos su honestidad, su fuerza a menudo macabra, su salvaje ironía y esos álbumes conceptuales donde pasión, religión y asesinato, ayudaron a encontrar el camino a Leonard Cohen y deslumbraron a Johnny Cash, que le escribió la tenebrosa e irónica 'Committed to Parkview'. Con esta canción, Porter hizo una de sus famosas carambolas y, quince días después de superar un aneurisma y a las puertas del cáncer de pulmón que le ha matado, grabó un vídeo en el mismo Parkview, Nashville, asilo mental donde pasó una temporada que en su caso cristalizó en "The Rubber Room" (1966), pavorosa e inolvidable descripción de mentes perdidas, criminales y víctimas.

'Rubber Room'



En ese clip Porter pisa a la parca con sus botas aplasta-cascabeles y el cinturón de plata ciñendo su cintura anoréxica. Sabe que la muerte es una bomba que llevamos dentro aunque, en ese instante, esté ganando la partida en los mismos suelos donde estuvo a punto de perderla: Parkview, más allá de las Ozark Mountains que vieron nacer, en 1927, a esta sulfurosa mezcla de sangre alemana e irlandesa. Auténtico, desde el rubio tupé pompadour a la punta de sus botas blancas, pasando por los cactus y los carromatos de grandes ruedas de sus valerosos nudie suits, Porter siempre fue fiel a su curiosa ética-estética. Se insinúa que sus coloridos atuendos le costaron el desprecio de la masiva industria discográfica.
Sin embargo, cuando, allá por los cincuenta, adoptó su uniforme a camino entre un árbol de navidad, el traje charro y una pista de luces de discoteca, estaba dando alas al sueño de un emigrado de la Rusia de progrom, Nuta Kotyalenko, más conocido por Nudie Cohn, que nos enseñó el oeste tal y como lo conocemos. Porter se hizo con su primer rhinestone suit por treinta y cinco dólares y, ochocientos nudies más tarde, saludó a un nuevo público joven con…un pony dorado en la espalda, su famoso "Hi" en el interior de la solapa y un cigarrillo en esas manos que nunca se cansaron de tantearle las virtudes a las lolitas de turno.
Se enfrentaba al público con el desparpajo de un vendedor ambulante, la vistosidad del clown y la amargura del hombre que ha perdido sus amores y sueña con matarlos porque están lejos y quizás, felices. Tenía el corazón deshecho, ojos de basilisco y una voz que vertía, caliente como un beso, para estremecer las entrañas, enroscado a su guitarra, mientras su rostro, con esa mezcla de belleza y fealdad, de lujuria y dolor, de carpe diem y culpa, se borraba en las luces de los culos de vidrio. En la personalidad de este vástago de pioneros, aferrado a la Biblia y la pistola, se fundían el juglar escarlata y el predicador atormentado que recorre el mundo, junto a los monstruos, para aliviarse la sed de sangre y que nunca mira a las chiquillas demasiado porque desconfía de sus pulsiones y, al tiempo, no le da la gana eliminarlas.
Fue el primero en describir las sensaciones de alivio del psicópata tras ajusticiar a su víctima, sublimando, con malicia, la locura de quienes asesinan a sus mujeres sólo por haber intentado ellas liberarse. Por supuesto, nunca llegó tan lejos. Ardía de otra manera. Que se llamaba Miss Dolly Parton.
La encontró todavía en calcetines, intentó fijarla en una adolescencia a camino entre caperucita y el lobo y, cuando se le escapó, varios hits después de su primer encuentro, sus aullidos reventaron los tendidos eléctricos -y el puritanismo- de América.
Miss Dolly, experta en demonios, cazó a otro hombre -el consorte menos fotografiado de la historia- lo encerró en su rancho y lanzó su 'I Will Always Love You'. La última vez que cantó este grito de liberación, ante su propio mito, vestían de un blanco inmaculado y el gesto de Porter no tenía desperdicio. Ella borró las lágrimas de sus mejillas y él la miraba como si, aún muriendo, fuera a darle el último mordisco, por más que tuviera el aspecto de una muñeca de Dolly Parton y él, del jinete pálido. No en vano se habían criado con zarigueya, lagarto y güisqui casero. Y Wagoner no era de los que perdonan ni olvidan. Te rezan mientras te saltan el hioides. De tanto rehuirle, Dolly aprendió a bailar y a ir ligerita de ropa.



Él, que había consumido las décadas post-Dolly recolectando mujeres para amarlas en escena, todavía tuvo ánimos para llamarla a gritos desde el hospital porque le debía una noche. "¿Qué les pasa a estos médicos? ¡No hacen más que sacarme sangre! ¡Que me peguen un tiro y la tomen toda de una vez!" -bufó, ya ingresado, al poco de su último concierto y rodeado por sus hijos y los Wagoner Cousins. Luego, oliéndose el desenlace, pidió oraciones, colgó en su web unas líneas donde rogaba que no nos preocupáramos pues su vida había sido larga y fructífera…y nos quedamos sin él. El más sublime poeta religioso americano tenía alma de convicto y el rencor de un pigmalión que conserva siempre veneno en las pupilas y los labios hinchados de una sensualidad que le ahoga por dentro.


Porter Wayne Wagoner, volaste, como en tu canción 'Out Of The Silence' y pudiste ver tus piernas dobladas sin sentir la quietud de tu pecho ni recordar tu nombre o tus tentaciones en el Gran Ole Opry donde asegurabas distraer al Great Master, que tampoco se diferencia tanto del Holy Ghost indio, y habías aprendido de las tribus originarias que, antes de fundirnos con Dios, nos disolveremos en el paisaje. Y la compasión y la fe no sirven más que para tonificar el ánimo ante el destino inexorable.

'Out of Silence'



Ahora estás en todo y en nada. Pero, más allá de revivir tu tono de madrugada amorosa, susurrando que, mientras unos mueren, otros siguen caminando, no descansarás nunca, hombre delgado de West Plains. Que tu espíritu nos empuje a despreciar la obediencia extrema y nos insufle la convicción de no esperar nunca en vano.
Como explicó, a su manera sutil Roy Acuff, justa leyenda de la música popular norteamericana y compañero de Porter en el Opry: "¡Yeah! He oído lo que dicen de Elvis…y sucede que, rondando por aquí, hay más de un "Rey…".