Por Alberto García, Cuenca.
(Fotografía Senor McGuire)
Desde 1987 hasta mediados de la pasada década, la Nashville Bluegrass Band fue considerada como la banda más trascendente haciendo
grass
. Se conformó alrededor de dos talentos, el guitarra Pat Enright y el banjista Alan O´Bryant, que colocaron por detrás el blues, pero en perfecta hermandad.
No menor fue su incursión en el gospel, esencialmente con el álbum "To Be His Child" (1987), uno de los cinco más importantes en la historia de la especialidad.
En los setenta, las bandas combinaron el tema tradicional del campo con el rock and roll. Es el caso de New Grass Revival. En los ochenta y noventa, conjuntos como la Nashville Bluegrass Band, sin embargo, adoptaron la visión que tenía Bill Monroe, pero en un superior nivel de perfección. Es destacable la cuidadosa selección del material de sus discos, los compositores y sus arreglos de temas religiosos. Los a capella, como 'Last Month Of The Year', muy trabajados, merecen toda la atención.
La NBB se formó en 1984 y enseguida se reconoció como uno de los más consistentes grupos, ganando dos Grammy Awards, Entertainer of the Year desde 1990 a 1993 y otros galardones. Antes de crear la banda, cada miembro era experimentado músico en otras formaciones. De tal manera, Pat Enright, un tenor apasionado por el blues, ya había tocado con Dreadful Snakes.
El fiddle Stuart Duncan es siempre un "A-list" en sesiones de grabación. Son innumerables los vocalistas que han contado con su respaldo y otros que siguen haciéndolo. Aseguramos que es el fiddle más valorado en los últimos años y los grandes del country siempre cuentan con su respaldo.
Roland White, mandolina, permaneció un tiempo con Bill Monroe y luego con Lester Flatt. Junto a su hermano, Clarence White, fundó Kentucky Colonels.
Gene Libbea, bajista, pasó por los grupos de Byron Berlin y Vince Gill.
El banjo Alan O´Bryant ha tocado con Bill Monroe y con el invidente Doc Watson. Sus colaboraciones a distintos cantantes, hasta en los coros, siguen siendo frecuentes y debemos destacar de O´Bryant su personal voz, muy diferenciada del resto y que da vida a la banda cuando lidera los temas. El asegura que "el bluegrass es ya en nuestros días una música de raíz, un gran componente del country. Sin intentar recrear los años 40 y 50, pero tomándolos como base, debemos idear otra nueva y sobre todo, original".
Tres trabajos de los años ochenta inician la discografía del grupo: "My Native Home" (1985), "The Nashville Bluegrass Band" (1987) y el citado "To Be His Child", éste con doce espirituales exquisitos y en los que se encontraba Mark Hembree como bajo y Mike Compton en la mandolina.

Haremos un pequeño paréntesis para recordar que en 1988, la Nashville Bluegrass Band graba un excelente compacto al lado de Peter Rowan en la guitarra, con ocho de los diez temas compuestos por él y como tenor en la creación de Bill Monroe 'Cabin of Love'. Citamos este trabajo porque todos los miembros de la NBB cantan en distintos temas. Título: "New Moon Rising".
En 1990 y ya con la incorporación de Gene Libbea en bajo y Roland White, mandolina, el grupo lanza el título "The Boys Are Back In Town", producido por Jerry Douglas. Catorce hits compuestos por conocidos personajes del bluegrass. Gospels de la talla de 'Get A Transfer' y 'I´m Rollin Through This Unfriendly World', junto a excelentes versiones de números conocidos de Johnny Cash, Bill Monroe o Hank Williams desde una visión distinta.
1991, nuevo compacto de la banda, excelente "Home Of The Blues", y ya todos los miembros que seguirían con titularidad. Incluye 'Blue Train', premiada como "Mejor Canción Bluegrass" (1992) compuesta por David Allen y otra mezcla de espirituales que evidencian la conjunción de una excelente banda. El propio Stuart Duncan compuso un instrumental, 'The New Democracy' y recoge creaciones de Holly Tashian, Jimmie Rodgers, Delmore Brothers y Floyd Tillman.
El año 1993 llega al mercado una de sus mejores obras: "Waitin´For The Hard Times To Go" con el instrumental favorito de fiddle, 'Soppin´The Gravy'. Tiempos duros se recogen en canciones gospel a capella sobre el trabajo y el amor con tres números tradicionales. De forma alternativa, cantando siempre como líderes Pat Enright y Alan O´Bryant. Ofrece la intervención de Jerry Douglas en dobro, que al tiempo es el productor.
1995 es el lanzamiento del álbum "Unleashed", igualmente con el mismo genio dobrista en producción y el liderazgo vocal de O´Bryant, White y Enright. El tratamiento que la NBB da a composiciones de Gillian Welch, Dave Allen, Don Humphries y Mike Dowling es realmente exquisito. De éste debemos destacar 'You Wouldn´t Know Love' en la voz de Alan, un gospel de gran fuerza. Como en otros discos anteriores está 'The Fairfield Four', liderado por Isaac Freeman en el corte final.



'You Wouldn´t Know Love'



Nos vamos a 1998. Tres años sin aparecer en grabaciones y, bajo su propia producción, llega el genérico "American Beauty", que se abre con otro número de Gillian Welch y David Rawlings, 'Red Clay Halo', enorme suceso en su más ortodoxa versión bluegrass. De Flatt y Scruggs. 'The Johnson Boys'; de Bob Dylan, 'Livin´The Blues' y de Ralph Stanley 'Holiday Pickin', instrumental. Total, doce temas para apreciar el arte del grupo.

'Fiddlin´ Bill'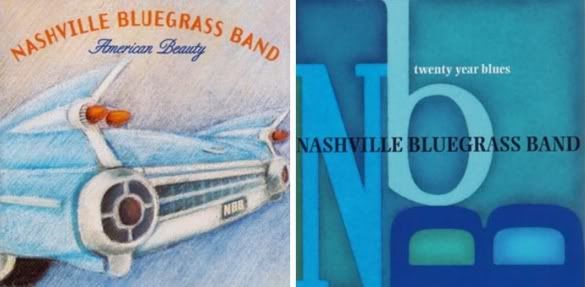 Su último compacto original se remonta al año 2004 con el título "Twenty Year Blues", en el que el mandolina Roland White es sustituido por Mike Compton, que vuelve a la formación, y el bajo Gene Libbea por Dennis Crouch. Apreciamos que maestros sustituyen a maestros. La propia banda produce el disco, que contiene tres hits instrumentales de altura: 'Garfield´s Blacberry Blossom', un tradicional; 'Pretty Red Lips' compuesta por Mike Compton y 'Crossing The Cumberlands', de Bill Monroe. En ellos se nota el cuidado que se presta en NBB a cada componente, la sencillez de la expresión y la brillantez con que suenan. Mayoría de canciones lideradas por Pat Enright y creaciones de John Hatford, Bill Dale y Bill Carlisle entre otros.
El último disco corresponde al año 2007. "Best Of The Sugar Hill Records" es recopilación de trabajos anteriores: 'Blue Train', 'Red Clay Halo', 'Backtrackin', 'Bigger Liars In Town' o 'Rock Bottom Blues', entre dieciséis números que contiene. Repaso que ofrece una idea genérica de la fuerza y clase de la NBB.
Mi sencillo consejo acerca de esta trascendente formación es que, cualquier aficionado a la Country Music que esté interesado en una rama tan importante como es el bluegrass, trate de adquirir al menos algo de la discografía de la banda, ejemplo de trabajo refinado, virtuosismo instrumental, magníficas voces, compendio de estilos y compositores de altura. Todo se une en una de las formaciones que más han prestigiado la especialidad.
Fuente:
Discografía