Más de 300 días al año en la carretera.
Los shows de Buck eran divertidos y agradables, siempre a su hora, siempre dejando a su audiencia satisfecha. En 1965, Dorothy Owens recuerda que Buck estuvo 302 días en la carretera. La forma de viajar cambió ya que un autocar reemplazó el viejo Chevy Camper en marzo de 1966, y a finales de 1967 viajaban en avión. Pero, a diferencia de otros artistas, Buck y los suyos se acordaban de los difíciles tiempos de la carretera para evitar dormirse en los laureles del éxito.

(En la foto: Willie Cantu, Don Rich, Buck, Tom Brumley y Wayne Wilson -que sustituyó a Doyle Holly durante unos meses-)
"¡Lo pasabamos en grande! Nos gustaba lo que hacíamos y teníamos cantidad de claro por qué. Lo hacíamos siempre pensando `Preparados o no, aquí vamos`, la carretera a veces tiene sus momentos de soledad, pero me mantenía ocupado. Nunca perdí la oportunidad de ir a una radio o a una televisión cuando llegaba a una ciudad si tenía una hora libre. Sabía lo importante que era. Jugábamos a ajedrez o a las cartas. Una vez en Johnstown, Pennsylvania, pillamos unos guantes de boxeo grandes, para no herirnos y boxeamos un poco".
"No había (porque nunca los hubiera tenido) ningún alcohólico. No había drogatas en la banda. Nadie que ha estado en la carretera durante un tiempo no ha tomado No-Doz o una píldora de dieta para estar despierto, pero pienso que incluso eso era algo mínimo. Y podría decir que prácticamente no existía. Yo estaba limpio, preparado para ir con la banda".
La necesidad de "limpieza" era la base del liderazgo de la banda:
"Conducimos hasta un hotel Holiday Inn, y no habíamos hecho reservas, siempre era barato, siempre estaba limpio y siempre era un buen sitio para estar. Solíamos ir a la habitación y aparcabamos el vehículo fuera, todo el mundo se duchaba y para ello antes habíamos robado toallas, porque sabíamos que no había toallas para los 5".

El binomio Buck y Don, base del éxito.
Aunque los Buckaroos variaron a lo largo de los años en la carretera, Don Rich siempre estaba ahí. La pareja con sus Fender Telecaster gemelas, tenían una empatía casi telepática en el escenario y en el estudio. Disfrutaban uno del otro y, un cuarto de siglo más tarde, Buck todavía se maravillaba:
"Don y yo teníamos una clase de sinergia por la cual uno y uno no hacen dos. Los dos hacíamos tres. Tenía frescura y le encantaba tocar la guitarra, odiaba tocar el fiddle. Le decía `Don, pilla ese fiddle´y me decía Oh! Jefe!` y le decía `Don, si no te haré contar chistes`. Esa era la única cosa que le obligaba a tocar el fiddle".

La naturaleza bondadosa de Don le ayudaba a Buck a poner su cabeza en la carretera.
"Algunas veces me enfadaba por cosas, y decía maldita sea esto o lo otro y Don decía `Oh, Jefe, demonios, no lo sabía`. O, por ejemplo estaba enfadado con el bajista, tal vez había llegado tarde o no le podía encontrar, y Don decía `Déjame que le encuentre. No te enfades`. Esa era la forma de hablarme."
Hasta ahora Buck Owens había tenido diversos éxitos, incluso números uno pero "I've Got a Tiger by the Tail" su noveno álbum fue su reconocimiento a nivel nacional, incluye todo lo que se conoce del sonido Bakersfield. El sonido de Don Rich está presente a lo largo del álbum con el estilo de su guitarra Telecaster y su voz en 'Wham Bam' (en la que Buck toca guitarra solista) y un dúo con Buck en 'Memphis'. El bajista Doyle Holly canta 'Streets of Laredo', y Don toca el fiddle brillantemente en 'A Maiden's Prayer'.
Buck toma el mando en temas como 'Trouble and Me', 'We're Gonna Let the Good Times Roll', 'If You Fall Out of Love With Me', 'The Band Keeps Playin' On', y en la balada 'Let the Sad Times Roll On', clásicos ejemplos del sonido Bakersfield honky tonk con el soniquete del tren de mercancías que mencionaba Buck.
BUCK OWENS
I'VE GOT A TIGER BY THE TAIL
(Capitol ST-2283)
10 de marzo de 1965
Producido por Ken Nelson
Grabado de marzo a diciembre de 1964
I'VE GOT A TIGER BY THE TAIL(1/43)

I've Got A Tiger By The Tail(1/25)

Trouble And Me

Let The Sad Times Roll On

Wham Bam

If You Fall Out Of Love With Me

Fallin' For You
We're Gonna Let The Good Times Roll

Band Keeps Playin' On

Streets Of Laredo
Crying Time

Maiden's Prayer

Memphis Tennessee
Un compromiso polémico.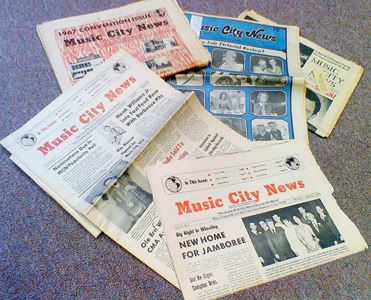 Curiosamente, en marzo de 1965 la revista Music City News, desaparecida hace pocos años, llevaba un anuncio pagado por Buck que decía:
"NO CANTARÉ UNA CANCIÓN QUE NO SEA UNA CANCIÓN COUNTRY.
NO HARÉ UN DISCO QUE NO SEA UN DISCO DE MÚSICA COUNTRY.
REHUSO SER CONOCIDO POR OTRA COSA QUE NO SEA UN CANTANTE DE COUNTRY.
ESTOY ORGULLOSO DE SER ASOCIADO CON LA MÚSICA COUNTRY.
LA MÚSICA COUNTRY Y LOS FANS DE LA MÚSICA COUNTRY ME HAN HECHO SER LO QUE SOY AHORA. Y NO LO OLVIDARÉ".
Algunos fans sintieron que rompió su promesa grabando 'Memphis' y más tarde, la canción de los Coasters 'Charlie Brown' y su versión del tema de Chuck Berry de 'Johnny B. Goode'. Sin embargo, en su mente, Buck había hecho una sútil distincion que la mayoría de los fans no sabían, particularmente referiéndose a las canciones de Check Berry.
"Veía a `Memphis' como rockabilly", decía. "No dije que no iba a hacer rockabilly. Dije que no iba a cantar una canción que no fuera una canción country. No seré conocido por otra cosa que no sea un cantante country. Quise decir eso, y todavía lo digo. Pero escucha las letras. Si no son letras country, si esa melodía no es country… Lo único, es que la canta un negro, un negro del que soy un gran fan".

Y no hay más que escuchar la versión de Buck de la canción para darse cuenta de que tenía razón.






Breve crónica de 1965.
El 25 de marzo graba 'Before You Go' que sería editada como single, el 19 de abril, junto con '(I Want) No One But You'. Llegó al número uno.




El 4 de mayo graba 'Only You (Can Break My Heart)' y al día siguiente, 'Buckaroo', aquí en un divertido video en Hee Haw:




El 14 de junio se edita un EP menos conocido de Buck titulado 'Four By Buck'

El 5 de julio 'Only You (Can Break My Heart)' se edita como single y llega al número 1. 'Gonna Have Love', su cara B, llega al número 10.



El 26 de julio se produce un hecho insólito, Buck edita dos álbumes simultáneamente: "Before You Go/No One But You" y "The Instrumental Hits Of Buck Owens and His Buckaroos".

El 23 de agosto graba 'Sam´s Place' y al día siguiente 'Waitin´ In Your Welfare'






El 11 de octubre el single 'Buckaroo'/If You Want A Love' se edita como single y llega al número uno.




El 8 de noviembre se edita el single 'Santa Looked Like Daddy/All I Want For Christmas Dear Is You'.






El 11 de noviembre graba 'Dust On Mother´s Bible'.



'Before You Go/No One But You' es otro buen ejemplo del sonido Bakersfield con temas destacados como los que le dan título al álbum o 'I Betcha Didn´t Know', curiosidades como el excelente 'Steel Guitar Rag' de Tom Brumley, o el divertido y ya hemos visto que polémico 'Charlie Brown'.


BUCK OWENS
BEFORE YOU GO / NO ONE BUT YOU
(Capitol ST-2353)
26 de julio de 1965
Producido por Ken Nelson

Before You Go(1/83)
Gonna Have Love(10/-)
Getting Used To Loving You

Steel Guitar Rag
No Fool Like An Old Fool
I Betcha Didn't Know

I Want No One But You
If You Want A Love(24/-)
Number One Heel
Raz-ma-taz Polka
There's A Gonna Come A Day
Charlie Brown.


"The Instrumental Hits" era realmente una recopilación de temas ya grabados por Buck, con la única incorporación de 'Buckaroo'. No obstante, el simple hecho de tener todos estos temas reunidos lo convierte en un álbum de especial relevancia al reflejar el talento y la brillantez de Buck y sus Buckaroos en parte de su época dorada 1961-1966.

También deja ver a las claras la importancia de Don Rich en el éxito de la rotundidad del grupo, desde el increíble fiddle de 'Bile ´Em Cabbage Down' y 'Faded Love' a las guitarras duelistas de Buckaroo. De forma que si Buck es el corazón de la banda, Don es su alma.

No obstante este álbum también deja escuchar una faceta menos apreciada de Buck, su buen hacer con la guitarra en tres fantásticas polkas: 'Country Polka', 'Raz-Ma-Taz Polka' y 'Buck´s Polka'.

La reedición de Sundazed contiene dos temas extras: 'Act Naturally' y 'Tiger By the Tail'. Dos de sus superéxitos de esta misma época.


BUCK OWENS
INSTRUMENTAL HITS
(Capitol ST-2367) '65
July 26/1965
Produced by Ken Nelson

Buck Owens - guitarra
Doyle Holly - bajo
Don Rich - guitar/fiddle
Tom Brumbley - steel
Willie Cantu - batería
Jolly Sanders - fiddle
Bob Morris - bajo

Buckaroo(1/60)
Orange Blossom Special
Raz-ma-taz Polka
Faded Love
Bud's Bounce
Country Polka
Bile 'em Cabbage Down
Steel Guitar Rag
Maiden's Prayer
Buck's Polka
Country Rag
Mexican Polka.

La primera incursión de Buck Owens en los tradicionales álbumes navideños fue grabada en otoño de 1965 para las fiestas de ese mismo año:


CHRISTMAS WITH BUCK OWENS
(Capitol ST-2396)
4 de octubre de 1965
Producido por Ken Nelson
CHRISTMAS WITH BUCK(-/12)
Santa Looked A Lot Like Daddy(-/2)
Blue Christmas Lights

Christmas Ain't Christmas

Jingle Bells
All I Want For Christmas Is You
Santa's Gonna Come In A Stagecoach

Christmas Time's A Comin'

Blue Christmas Tree

Here Comes Santa Claus Again
Christmas Morning
It's Christmas Time For Everyone But Me

Because It's Christmas Time