El día en que Johnny Cash vino a España por primera vez a actuar
En aquel otoño de 1970 nuestro país llevaba un considerable retraso histórico respecto a la música americana original. Si no fuera por el piloto de Iberia metido a DJ, don Ángel Alvarez, y su legendario Vuelo 605 España hubiera permanecido en la más miserable ignorancia de la existencia de estrellas de la talla de Johnny Cash. No es que ahora dicha ignorancia sea mucho menor. Digo que entonces era mucho mayor.
Y, desgraciadamente, el mítico artista que en aquellos días desarrollaba una actividad frenética tanto discográfica con su álbum "Hello I´m Johnny Cash" (1970) -número uno en USA-, como televisiva con su extraordinario "The Johnny Cash Show", no vino a tocar a la Plaza de Toros de Las Ventas de Madrid como vinieron los Beatles 5 años antes sino a actuar en algunas escenas duelísticas "taurinas" de la película western "A Gunfight", junto a un monstruo de la interpretación como Kirk Douglas.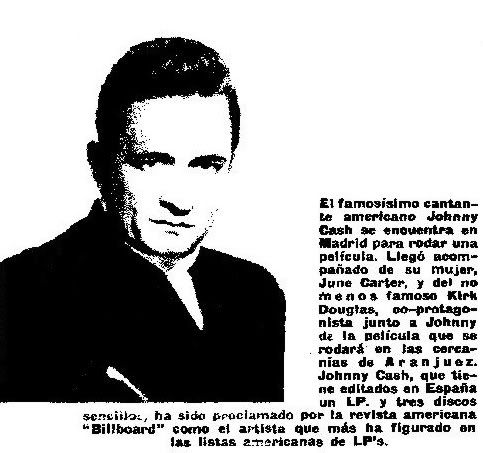 El diario ABC, en su edición del 17 de octubre de 1970, publicaba la noticia de la llegada de Johnny Cash a Madrid:
"El famosísimo cantante americano Johnny Cash se encuentra en Madrid para rodar una película. Llegó acompañado de su mujer, June Carter, y del no menos famoso Kirk Douglas, co-protagonista junto a Johnn de la película que se rodará en las cercanías de Aranjuez. Johnny Cash, que tiene editados en España un LP. y tres discos sencillos, ha sido proclamado como el artista que más ha figurado en las listas americanas de LP´s.".
Por una parte queda claro que Cash sólo venía a actuar en la película, que le acompañaba su mujer, la encantadora June Carter, artista country como él y que, por si fuera poco, se le otorgaba a su venida casi más importancia que a la del mismísimo Kirk Douglas, un auténtico ídolo en Hollywood, acompañando la noticia de una conocida fotografía promocional.
La película estaba financiada por la tribu apache Jicarilla, aunque su temática no era nativa, sino un western de pistoleros y duelos. Pero recordemos que en 1964, Johnny Cash editó "Bitter Tears: Ballads of the American Indians", dedicado a los nativos americanos y hemos de suponer que había una corriente de mutua simpatía establecida.

En el excelente blog Territorio Ranown, cuentan el argumento del filme:
"Un introvertido pistolero, Abe Cross (Johnny Cash), llega a un pueblo fronterizo tras varios meses buscando oro en México. En ese mismo pueblo vive otro pistolero con su familia, Will Tenneray (Kirk Douglas). Pronto empiezan a surgir los rumores y apuestas sobre que sucedería en un enfrentamiento entre ambos, pero por paradójico que parezca, surge la amistad, basada en el respeto, entre ambos hombres.
Pero no todo es tan bonito, ambos viven con problemas: Cross necesita dinero y un caballo nuevo, pues el suyo a muerto envenenado por una serpiente; por su parte, Tenneray malvive ofreciendo espectáculos con su revólver en el saloon y desea comprar un rancho, amén del hecho de que su mujer buscó consuelo en el tendero local mientras él erraba por el Oeste. Ante las dificultades de ambos, deciden hacer algo insólito, hacer caso a los rumores, que primero tomaban a broma, y planear un duelo en la plaza de toros regentada por Álvarez (el tendero) para poder ganar unos miles de dólares y solventar sus problemas".
Pero no nos entusiasmemos con este prometedor argumento. La dirección de Lamont Johnson es floja a pesar de la inmensa presencia de Douglas y de Cash, de los papeles femeninos interpertados por Jane Alexander y Karen Black y del siempre eficaz Raf Vallone. También destacan secundarios de lujo como Robert J. Wilke en el papel del marshall local y el debutante Keith Carradine, de la saga de los Carradine, como joven pistolero. Pero ya sabemos que no siempre los mejores mimbres hacen el mejor cesto y se necesita maestría y originalidad para enlazarlos.


Cuentan en Silver Screen Spain que la película fue filmada en Nuevo México pero que las escenas de la plaza de toros fueron rodadas en Madrid, posiblemente cerca de Chinchón. Sin embargo el diario ABC cita el lugar del rodaje en Aranjuez. Una investigación sobre plazas de toros y capeas de la zona no ha dado como resultado una localización de un coso taurino similar, en ambas zonas, pero pudiera estar en alguna finca privada no abierta al público, entre el real sitio de Aranjuez y la no menos histórica Chinchón, al sur de la provincia de Madrid.
Por razones sólo explicables al tradicional aislamiento cultural del país, la película se estrenó en España dos años más tarde que en Estados Unidos, el 28 de enero de 1974.




Ficha Técnica
Director: Lamont Johnson
Productor: Harold Jack Bloom, A. Ronald Lubin, Saul Holiff.
Guión: Harold Jack Bloom.
Director de fotografía: David M. Walsh.
Editor: Bill Mosher.
Música: Laurence Rosenthal.
Datos técnicos: Technicolor, 89 minutos, USA.
Intérpretes: Kirk Douglas (Will Tenneray), Johnny Cash (Abe Cross), Jane Alexander (Nora Tenneray), Karen Black (Jenny Simms), Raf Vallone (Alvárez), Dana Elcar (Marv Green), Keith Carradine (pistolero), Robert J. Wilke (Marshal Tom Cater), Eric Douglas (Bud Tenneray).
Incluimos la película al completo en inglés.
Fuente:
Silver-Screen-Spain
Territorio Ranown
IMDB
ABC