Músico de innumerables artistas y compositor de 'Crazy Arms'



Ralph Mooney, nacido el 16 de Septiembre de 1928 en Duncan, Oklahoma, murió el pasado domingo 20 de Marzo en su casa de Kennedale, Texas, debido a complicaciones del cáncer, comunicó su mujer, Wanda.
La primera vez que Mooney se interesó por una Steel Guitar fue cuando, siendo aún un adolescente oyó tocar al legendario guitarrista de steel Leon McAuliffe. A los 16 años Mooney se trasladó a California donde fue a vivir con una de sus hermanas y desarrolló un estilo propio a base de tocar de manera casi exhaustiva en numerosos grupos, tanto en directo como en los estudios.
En los 50's Capitol Records le tenía en su nómina y tocaba en los primeros discos de Buck Owens y en varios discos de Merle Haggard:

'Swinging Doors'
'The Bottle Let Me Down'
o 'All My Friends Are Gonna Be Strangers'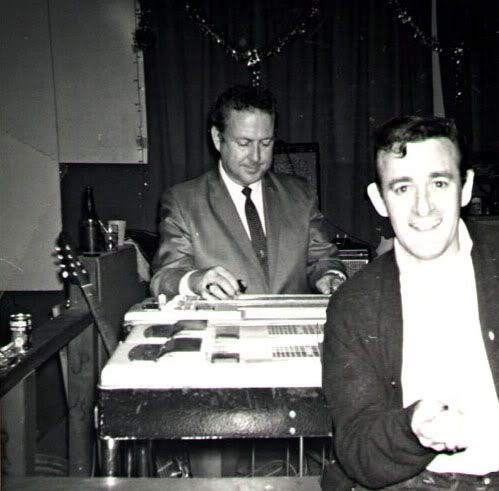 Dejó huella sobre todo en las grabaciones de Wynn Stewart (con Ralph Mooney en la foto de arriba), como en su gran éxito 'It's Such A Pretty World Today' (número uno en 1967), por el que se fue a vivir a Las Vegas.
En 1968 grabó junto a James Burton el álbum "Corn Pickin' and Slick Slidin'" para Capitol Records (fue reeditado por Sundazed).

'Corn Pickin'
'Texas Waltz'
Waylon Jennings: "Ralph Mooney es el mejor guitarrista de Steel que haya existido"

Rose Maddox, Skeets McDonald, Bobby Austin, Bonnie Owens, Wanda Jackson, Donna Fargo y Jessi Colter son todos artistas cuya música ha sido enriquecido por Ralph Mooney. Sin embargo, sería con Waylon Jennings con el que más años trabajó. En 1969 se convirtió en un "Waylor" y trabajaría durante más de 20 años con Waylon, incluso cuando el legendario artista tuvo un dificultades económicas y habían músicos que se fueron, incluso Richie Albright (batería), Ralph Mooney se quedó en la banda esperando mejores tiempos que no tardaron en llegar.
Aquí en 'Waymore Blues' le enfocan tocando sobre el minuto 1' 24":
Mismo minutaje para 'Lonesome On´ry and Mean':
Waylon solía decir "Y aquí tenemos a Ralph Mooney, el mejor guitarrista de Steel que haya existido y que vaya a existir."
'Tonight the bottle let me down', con Waylon:



'Honky Tonk Heroes' (le enfocan tocando en el minuto 1' 47"):


'I´m A Ramblin´ Man' (solo en el minuto 1' 49"):
Bajó su ritmo de trabajo algo en principios de los 90, pero siguió tocando y grabando periódicamente hasta casi el final de su vida. Aparece en 4 números del último disco de Marty Stuart, "Ghost Train: The Studio B Sessions", que ganó un Grammy en 2010.


Marty Stuart, amigo desde muchos años, dijo: "En lo que se refiere a músicos, era mi héroe de música country de toda la vida.


Chris Hillman, miembro fundador de The Byrds y The Flying Burrito Brothers dice: "Ralph Mooney era el arquitecto jefe del sonido Bakersfield. Nadie tocaba la Steel como Ralph, cuando hacía un solo era todo California."
Richie Albright dijo en los "liner notes" para el box-set de 2006 "Waylon. Nashville Rebel": "Era un pionero y un visionario." Y Shooter Jennings dijo este lunes que sentía que "Ralph era una de las últimas llaves de acceso al sonido Outlaw, y ahora se ha ido para siempre. Gracias a Dios por aquellos álbumes".



Mooney también experimentó como autor y junto a Charlie Seals escribió en principios de los 50's lo que sería un clásico del country, la canción "Crazy Arms", después de que su mujer, cuando aún vivían en Las Vegas, se marchó después de una discusión. Cuando escuchó la canción volvió y en 1956 la canción fue un nº1 para Ray Price:


La canción nunca ha desaparecido del todo de las listas y en una ocasión Mooney dijo haberse muerto de hambre si no fuera por los royalties de esta canción que ha sido interpretado por un gran número de artistas.


Presente en los discos de casi todos los grandes, no tenía una amplia discografía propia, pero Challenge Records publicó un single instrumental a finales de los 60' con las canciones 'Release Me' y 'Moonshine' (Challenge 59105). Más adelante esta canciones aparecerían en recopilatorios, como "Country Love" y "Tennessee Pride". También se le puede oír en la banda sonora de la película de 1975 "Mackintosh T.J." con Waylon Jennings.



Aquí en una de sus últimas apariciones públicas junto a la joven texana Jade Jack, veteranía y juventud juntas:




Ralph Mooney deja la que durante 62 años ha sido su mujer, Wanda, su hijo Richard, su hija Linda Yates, 4 nietos y 2 bisnietos.

Ralph Mooney es miembro del Steel Guitar Hall of Fame desde 1983. En su placa se puede leer: "Tan únicamente original, que sigue sin réplica.".
Descanse en paz.
Fuentes:
Los Angeles Times

"Waylon: An Autobiography" de Waylon Jennings y Lenny Kaye . Johnny Cash dijo de esta biografía: "Vast, revealing, exciting, and entertaining....you'll love it.". "Vasta, reveladora, excitante y entretenida... le encantará".

Una entrevista interesante:

NTSGA