Por Antón García-Fernández, Memphis, Tennessee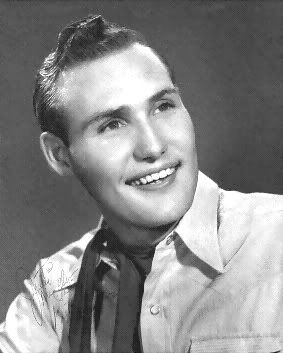 Billy Walker ha sido siempre uno de mis mayores ídolos. Cuando tenía trece años y apenas acababa de descubrir el country a través de Elvis Presley, Jim Reeves, Johnny Cash, Hank Williams y Faron Young, escuché 'Cross the Brazos at Waco' y 'Charlie's Shoes' y a partir de entonces, intenté conseguir todos los discos suyos que pude encontrar, algo que jamás ha sido demasiado fácil en España.
Su voz suave y entrañable me acariciaba durante las largas noches en que me encerraba en mi cuarto para escucharlo cantar todos sus clásicos: 'Funny How Time Slips Away' (él fue el primero en grabar esta obra maestra de Willie Nelson), 'Bear with Me a Little Longer' (que compuso para su primera mujer cuando su matrimonio ya no funcionaba) o 'Circumstances'.
En esos momentos, poco sabía yo de su vida o de la época en la que compartió escenario con Elvis o Hank Snow, pero en sus canciones escuchaba historias emocionantes de dolor y felicidad, y me parecía que Billy me estaba hablando directamente a mí cuando cantaba aquello de "I'd like to be in Charlie's shoes...". Tampoco podía imaginar que un día iba a conocerlo en persona, y mucho menos que iba a tener la oportunidad de entrevistarlo en mi programa radiofónico country aquí en Nashville.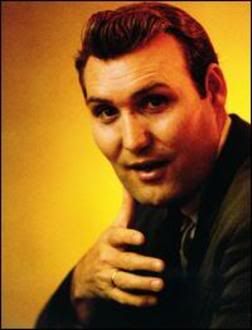 Eso ocurrió en marzo de 2005: localicé su teléfono y decidí llamarlo, con pocas esperanzas de poder hablar con él. Contestó mi llamada su mujer, Bettie, que desde hacía tiempo actuaba como su mánager. Poco después, pude hablar con Billy, comprobando la gran accesibilidad de la mayor parte de las leyendas del country. Prometió venir al estudio para una entrevista que en principio iba a durar solamente una hora pero que acabó extendiéndose durante más de tres. Billy Walker me hizo pasar uno de los mejores momentos de mi vida, compartiendo conmigo y con la audiencia multitud de recuerdos sobre su larga carrera e incluso interpretando dos temas acompañado únicamente a la guitarra: 'He'll Have to Go', el éxito de Jim Reeves, y el himno religioso 'Just a Closer Walk with Thee'.
A lo largo de esa entrevista conversamos acerca de innumerables temas, tanto cuando el micrófono estaba abierto como cuando estaba cerrado: su vida, su carrera, los artistas con quienes había trabajado, su música, la religión y el country en general. A medida que la entrevista avanzaba, Billy tuvo la oportunidad de relajarse y reflexionar sobre todos esos años dedicados a la música country. Sin duda, Billy se sentiría profundamente identificado con la letra de un oscuro tema de Mitchell Torok en el que afirma que ha entregado su vida al country, 'Country Music I Gave You My Life'. Lejos quedaban ya aquellos primeros tiempos, cuando Billy no tenía más de trece años (nació en Ralls, Tejas, el 14 de enero de 1929) y quedó prendado de la figura y de la música de Gene Autry al ver una de sus películas. La entrada le costó solamente diez céntimos, pero esta experiencia marcaría su vida y lo impulsaría a dedicarse a la música tras dejar el instituto unos años más tarde.
Como suele ocurrir con otras futuras estrellas del country, Billy tuvo que costearse su primera guitarra, y lo hizo desplumando pollos en la granja de su tío. En 1949, empezó a tocar en programas de radio en Tejas, utilizando el extraño apodo de "The Traveling Texan, the Masked Singer of Country Songs", es decir, "El tejano viajero, cantante enmascarado de canciones country". Y, en efecto, para llamar la atención del público, salía al escenario luciendo un antifaz que le cubría los ojos. Sus primeras grabaciones para Capitol no tuvieron demasiado éxito, por lo que su contrato no fue renovado en 1951.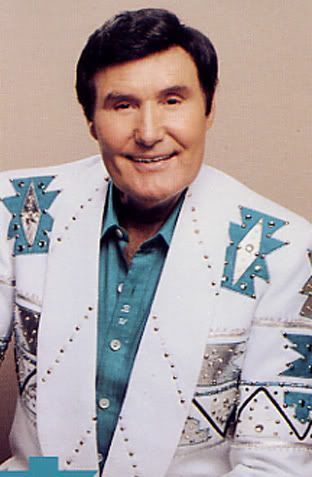 Sin embargo, durante la década de los cincuenta, Billy iría haciéndose un nombre dentro de la escena country, especialmente a través de sus apariciones en el Louisiana Hayride, rival radiofónico del Grand Ole Opry nashvilliano que se emitía desde Shreveport, Louisiana, en el que compartió cartel con grandes nombres que entonces todavía estaban comenzando, como Faron Young, Jim Reeves, Webb Pierce y Elvis Presley. No en vano, el Hayride se anunciaba como "La cuna de las estrellas" ("The Cradle of the Stars"), dando oportunidades a nuevos talentos a la vez que presentaba a artistas cuya fama ya estaba más consolidada, como Hank Williams o Hank Thompson.
En estos años firmó un contrato de grabación con Columbia y sus primeros éxitos—temas honky tonk como 'Thank You for Calling' y 'The Storm within My Heart'—comenzaron a aparecer en las listas, lo cual le aseguró actuaciones en el Ozark Jubilee, programa presentado por Red Foley en Springfield, Missouri. Cuando en 1960 se convirtió en miembro del Opry en Nashville, dio comienzo a una década fructífera en éxitos y apariciones televisivas. Los primeros años sesenta supusieron una época de profundas alteraciones en el country propiciadas por la amenaza que el rock y el pop suponía para las ventas y para la pervivencia del género.

Billy fue uno de los muchos cantantes country que abrazaron el Nashville Sound, gente como Eddy Arnold, Jim Reeves, George Morgan, Patsy Cline o Roy Drusky. Se trataba de dulcificar el country, de acercarlo al pop para adecuarlo a los gustos de una amplia sección del mercado que no aceptaba la rudeza del honky tonk. Y Billy estaba dotado de una voz perfecta para este híbrido de country y pop.
Sobre ello reflexionó en la entrevista que le hice: había que ampliar el público potencial del country, dijo, convertirse en un cantante country que pudiese actuar en el Hollywood Bowl. Y entonces Billy modificó su estilo, siguiendo, quizá sin ser consciente de ello, el ejemplo de su ídolo Gene Autry, quien ya en los años cuarenta había grabado temas muy cercanos al pop. Llegaron así éxitos como 'Charlie's Shoes' (número uno en 1962), 'Circumstances' (1964), 'A Million and One' (número dos en 1966) y 'Bear with Me a Little Longer' (1966).
En 'Cross the Brazos at Waco', clásico entre clásicos compuesto por su entonces mánager, el Coronel Buster Doss (el título militar, como suele ocurrir, era únicamente honorífico). En este tema, que alcanzó el número tres en 1964, Billy demostró que su voz también se adecuaba a las baladas de estilo fronterizo que a finales de los cincuenta había empezado a popularizar Marty Robbins.
'From the Bottle to the Bottom' (que llegó al Top 20 en 1968) es otra grabación notable de esta época, una espléndida canción escrita por Kris Kristofferson. Billy se conviertió, así, en uno de los primeros artistas en grabar un tema compuesto por Kristofferson, que en estos momentos estaba intentando hacerse un nombre como compositor.
La presencia de Billy Walker en la televisión fue constante a lo largo de las décadas de los sesenta y setenta. Apariciones en el Jimmy Dean Show o en el Tonight Show de Johnny Carson, entre muchos otros, ayudaron a consolidar su éxito y su fama. Billy pronto comprendió el potencial que poseía el medio televisivo para la difusión del country, en un momento en el que muchas de las grandes estrellas del género (Porter Wagoner, Johnny Cash, Glen Campbell) presentaban su propio programa de televisión cada semana. Billy incluso tuvo tiempo para aparecer en algún western de serie B como "Red River Roundup" hoy completamente olvidado (y con justicia, todo sea dicho).
Durante los años ochenta, además de abrazar la fe religiosa y la música gospel, Billy continuó grabando discos, si bien ya con mucha menor repercusión, y se concentró en sus conciertos, en sus apariciones en el Opry y en la composición de nuevos temas. Una de sus viejas grabaciones para Columbia, 'Down to My Last Cigarette', pieza escrita junto al gran Harlan Howard, sería llevada al éxito por k.d. Lang en 1988.
Poco antes de su trágico fallecimiento en mayo de 2006, Billy Walker seguía en espléndida forma: sus actuaciones en el Grand Ole Opry y en el Midnite Jamboree continuaban emocionando al público, pues su voz todavía era capaz de transmitir el mismo sentimiento de siempre y no se había resentido en absoluto con el paso de los años. De hecho, el Tall Texan acababa de editar un nuevo disco en el que rendía tributo a Jimmie Rodgers, "Tribute to Jimmie Rodgers, the Father of Country Music" (Gusto Records, 2005): diez canciones del Singing Brakeman cantadas como debe ser, con acompañamiento totalmente acústico. En este último CD de su larga discografía, Billy decidió mezclar piezas clásicas del repertorio de Rodgers ('In the Jailhouse Now', 'T for Texas', 'Waiting for a Train') con otras menos conocidas que no suelen aparecer en este tipo de proyectos ('Away out on the Mountain', 'Mother the Queen of My Heart'). Un disco producido con clase que demuestra una vez más la gran riqueza musical de la obra que nos ha legado el guardavías de Meridian, Mississippi.


Tuve la oportunidad de asistir al funeral de Billy Walker, celebrado en la Cornerstone Church de Madison, Tennessee. Mientras los ataúdes de Billy y de su mujer Bettie eran escoltados al exterior del templo entre la solemnidad de las notas de 'Amazing Grace', se me hizo difícil y doloroso asimilar que ya nunca más iba a poder charlar con él y que su voz ya no se escucharía en el Opry cada sábado por la noche. Quedan sus discos, eso sí, su extensa obra que todavía no se puede adquirir en CD en su totalidad. Y a mí me queda también el agradable recuerdo de un hombre que, como alguien dijo una vez, era "not only a gentleman, but also a gentle man" (no sólo un gentil hombre sino también un hombre gentil).