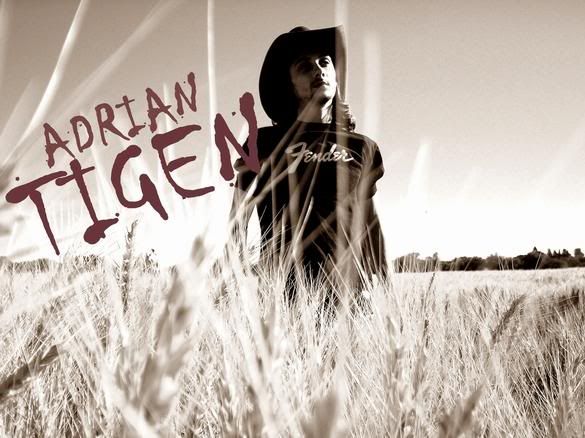 La revolución country argentina con su potente motor engrasado y en marcha, el Festival de Música Country de San Pedro, cada vez produce más artistas de calidad. Si en recientes ocasiones hemos comentado los trabajos de dos artistas excepcionales como Vane Ruth y su marido Yulie Ruth, hoy es el turno para hablar de Adrián Tigen, un nuevo valor country que destaca en varias facetas. Para comenzar en la músical e interpretativa. Adrián es un virtuoso guitarrista que sigue la tradición de los guitarristas country como Joe Maphis o Jimmy Bryant, o más recientemente Brad Paisley en el que se refleja Adrián.
Y precisamente en el Festival de San Pedro, en 2009, fue donde arrancó la hasta hora breve pero intensa carrera de Tigen. A partir de esa intervención comenzó a ser invitado a tocar en varios festivales country, incluyendo el de Durazno 2009 en Uruguay. En diciembre de ese mismo año -a través de su página en MySpace- le llegó una invitación desde USA para tocar como único artista internacional en el RW Country Music Festival Fan Fair 2010, en Colorado Springs, CO, US., junto a Darryl Worley, The Grascals y Trent Tomlinson. No está nada mal para un principiante.
Durante esos meses, grabó su primer disco solista "Rely On Me" con composiciones propias en ingles, en las que destaca por tocar todos los instrumentos y hacer todas las voces. El disco de debut fue considerado por Raúl Tejeiro -Presidente de la Asociación de Música Country de Uruguay- como uno de los mejores trabajos country hechos en toda Sudamérica en los últimos años. Razones tendrá.
"Rely On Me" está inspirado en los primeros discos de Brad Paisley (especialmente, "Who Needs Pictures" y "Part II"), en donde predominan los medios y agudos por sobre los graves, y con un sonido más seco. El sonido es fresco y contemporáneo con virtusiosismo de guitarra en temas como 'I've Never Lived In Texas' (Nunca he vivido en Texas), la divertida 'Catch The Chicken' (Atrapa al pollo) y 'Lawyers & Lies' (Abogados y mentiras), aunque también hay tiempo para las baladas con 'I´ve Been Told' (Me han dicho), 'Once Again' Una vez más) o 'She´s Gone' (Ella se fue) en la participa Leonardo Sampieri (Lap Steel Guitar) como músico invitado. Este trabajo fue grabado en
The Background Recording Studio
y fue mezclado por Javier Rascovan y el propio Adrián Tigen, que masterizó todo el álbum.
El Festival de Colorado Springs se llevó a cabo los días 10 y 11 de Julio de 2010, en donde cada artista tuvo su propio stand y su espacio para hacer un show acústico. Adrián tuvo el honor de que su disco fuese elegido por los organizadores del festival para hacer las separaciones entre show y show durante las dos jornadas.
Pero, tal vez, lo más gratificante vino cuando durante su recital, Darryl Worley, le felicitó especialmente por su actuación previa en el escenario:
"He conocido a un muchacho de Argentina, Adrián, que es increible. Tiene una voz espectacular y es un tremendo guitarrista... ¡¿Escucharon cómo toca la guitarra ese muchacho?! Ni yo canto y toco la guitarra así. Él es gran fan de Brad Paisley, y en unos días va a estar en uno de sus shows, así que estoy feliz por él. También me dijo que era un honor conocerme, y yo les digo que es un honor para los Estados Unidos tenerlo entre nosotros. Es un gran artista".
Tras su actuación en Colorado Springs, viajó a Nashville y más tarde a Chicago a Brad Paisley en directo, donde tuvo oportunidad de conocerlo y entregarle su álbum de debut.


Actualmente, Adrián Tigen se encuentra componiendo nuevos temas, conformando su banda, haciendo reformas en su estudio de grabación "The Background Recording Studio" y perfeccionando el equipamiento con vistas a mejorar la calidad de grabación de "Rely On Me" y valorando interesantes invitaciones musicales. Está esperando participar en el "Colonia Country Music Fest" del 19 de marzo, en el Festival Internaciones de Música Country en Montevideo con fecha a confirmar, y por supuesto, en el San Pedro Country Music festival en el mes de Septiembre. También existe la posibilidad de tocar en el próximo festival de música country en Perú en Junio o Julio, y la idea de viajar a México al festival de Chihuahua, en Septiembre u Octubre. Todo se andará.
Muy pronto comenzará a grabar su segundo disco solista en el que piensa plasmar un sonido distinto al album anterior. Adrián nos cuenta: "El próximo trabajo, tengo ganas de orientarlo a una textura algo distinta, con un poco más de graves y guitarras más "esponjosas" y lubricadas en 'reverb' y 'delay'. Es algo que no sólo se logra con efectos desde los pedales o desde la computadora, sino, obviamente, desde el amplificador que utilices. En este caso voy a usar Vox que le da a la guitarra una compresión más natural y un brillo mucha más vintage a la hora de tocar. En definitiva, va a ser un disco orientado a un sonido algo más moderno (algo que puede apreciarse también en Brad Paisley, sobre todo a partir de "Time Well Wasted"), pero sin apartarme un milímetro del genero que amamos, la música country... nada del Nash Pop de Taylor Swift o Lady Antebellum, la expresión más depurada de una música de plástico que, en lo personal, no me termina de cerrar". Tener las ideas tan claras le honra.
Adrián Tigen es, por tanto, uno de los nuevos valores argentinos con mayor proyección nacional e internacional que, sin duda ninguna, seguirá produciendo interesantes noticias en los próximos tiempos.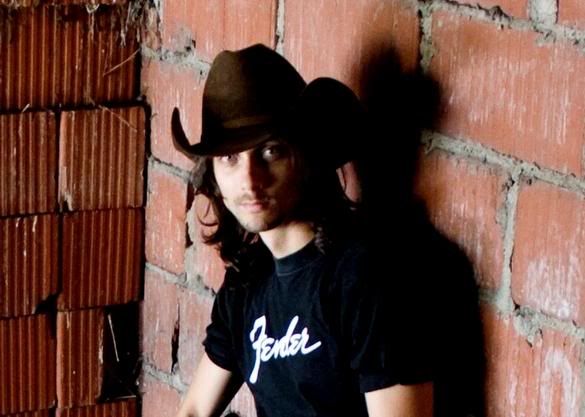 Fuentes:
Country2.com
MySpace
RW Music Expo
AMCU