Galardonados con sendos Premios Grammy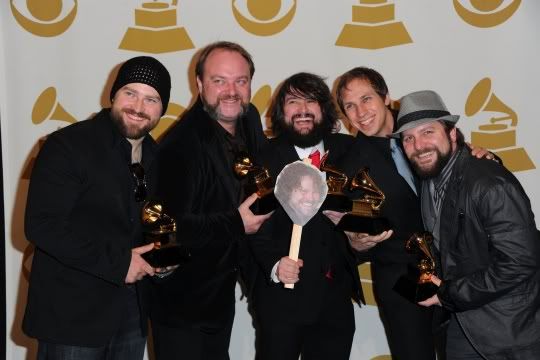 Foto: Alberto E. Rodriguez
Tres de nuestros artistas favoritos: Marty Stuart, The Zac Brown Band y Alan Jackson han sido premiados en la gala de los Grammy. Gala que ha tenido un ganador absoluto: la banda de nashpop Lady Antebelum.
Los premios Grammy hasta ahora habían sido más o menos independientes de la industria de Nashville y, de hecho, solían premiar productos de gran calidad pero más alternativos, siempre dentro del oficialismo. Como el disco "Lear Van Rose" de Loretta Lynn producido por Jack White o el disco de tributo a los hermanos Louvin "Livin', Lovin', Losin': Songs of the Louvin Brothers". Pero en esta ocasión nos enfrentamos al pliegue de los Grammy a la potente maquinaria de Nashville.
El problema surge cuando lo que produce esta maquinaria es un producto de muy discreta calidad, e incluso bajo sospecha. Así es, la canción de Lady Antebellum 'Need You Now' presenta grandes similitudes en el estribillo -la parte más destacada de una canción- del tema de Alan Parson´s Project 'Eye In The Sky'. Sin embargo ha sido nombrada por Grammy, Mejor Canción del Año, Mejor interpretación de un Dúo o un Grupo y Mejor Canción Country, nada menos. Demasiados premios para tan pocos méritos. Aquí podemos escuchar las similitudes.
Y mientras numerosos medios se hacen eco hasta la saciedad de esta pírrica victoria, en escountry.com destacamos a los artistas que realmente aportan valor musical, originalidad y estilo propio a la música country, como The Zac Brown Band con Alan Jackson y a Marty Stuart.
Los primeros han sido premiados con la Mejor Colaboración Country cantada, con 'As She Walking Away', un tema incluido en su disco "You Get What You Give" (2010).
Mientras tanto, Marty Stuart y los Superlatives -con Kenny Vaughan a la cabeza-, que ya están de vuelta de su exitosa gira europea que contamos gracias a nuestra enviada especial Judith Gutierrez, han sido premiado con la Mejor Interpretación Instrumental Country por 'Hummingbyrd', un tema que bebe de las aguas de los Buckaroos de Buck Owens, un grupo con el que es inevitable comparar a los Superlatives.