40º aniversario
Por Hanny Haakman, Barcelona.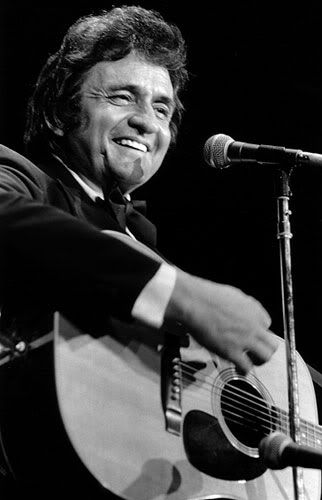 Hoy 16 de Febrero 'The Man in Black' cumple 40 años. No, no Johnny Cash que también hubiera cumplido años este mes (79 para ser exactos) pero la canción "Man in Black" que fue grabada por Columbia el 16 de Febrero de 1971. Este es su ID: 4-45339 **1971** Man In Black/Little Bit Of Yesterday.
Hay algo muy especial alrededor de todo esto. Unos días antes Johnny Cash había ido al Campus de la Universidad Vanderbilt de Nashville y había dialogado con los estudiantes. Hablaba con ellos sobre política, drogas, la guerra (Vietnam) y cualquier tema del que los jóvenes querían hablar.
Unos días más tarde hizo venir el equipo técnico, cameras y el cuerpo estudiantil de la Vanderbilt University y a Neil Young al Ryman Auditorium para formar parte de un "special" de su ABC show que para la ocasión fue bautizado "Johnny Cash On Campus". El climax del show era que por primerísima vez cantó 'Man In Black' en público, rodeado por aquellos con los había mantenido las conversaciones que le habían llevado a escribir esta canción que, como una semana más tarde anunciaría Columbia Records con orgullo a la Prensa, tampoco podría cantar en la Casa Blanca.
'Man in Black'
'A Boy Named Sue' - 'You're The One I Need'
Jolene Downs de About.com apartado Country Music, en su análisis del DVD The Johnny Cash TV Show dice:
"En una época en que nuestro país vivía una agitación política, Johnny Cash empleó su tiempo en el escenario no solo para entretener, también educó. Trajo invitados de otros géneros (musicales), conversaba amablemente en los campus por todo el país sobre política, drogas y cualquier cosa sobre la que los estudiantes querían hablar e hizo siempre todo lo que pudo para tender puentes sobre abismos a través de su música."
2.20 The Johnny Cash Show:
17 Febrero 1971 ABC Wed
Productor Stan Jacobson
Escrito por Garry Ferrier, Aubrey Tadman, Larry Murray.
Dirigido por Allan Angus
nvitados:
Neil Young
Linda Ronstadt
Albert Brooks
James Taylor
Tony Joe White
Música:
James Taylor canta, 'Sweet Baby James', 'Fire and Rain' y 'Country Road'
Johnny canta, 'A Boy Named Sue', 'One Too Many Mornings' y 'A Man in Black'.
Linda canta, 'A Very Lovely Woman'.
Neil canta, 'Needle and the Damage Done' y 'A Journey Through the Past'.
The Dillards interpretan, 'I'll Fly Away' y 'St. Peter is Going to Put Me Up'.
Tony Joe canta, 'Daddy, Travelin' Bone'.
June canta, 'He's a Good Man'.