Nuevo miembro del GMA Gospel Hall of Fame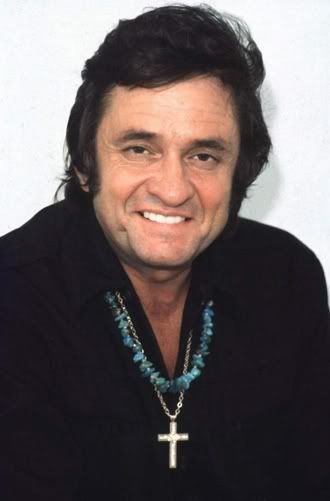 Johnny Cash era uno de los artistas clásicos con más méritos para entrar en el GMA Gospel Hall of Fame. Sólo era cuestión de tiempo que fuese admitido. Y, por fin, hace unas semanas se produjo la feliz noticia que hace de Johnny Cash un artista verdaderamente único al ser miembro, también, de tres importantes salones de la fama Nashville Songwriters Hall of Fame (1977), Country Music Hall of Fame (1980), Rock and Roll Hall of Fame (1992), y tres menores Arkansas Entertainers Hall of Fame (1996), Rockabilly Hall of Fame y Hit Parade Hall of Fame (2007). Sólo Hank Williams Sr., Jimmie Rodgers, Bob Wills y Bill Monroe estaban en los tres primeros.
De estos artistas, posiblemente, Hank Williams Sr. sea el más destacado artista gospel. Sin embargo, esta faceta está siendo más estudiada en los últimos años con descubrimientos como el de los shows "Mother´s Best Flour" y, posiblemente, sobre él, pesan "cargos" relacionados con su vida personal, el alcohol, los tranquilizantes, su divorcio... Pero no olvidemos que el otro lado de la oscuridad es la luz y Hank Williams era un devoto cristiano que se merecería estar ahí y de vuelta, honoríficamente, en el Grand Ole Opry.

Johnny Cash también pasó su particular calvario, pero tuvo la fortuna de vivir para contarlo. Y, hoy, es de vital trascendencia su admisión como miembro del GMA Gospel Hall of Fame. Junto a él se encuentran artistas muy significativos. Por un lado grupos corales legendarios como los Jordanaires, los Statler Brothers o los Oak Ridge Boys. Y por otro lado, artistas solistas imprescindibles como el gobernador Jimmie Davis, Tennessee Ernie Ford, Pat Boone, el inigualable Elvis Presley o Dolly Parton, que pone la nota femenina a esta lista de artistas. Pocos son para el gran peso de la música gospel en la música country.
La entrega fue realizada el pasado 24 de enero en el Trinity Music City Auditorium de Hendersonville, Tennessee, ciudad donde Cash vivió los últimos años de su vida. Según John Carter Cash, hijo de Johnny y June Carter: "
Mi padre creció en la Arkansas rural, en el condado de Mississippi y sabía dos cosas cuando era joven. Sabía trabajar duro y sabía de música gospel. Estas son las cosas que definieron su carácter en un principio. Cuando decidió hacerse cantante quería ser un cantante de gospel".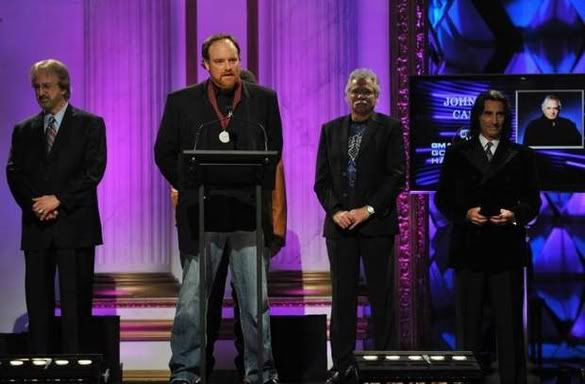 (Foto: The Tennessean)
Joanne Cash, la hermana de Johnny, presente en la ceremonia, dijo: "De niño, me contó, 'Un día voy a ser cantante, y voy a cantar música gospel'. Todas nuestras vidas se fortalecieron gracias al amor en Dios y cantando música gospel. Esta noche creo que nos estará viendo. Habría sido uno de los momentos más importantes de su vida".
Contaba Johnny Cash cuando iba a editar su disco "My Mother´s Book of Hymns":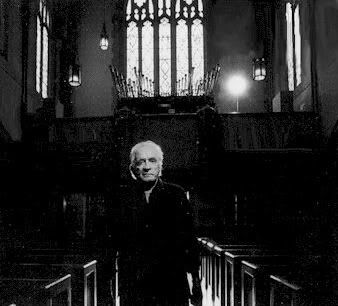 "Mi madre tenía un viejo libro llamado Himnos del Camino Celestial. Ella se sentaba a tocar las canciones que venían en él -viejas canciones de iglesia, canciones country gospel, docenas de ellas- hasta el final, una y otra vez a lo largo de su vida. A mi madre le encantaba ese libro. Ahora es mío, y es una especie de perro de largas orejas y harapiento, un poco como yo soy, y me encanta ese libro también. Así que cuando empecé a escoger canciones para un álbum de mi iglesia y canciones gospel, me fui al libro de himnos de mi madre, y encontré los que quería grabar. Las canciones de ese viejo libro significan más para mí de lo que pueda expresar, así que las cantaré sólo, acompañado de mi guitarra, simple, sin adornos, sabiendo que Dios ama la música y la música trae esperanza en un mañana mejor".
John Carter Cash concluyó la alocución sobre su padre en la ceremonia de admisión de Johnny Cash como miembro del GMA Hall of Fame en el

Trinity Music City Auditorium

:

"A través de su vida, (Johnny Cash) siempre volvió a la música gospel. Siempre la llevó consigo. No importa el show que hiciera o donde estuviera o a quien tuviera enfrente -ya fuera el presidente o un puñado de presos-, él cantaba una canción gospel. Nunca tenía miedo de hablar de su fe o hablar de salvación. Papá fue enormemente honrado al convertirse en miembro del Country Music Hall of Fame y fue enormemente honrado al convertirse en miembro del Songwriters Hall of Fame, pero él probablemente diría que lo número uno sería ser miembro del Gospel Music Hall of Fame, así que GMA, ¡muchas gracias!".

Trace Adkins interpretó 'Wayfaring Stranger' en honor de Johnny Cash.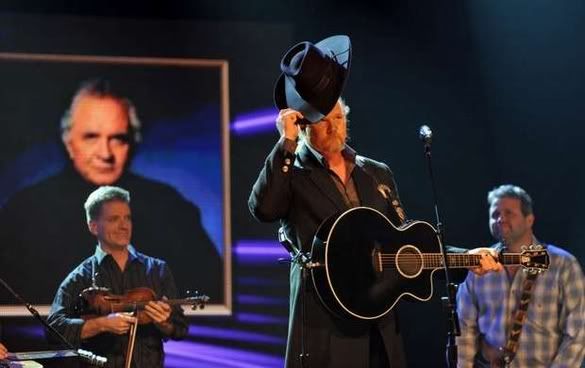 (Foto: The Tennessean)
Aquí Trace Adkins interpretando el mismo tema en una actuación en el Grand Ole Opry hace un par de años:
Hanny Haakman, escribió recientemente una semblanza de Johnny Cash que nos habla de un artista al que podríamos definir con una sola palabra: único.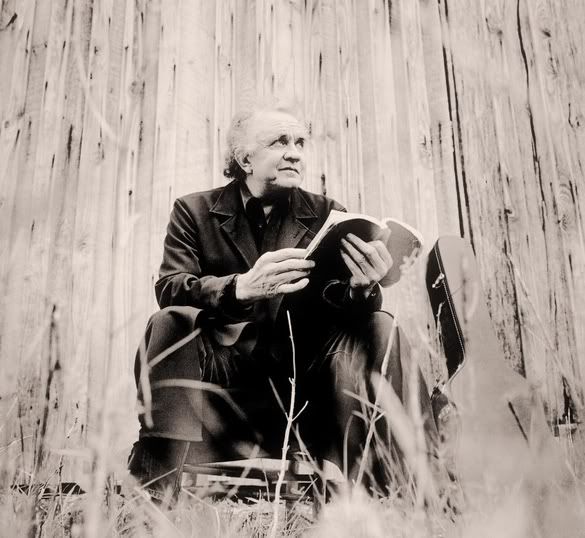 Johnny Cash o la Fuerza de una Voz
Por Hanny Haakmann, Barcelona
No es una voz corriente. Es una voz que toca las fibras. Llega hasta el fondo del alma y te convence. Utiliza un transporte universal para envolverte: la música. La trata, la moldea y te hace vibrar y revivir situaciones que tuvieron lugar en la infancia de nuestros padres. Algunos dicen que si Dios tuviera voz, sonaría como él y otros dicen que su cara es la que falta en el Monte Rushmore. Cuando cantando pronuncia la palabra "America" te llega una visión de paisajes infinitos, de praderas, de viejos masticando y sonriendo y caballos corriendo libres.
Si escuchas con atención, sus canciones te dibujan un mapa de los Estados Unidos y puedes visualizar las alegrías y tristezas de su pueblo con solo prestar atención a las letras de sus canciones. Es una voz que habla de respeto hacia el prójimo, que empuja a entender al que haya optado por un camino equivocado. Habla del trabajo y de la alegría de tenerlo o de la tristeza de su falta.
Es una voz que hace que entiendas que los jóvenes se puedan enternecer con los que ya están en la recta final. Es una voz que hace que te entren ganas de viajar en autobús o, mejor aún, en tren dejándote hipnotizar por el sonido repetitivo y monótono de las ruedas sobre los raíles.
Esta voz es capaz de cantarte sobre la grandeza del amor al mismo tiempo que te hace ver los peligros de amar con pasión. Es una voz que ha estado en muchos lugares y sabe susurrar pero también se sabe imponer con fuerza. Esta voz comprende que el mundo cambie y quiere subirse a este carro, pero no puede porque el pasado la necesita para poder seguir vivo.
Es una voz creyente y cuando mejor logra demostrar toda su potencial de sentimientos es cuando proclama su fe absoluta en su Creador y su alegría por haber encontrado un camino que la lleve hacia lugares insospechados, mucho más allá de las apartadas orillas del río Jordan.
Una voz que, a diferencia de otras, no adquiere más fuerza en compañía de más voces, sino que muestra todo su esplendor sonando en solitario, en combinación con la mente que hay tras ella y que sabe encontrar con certeza y habilidad absolutas las palabras exactas que ha de cantar para despertarnos de nuestra comodidad y hacernos sentir todas estas sensaciones a las que, demasiado a menudo, hemos dado la espalda por comodidad, por miedo a tomar partido, por no querer ver lo que se esconde muy, muy dentro de nosotros. También enseña que es absurdo tener miedo porque nadie puede escapar de sí mismo y todos hemos de encontrar la forma de vivir con nuestros ángeles y demonios, nuestras penas y alegrías y escuchar una voz que, a ratos, nos sacude y nos guía, habiendo pedido en su día ayuda desde los abismos más profundos, es de un valor incalculable.
Cuando ya parecía que fuera silenciada para siempre, en un último esfuerzo ha vuelto a sonar y nos ha traído las palabras de otras voces, puede que no tan inconfundibles, pero igualmente sinceras y con mucho que comunicarnos. La voz protagonista de este artículo finalmente se cansó de tanta entrega y el 12 de Septiembre de 2003 se apagó. Con ella se fueron las que podrían ser las cinco palabras más inconfundibles de la música country de la segunda mitad del siglo XX: "
Hello, I'm Johnny Cash"
.
Fuentes:
The Boot
Steven Menke
Gospel Music Association
GMA Hall of Fame
Johnny Cash Wikipedia
The Tennessean
Discografía Gospel de Johnny Cash