El huracán musical "Edgar" arrasó en su tour por nuestro país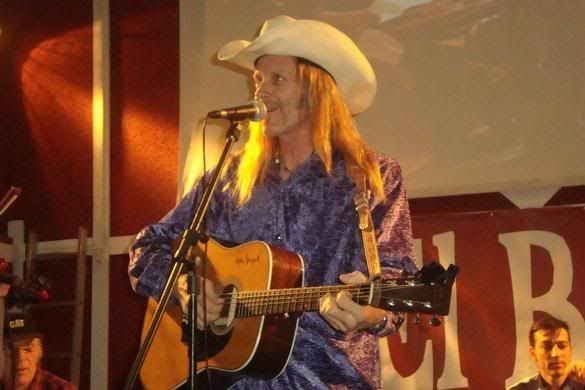 Una vez terminado el tour "Old School Survivor" de
W.C. Edgar
es el momento de analizar si estabamos preparados para el huracán musical country que se nos venía encima. Lo avisamos por activa y por pasiva, pero estamos tan acostumbrados a vivir en nuestro pequeño día a día, que muy poca gente se imaginaba que lo que venía era un
"high class"
de la música country. Alguien que no tiene nada que envidiar a los grandes del country como
Tracy Lawrence
,
Tracy Byrd
,
Mark Chesnutt
... Y la oportunidad de verle como vino se fue.
W.C. Edgar conecta con el clasicismo de
Hank Williams
,
Johnny Cash
,
Faron Young
,
George Jones
,
Johnny Paycheck
,
Waylon Jennings
,
Merle Haggard
,
David Allan Coe
... Y, al mismo tiempo, sitúa sus coordenadas musicales en el nuevo tradicionalismo de
Alan Jackson
,
Clint Black
,
Dwight Yoakam
... Con letras vigorosas y actuales que refrescan, dan vida y actualidad a la música country. Historias auténticas de la vida real americana, amores locos desgraciados o imposibles, honky tonks, rodeos, carreteras interminables, música country... W.C. Edgar se empapa de verdad y, sabemos que la verdad resulta impertinente cuando la hipocresia y la mentira campan por sus anchas como ocurre hoy en día en la industria discográfica de Nashville. Así que el hecho de que su música nunca haya obtenido un número uno, ni sus canciones suenen en listas de "éxitos", ni en las marketinianas radios de country americanas no desmerece el hecho de que nos encontramos ante un artista excepcional de música country.
La experiencia de este tour de W.C. Edgar y
Back To Texas
(cuya aportación ha sido ejemplar) ha sido magnífica desde todos los puntos de vista por mucho que los elementos, como el repentino cierre de la sala de San Sebastián, hayan deslucido en algunos momentos una gira planificada extraordinariamente por Country Music Catalunya -nuestra enhorabuena desde aquí-. Y es que hemos vivido y disfrutado la mayor gira de un artista de música country americano jamás realizada en nuestro país. Un acontecimiento histórico desde el punto de vista de la música country nacional. Este hecho unido a una ambiciosa puesta en escena, una cuidadosa planificación e intendencia, y unos reflejos felinos han posibilitado que, incluso, se llegara a realizar un show no programado con antelación. Todo un lujo, poder ver y escuchar a un artista de estas características tan especiales, que ha sido muy apreciado por el selecto grupo de aficionados que han vivido estas jornadas llenas de pasión musical. Balance muy positivo, por tanto, el de esta supergira. Ojalá que sea el principio de un camino en la dirección correcta hacia el desarrollo y promoción de la música country internacional en nuestro país, una plataforma de enganche para la propia música country nacional.
Durante este tour ha habido momentos muy especiales en cada concierto. Pero puestos a destacar A Coruña, Vitoria-Gasteiz, los dos conciertos de Barcelona y, curiosamente, el de Luanco, en la Taberna de Hank dirigida admirablemente por Esteban García Rodriguez y Teresa Gutierrez. Esta pequeña taberna ya es una parada country imprescindible en la comunidad asturiana y con su esfuerzo por traer a W.C. Edgar a su pequeño local -abarrotado hasta los topes- demuestra que cuando hay ganas y entusiasmo, cuando se saben hacer las cosas bien, las cosas salen bien o mejor aún. Mucha clase y mucho saber estar.
Live from A Coruña. Mardi Grass. 2 de diciembre.
Back To Texas
W.C. Edgar
Live from Vitoria-Gasteiz. Sala Hell Dorado. 3 de diciembre
W.C. Edgar

Live from Barcelona
El Barn D´en Greg. 4 de diciembre.
Back To Texas & WC Edgar (Steel Guitar)
Mix: 'Don´t Rock The Jukebox' + 'Sticks & Stones' + 'My Truck' + 'Brother Jukebox', etc
W.C. Edgar
'Big Ass'
(& Back To Texas)
Rock Sound. 6 de diciembre. ¡3 horas de concierto!
'Vegas'
'Take This Job and Shove It'
'Folsom Prison Blues'
'Just For a Second'
Live from Luanco. La Taberna de Hank. 7 de diciembre.
W.C. Edgar