Buddy comenzó su carrera tocando country
Impulsó la carrera de Waylon Jennings
Su huella musical aún perdura
El nombre auténtico de
Buddy Holly
era Charles Hardin Holley. Era el pequeño de 4 hermanos. Su familia era humilde. A los 11 años, comenzó a dar clases de piano. Sus hermanos mayores, Larry y Travis, tocaban varios instrumentos y a su madre le pareció que debía aprender a tocar el piano. Tras 11 meses aprendiendo a tocar y, a pesar de que su maestro le considerase uno de sus mejores estudiantes, Buddy –su alias de niño- abandonó el piano por la guitarra. Su familia hizo un esfuerzo para comprársela pero pronto se vio que estaba dotado para ella.
Del country & western al rock & roll
En 1949 Buddy Holly estudiando en el instituto J.T. Hutchinson Junior conoció a
Bob Montgomery
-un apasionado del country-, su compañero de séptimo grado. Buddy y Bob se hicieron íntimos amigos y compañeros musicales, tocando temas de
Bill Monroe
,
Hank Williams
y
Flatt & Scruggs
. Por aquel entonces Holly tocaba la guitarra, el banjo y la mandolina.
Bob Montgomery fue una de las primeras influencias de Buddy Holly iniciándole en la composición musical y evolucionando juntos hacia el blues y el rhythm and blues que emitían por la noche las grandes emisoras. Tal como hizo
Elvis Presley
, Holly se sintió atraído por la energía y la magia de la música negra, influenciando su trabajo.
Por aquel entonces Montgomery y Holly tocaban con amigos como el guitarrista
Sonny Curtis
, el batería Jerry "J.J" Allison o los bajistas
Larry Welborn
o
Don Guess
organizando multitud de jam sessions en la casa del propio Holly.
Con el nombre de Buddy and Bob, los dos muchachos se promocionaban como un grupo de western and bop y repertorio country y bluegrass, y seguían los pasos de grupos como
Flatt & Scruggs
o los
Louvin Brothers
, haciéndose con un nombre en la escena local: fiestas en la escuela, en la iglesia, en fiestas adolescentes, etc. Pronto se transformaron en un trío Buddy Holly con la adición del bajista Larry Welborn
(los tres en la foto superior izquierda; de izquierda a a derecha: Buddy Holly, Larry Welborn y Bob Montgomery)
, aunque siguieron llamándose Buddy and Bobb. En 1953 el trío consiguió su propio show los domingos por la tarde en la emisora
KDAV de Lubbock
, la primera del país que adoptó un formato musical de country a tiempo completo.
Hipockets Duncan
, locutor de la KDAV, se convirtió en su manager y les consiguió un puesto en el Cotton Club de Lubbock, así como grabaciones de anuncios en la emisora.
Buddy Holly y los Crickets
Tras actuar de teloneros de Elvis Presley en 1955, Buddy supo que quería tocar rock & roll. Entonces formó su propio grupo, los Crickets. Al firmar su primer contrato musical, hubo un error, y se comieron la "e" en Holley. Por eso, acabó llamándose Buddy Holly. Bob Montgomery, por su parte, se dedicó a componer temas con cierto éxito, como 'Back In Baby´s Arms' de
Patsy Cline
(que años más tarde fue el
título
de un álbum de
Connie Smith
) .
EL rock & roll popularizado desde la década de 1950 era un derivado mezcla de diversos géneros de folclore estadounidense (rhythm and blues, boogie woogie, swing, country y western son los más destacados). En esta década los jóvenes buscaban nuevos sonidos, nuevas sensaciones y, por primera vez, una música como el rock and roll se dirigió directamente a ellos. Tuvo como base la electrificación de la guitarra en los últimos años 40. Entre sus precursores se encuentran
Muddy Waters
y
Hank Williams
. Entre sus mejores intérpretes de los 50 están
Elvis Presley
,
Jerry Lee Lewis
,
Carl Perkins
,
Little Richard
,
Bo Diddley
,
Fats Domino
,
Gene Vincent
,
Chuck Berry
,
Eddie Cochran
y el propio Buddy Holly.
Buddy Holly se embarcó con los Crickets en numerosas giras, gracias a las cuales, Buddy, de carácter simpático y extravertido, conoció a muchas estrellas del rock como Chuck Berry, Little Richard, Eddie Cochran y los
Everly Brothers
.
Buddy fue muy innovador para su época, siendo un guitarrista influyente en canciones como '
Peggy Sue
' o '
Not Fade Away
'. Y escribiendo como compositor letras más sofisticadas de lo que se había hecho.
De 1957 a 1958 encadenó una serie de singles históricos que le convirtieron en una popular estrella: 'That´ll Be The Day', 'Peggy Sue', '
Oh Boy!
', 'Not Fade Away', '
Everyday
', '
Rave On
', '
Maybe Baby
' o 'It´s So Easy'.
'Everyday'
'Rave On'
'Maybe Baby'
'It´s So Easy'
'Peggy Sue'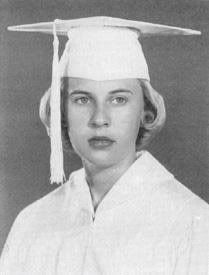 'Peggy Sue' es una canción escrita por Buddy Holly, Jerry Allison y Norman Petty e interpretada y grabada por Buddy Holly con los Crickets a principios de Julio de 1957. La canción se incluyó en su disco titulado "Buddy Holly" de 1958. Esta canción alcanzó el número 3 en la lista Billboard Hot de 1957 y el puesto 194 en la lista de las 500 canciones de todos los tiempos de la revista Rolling Stone.
En un principio la canción se llamaba 'Cindy Lou', como la sobrina de Buddy. Pero al final le cambiaron el nombre al de Peggy Sue por Peggy Sue Gerron (en la foto de la izquierda), la novia del batería de los Crickets, Jerry Allison, con la cual había roto temporalmente.
Tal vez por eso, la batería tiene un importante papel en la canción, siendo tocada rápida y rítmicamente, desvaneciéndose gracias a la producción de Norman Petty. La guitarra también es muy importante, siendo el estilo de Buddy uno de los más influyentes de su época.
La canción tuvo una secuela llamada 'Peggy Sue Got Married' (Peggy Sue se casó) que grabó como maqueta, sólo con su guitarra, en su apartamento de Nueva York. La canción fue descubierta después de su muerte y le añadieron los instrumentos. También es el título de una película de una película de 1986 de la actriz
Kathleen Turner
. Esta película reflejaba el ambiente musical y de rebeldía de los jóvenes de los años 50.
De Nueva York a Dakota del Norte, en compañía de Waylon Jennings.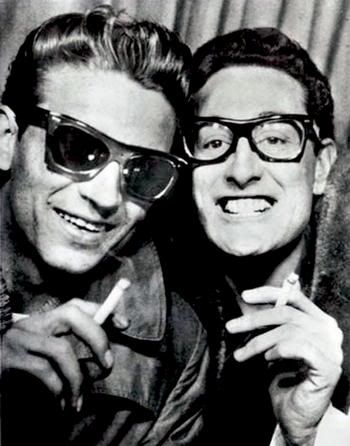 En 1958 Buddy Holly conoció a
Waylon Jenning
durante las emisiones de "Sunday Party" en la KDAV. El 10 de septiembre de 1958, Waylon grabó los temas 'Jolie Blon' y 'When Sin Stops (Love Begins)', con Buddy Holly y
Tommy Allsup
en las guitarras y el saxofonista
King Curtis
. El single fue editado por en 1959 con un éxito limitado. Pero sirvió para que Buddy le incorporase a la banda ese invierno en su "Winter Dance Party Tour".
En otoño de 1958 Buddy Holly se había instalado en Nueva York y junto a Dirk Jacobs y su orquesta o en solitario, en su apartamento, había grabado temas como '
Raining In My Heart
', '
Crying, Waiting, Hoping
' o 'True Love Ways' que mostraban un artista en evolución.
'Raining In My Heart'
'Crying, Waiting, Hoping'
'True Love Ways'
Tras un show en Clear Lake, Iowa, Buddy Holly alquiló un avión para él mismo, Allsup y Jennings para evitar un largo trayecto en bus. Allsup lanzó una moneda con
Ritchie Valens
por un sitio en el avión, mientras que Wylon le cedió su sitio a
J. P. Richardson
(The Big Bopper), que estaba resfriado y andaba quejándose. A primera hora del 3 de febrero de 1959, (más conocido como "El Día en que murió la música") el avión se estrelló a las afueras de Clear Lake. No hubo supervivientes. El tour continuó durante dos semanas más con Waylon Jennings. como cantante solista.
De Buddy Holly llama la atención que grabó muy pocos discos y canciones comparado con otros cantantes y, aún así, es uno de los artistas más influyentes y admirados de los últimos 50 años sobre grupos como los británicos
Beatles
,
Rolling Stones
,
Kinks
, y los americanos
Beach Boys
,
Animals
,
Byrds
o
Turtles
. Y más allá, en artistas como
Bob Dylan
,
Elvis Costello
,
The Proclaimers
,
The Clash
… E, incluso, su influencia volvió a la propia música country de donde Buddy había partido.
En este sentido, Buddy Holly fue único, ya que su influencia se extiende a lo largo de varias generaciones de artistas, a pesar de su juventud alcanzando una fama increíble para su época. Buddy Holly, representaba las ganas de libertad de los jóvenes americanos y él era igual de joven que ellos. La radio y, sobre todo, la televisión, que era nueva en esa época, hicieron que Buddy Holly se "colase" en las casas de esos jóvenes para que estos le adorasen.
Aloha Criticon
Wikipedia
. Buddy Holly
Allmusic
Cuchara Sónica
Wikipedia
. Peggy Sue
That Must be Rock