Disco de tributo al genial escritor sureño
Artistas de la talla de Clint Eastwood, Jimmy Buffett y Emmylou Harris se han unido al proyecto del Mark Twain Boyhood Home & Museum para homenajear al hijo predilecto de Hannibal, Missouri.
El CD "Mark Twain: Words & Music", será lanzado hoy miércoles. Cuenta la historia de Twain con la narración de Garrison Keillor, Eastwood es la voz de Twain y Buffett es la voz de Huckleberry Finn.
Ayer por la noche en la presentación del disco actuaron Carl Jackson, ganador de un Grammy, quien produjo el CD y en el que canta él mismo. Aquí le vemos con Val Storey (que hace las veces de Emmylou Harris) en este impecable tema 'When Halley Came To Jackson':


Muchas de las canciones fueron escritas especialmente para el álbum y están interpretadas por grandes artistas de nuestro género: Ricky Skaggs, Brad Paisley, Joe Diffie, Vince Gill o Rhonda Vincent.
Twain nació Samuel Clemens en la Florida, Missouri, en 1835. Su familia se trasladó a Hannibal, donde se crió. La ciudad del río Mississippi y sus personajes inspiraron muchas de sus mejores obras, entre ellas "Las aventuras de Tom Sawyer", "Las aventuras de Huckleberry Finn" y "Vida en el Mississippi".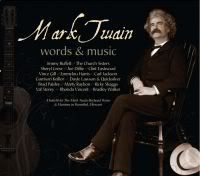 A Cindy Lovell, la directora del museo Mark Twain Boyhood se le ocurrió la idea de un CD y se acercó a Jackson, un amigo de la infancia con fuertes conexiones en la industria de la música para desarrollar el proyecto. Se comenzó a trabajar en el proyecto en 2010, año que conmemora el 175 aniversario del nacimiento de Mark Twain y el 100 aniversario de su muerte. Y curiosamente se edita en el 150 aniversario del comienzo de la Guerra Civil en la que Twain participó apenas dos semanas.
Todos los artistas donaron su tiempo y talentos. "Todo el mundo ama a este hombre", dijo Lovell. Lo recaudado ayudará a mantener el museo.
"Mark Twain: Words & Music" es un doble CD con un libro de 40 páginas.
Disco 1:
01. "Hello yourself, and see how you like it…";
02. When Halley Came to Jackson ~ Emmylou Harris;
03. "Hannibal, Missouri, where my boyhood was spent…";
04. Better Times a' Comin' ~ Doyle Lawson & Quicksilver;
05. "He agreed to teach me the Mississippi River…";
06. Run Mississippi ~ Rhonda Vincent;
07. "Several years of variegated vagabondizing…";
08. A Cowboy in His Soul ~ Bradley Walker;
09. "It liberates the vandal to travel…";
10. Safe Water ~ Carl Jackson;
11. "You ain't ever to love anybody but me…";
12. I Wandered by a Brookside ~ The Church Sisters;
13. "It was a mighty nice family…";
14. Beautiful Dreamer ~ Sheryl Crow;
Disco 2:
15. "Don't scrunch up like that, Huckleberry…";
16. Huck Finn Blues ~ Brad Paisley;
17. "The crows would gather on the railing and talk about me…";
18. Indian Crow ~ Marty Raybon;
19. "So wounded, so broken-hearted…";
20. Love is On Our Side ~ Val Storey;
21. "Wheresoever she was, there was Eden…";
22. I Know You By Heart ~ Vince Gill;
23. "My conscience got to stirring me up hotter than ever…";
24. Ink ~ Joe Diffie;
25. "The report of my death was an exaggeration…";
26. Comet Ride ~ Ricky Skaggs;
27. "The truth, mainly...";
Productor: Carl Jackson;
Productores Ejecutivos: Carl Jackson and Cindy Lovell.
Fuentes: