5º aniversario de su muerte.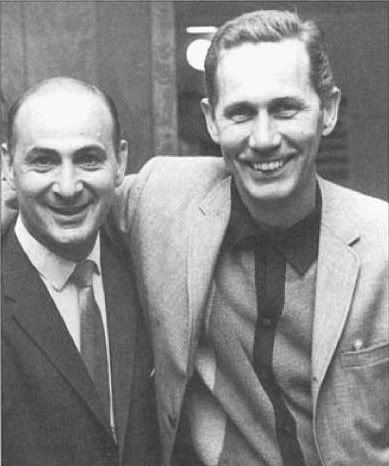 El compositor Cy Coben (en la foto de la izquierda, con corbata, junto a su gran amigo Chet Atkins) murió en 2006 a la edad de 87 años. Su muerte fue una gran pérdida para la música en general, porque Cy era un compositor de música pop, big band y, sobre todo, country... Algo sorprendente teniendo en cuenta que era un judío de Nueva Jersey, que comenzó su carrera musical en la América segregada de los 50.
Cy Coben era el pequeños de seis hermanos, hijo de un vendedor de quesos establecido en Jersey City. Las únicas cosas que le gustaban del colegio eran jugar al tenis y tocar la trompeta y tras graduarse fue a una academia local de música intentó tocar en diversas bandas, pero una vez que comenzó a componer sus canciones dejó la interpretación y nunca volvió a ella. Sirvió en la marina en un destructor destinado al Pacífico durante la Segunda Guerra Mundial, desde 1942 a 1946. Un año más tarde conoció a Shirley Nagle en una cita a ciegas para jugar al tenis y en 1948 se casaron. La pareja se estableció en Weehawken, Nueva Jersey y una de sus primeras canciones fue 'A Good Woman's Love', como regalo a su mujer, con la que permaneció felizmente casado hasta 1973, año en el que Shirley murió.
El primer éxito de Cy Coben fue 'My Little Cousin', grabado por Peggy Lee con la Benny Goodman Orchestra en 1942 cuando Cy tenía 23 años, un tema exótico pegadizo con fuertes reminiscencias de la canción yiddish tradicional.



Tras este éxito Cy fue requerido por las estrellas de la época como Al Jolson, Dinah Shore, Eddie Cantor, Rosemary Clooney y Perry Como. Liberace y Hoagy Carmichael, en particular, grabaron versions rockeras del tema de Cy 'Old Piano Roll Blues'. Esta es la versión del gran Al Jolson y las Andrew Sisters:



También compuso 'Sweet Violets' aquí en la versión de Dorothy Collins:


Otro éxito de Cy fue
'Souvenirs'
en la voz de Barbara Evans:
Desde los años 40 Cy Coben compuso canciones para artistas country como para los Buchanan Brothers y este curioso título de 1947,
'When You See Those Flying Saucers'
(Cuando ves esos platillos volantes):
Cy viajó a Nasville gracias al ejecutivo de RCA Stephen Sholes. Uno de los artistas para los que más canciones compuso fue Eddie Arnold que con su pulida elegancia vocal fue uno de los precursores del Nasville Sound. Aquí en
'I Want to Play House With You'
, otra de las canciones de Cy Coben que fueron interpretadas por infinidad de cantantes de la época y que en la voz de Arnold llegó al número uno, vendiendo 5 millones de copias:
Hank Snow grabó varias canciones de Cy, incluyendo el éxito de 1949 '
Nobody's Child',
una canción que trataba de un niño huérfano ciego que fue grabada hasta por los Beatles o los Travelling Wilburys en 1990.
The Beatles & Tony Sheridan: 'Nobody´s Child'
The Travelling Wilburys: 'Nobody´s Child'
Las canciones de Cy Coben se cuentan por centenares, más de 650. "A mi padre le cautivó la idea de ir a Nashville cuando no había muchos estudios allí" cuenta Greg Coben, el hijo de Cy, "sobre la época en que Steve Sholes fichó a Elvis para RCA, papá fue con Sholes al sur para grabar con un montón de gente, amaba la música, así que le fue fácil escribir. Siempre tuvo un talento natural para escribir bajo presión. La gente le llamaba y le decía: ´Hey, necesito una canción para Hank Snow´ o alguien así y papá decía ´Ok, la tengo, te la llevo mañana´ y entonces se ponía a escribirla". Cy también compuso temas para Willie Nelson, Jim Reeves, Carl Smith, y diversos éxitos para Eddy Arnold...

Eddy Arnold: 'Easy On The Eyes'
En esa época, Cy Coben conoció al guitarrista y compositor Chet Atkins y se convirtieron en amigos inseparables. Cy en honor de Chet le dedicó "Chet's Tune" que fue interpretada por primera vez en el 20 aniversario de Chet en RCA:



Chet la tocó posteriormente en instrumental.



Las siguientes décadas consiguieron agrandar aún más la figura de Cy Coben escribiendo la canción del "The Jackie Gleason Show":



Y... ¡atención, trekies! también compuso el tema "Alien" y 'Where It´s At' para Leonard Nimoy (Mister Spok en la popular saga)



Cy compuso temas para los comediantes country Homer and Jethro, y el grupo New Riders of the Purple Sage grabó en 1977 su tema 'Red Hot Women and Ice Cold Beer'.



Cy Coben tocaba la guitarra, el piano y cantaba bastante bien. Todos sus amigos le animaban a dedicarse profesionalmente a la interpretación, pero nunca quiso cruzar la línea e interpretar sus canciones. En muchos de sus shows Chet le decía, "Venga, sube al escenario a tocar conmigo" y Cy siempre le respondía: "De ningún modo".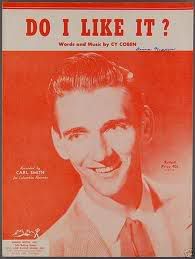 Según Liane Dozier, la compañera de Cy durante los últimos 17 años
"Cy solía bromear con Chet y sus amigos más cercanos sobre qué hacía un judío entre hillbillies y ellos se reían de la ocurrencia porque sabía que bromeaba".
Pero aunque su humor y su talento le auparon al éxito musical muy pronto tuvo oportunidad de ver las injusticias raciales del sur de los años 50, contra las que siempre fue beligerante.
Liane Dozier cuenta:
"Cuando iba de tour por el sur con sus amigos odiaba la segregación contra los negros y si veía los baños segregados o un sitio donde no dejaban entrar negros soltaba los carteles racistas".
También cuenta Dossier que la gente le preguntaba a Cy que hacía para ganarse la vida y cambiaba de tema:
"Si insistían les decía que era compositor y podías ver en la mirada de la gente lo que estaban pensando ´Cómo alguien puede ganarse la vida componiendo´, y no decían más. Era gracioso. La mayoría de la gente no sabe qué significa el negocio de la música".
Al igual que la prolífica octogenaria Cindy Walker que murió en ese mismo año, 2006, Cy Coben todavía componía canciones hasta el día de su muerte.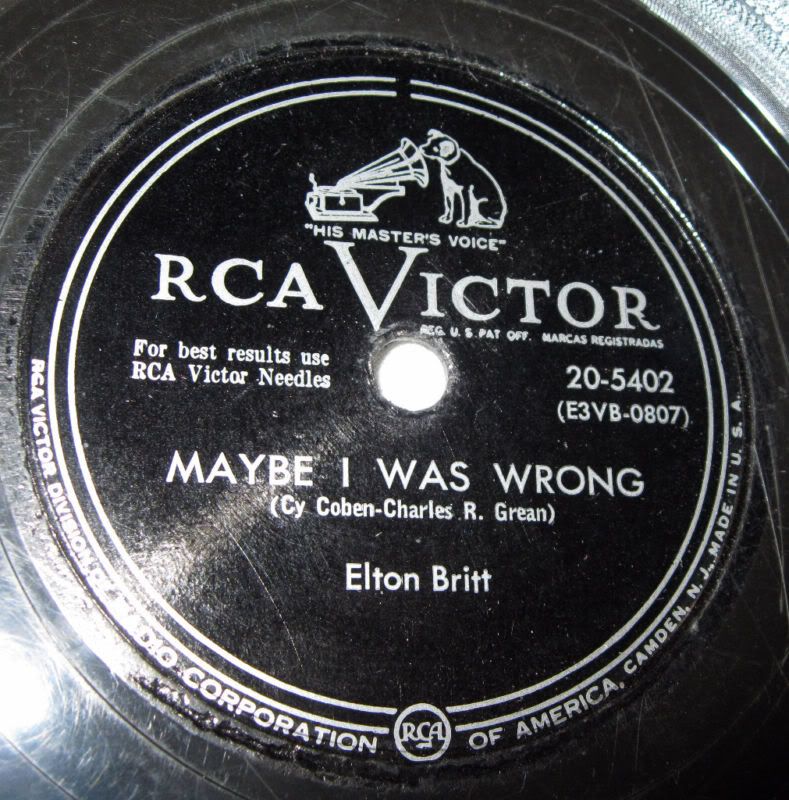 Tienen razón los que dicen que debería estar en el Nashville Songwriters Hall of Fame, pero mucho nos tememos que muchos compositores jóvenes en Nashville ni le conozcan. Su colaborador durante mucho tiempo, "Cowboy" Jack Clement, el productor que convirtió a Jerry Lee Lewis en una estrella del rock y escribió superhits para Johnny Cash ("I Guess Things Happen That Way") o Dolly Parton y Porter Wagoner ("Someone I Used to Know") declaró:
"Cy era uno de los primeros tipos del norte que triunfó aquí, en Nashville y, chico, sabía como escribir una canción, escribió muchísimo material y era uno de los grandes".
La otra gran afición de Coben desde joven fue el tenis, le mantenía en forma y jugaba con un grupo de amigos en Redwood City. Murió un 26 de mayo de un ataque al corazón, precisamente un día lluvioso en el que no había ido a jugar. Su mejor epitafio tal vez este contenido en una de sus mejores canciones 'A Good Woman's Love', que dice así: "And so when the night falls and the stars shine above, I'm a man with a dream and a good woman's love." (Y cuando caiga la noche y las estrellas brillen ahí arriba, seré un hombre con un sueño y el amor de una buena mujer)


Jerry Reed: 'A Good Woman´s Love'