Seleccionadas por el artista para la revista Rolling Stone
Le hubiera gustado componerlas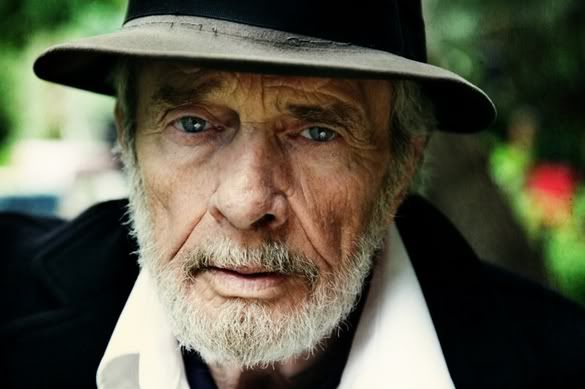 Merle Haggard es junto con George Jones, Willie Nelson y Kris Kristofferson uno de los artistas masculinos vivos más importantes de la música country. Desde Bakersfield, California, y sus comienzos con Buck Owens y Wynn Stewart, hasta el dorado otoño de su vida, su gran calidad artística, su pasión por la música country y su filosofía de la vida han deambulado por fértiles pastos y caminos polvorientos, han viajado de polizón en freight trains trotando por una América que migraba de un paisaje rural a uno urbano, de un país que se desangraba en Vietnam, que vencía y perdía, para finalmente brillar en luces de neón sobre los mejores escenarios de América.
Merle Haggard es una figura incontestable en la música country, aparte de un compositor fino, llano, y visual y emocionalmente profundo, con un talento fuera de serie. Miembro del Country Music Hall of Fame, más de 40 números uno -cuando los números uno significaban algo-, avalan su exitosa carrera. Pero suponemos que todo compositor al escuchar una canción ajena genial le hubiera gustado componerla. Recientemente la revista
Rolling Stone
le propuso elegir las 10 canciones country que le hubiera gustado componer. ¿Qué hace a una canción grande? le preguntaron a Merle:
"Tiene que inflamar una llama azul bajo mi oreja izquierda y que un escalofrío corra por mi cuerpo. Y que inmediatamente diga '¿Por qué no pensé en ello?'".
No hay ninguna canción de Waylon Jennings, Bob Wills o Buck Owens entre las elegidas. Y la verdad es que no deja de ser un misterio.
1. Jimmie Rodgers: 'Waiting For A Train' (1929)

La mayor estrella en solitario de los últimos 20 y primeros 30, considerado el padre de la música country.
2. Hank Williams: 'Settin' The Woods On Fire' (1952)


Escrita por Ed Nelson y Fred Rose, esta canción se ha convertido en otro de los clásicos de Hank, el artista que instaló a la música country en la modernidad.



3. Marty Robbins: 'Devil Woman" (1962)

Curiosa grabación de Marty Robbins para la televisión australiana. Uno de sus temas más emblemáticos. 7 semanas en el número 1 en 1962. Cuenta Merle: "Estaba haciendo una audición para la banda de Wynn Stewart en Las Vegas, y me pasaron una guitarra. Toqué este tema y sus bocas se abrieron. Me condujo a mi primer gran trabajo tocando el bajo en su banda"



4. Johnny Cash: 'Ring Of Fire' (1963)

Cuenta Merle Haggard: "Podría ser el tema más potente que he oído. Recuerdo haberlo oído en cuatro estaciones de radio simultáneamente. Johnny Cash me dijo que soñó con esas trompetas españolas. se levantó y las añadió. he tenido grandes sueños, pero nunca recuerdo los buenos".




5. Lefty Frizzell: 'A Word or Two To Mary' (1967)

Es una balada sobre un soldado en la batalla escuchando un mensaje de su compañero moribundo para su mujer.




6. Tommy Collins: 'When No Flowers Grow' (1968)

Una canción interpretada por el gran Tommy Collins, otro de los genios del Bakerfield Sound que trata sobre una mujer que mata a su hijo accidentalmente. Se vuelve loca y coge flores en la nieve donde las flores no crecen.
Escuchamos esta versión de Merle Haggard:
7. Jeannie C. Riley: 'Harper Valley P.T.A.' (1968)
Escrita por Tom T. Hall, la llevó al éxito Jeannie C. Riley. La canción nos habla de una madre que viste su falda un poco más alta y la gente de PTA comienza a cuchichear.

8. Kris Kristofferson: 'Sunday Morning Coming Down' (1970)

Dice la estrella californiana: "Estaba en la audiencia cuando Johnny Cash la cantó en televisión. No querían que cantase la línea "Wishin', Lord, that I was stoned" (Deseando, Señor, estar colocado), pero lo hizo y el auditorio se vino abajo".



9. Willie Nelson: 'Always On My Mind' (1978)

Cuaquiera puede identificar estar canción escrita por Johnny Christopher, Mark James y Wayne Carson. Había sido un gran éxito para Elvis Presley. "Le dije a Willie ¡estás loco!, loco como un zorro, porque resultó llegar al número 1".



10. George Strait: 'Give It Away' (2006)

Jamey Johnson escribió este tema. Trata acerca de una pareja que rompe y se preguntan quien se va a llevar las sillas y las mesas. "Tíralas a la basura". Según Merle: "Jamey es el primero desde hace mucho tiempo con la habilidad suficiente para escribir de esa manera". Esta versión presentada por Kris Kristofferson la cantó George el día que dio su discurso de entrada como miembro del Country Music Hall of Fame.