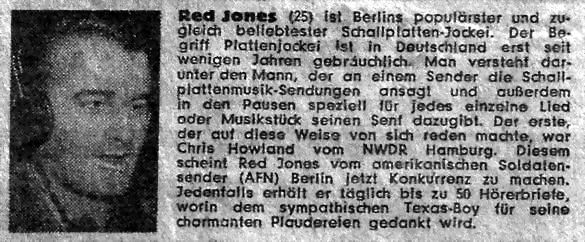 Thom Whetson en su blog AFTRS Archive subió un show de "Stickbuddy Jamboree" del año 1954 del DJ Red Jones. Un show realizado en las bases norteamericanas en la Alemania de la postguerra.
Vida y carrera profesional.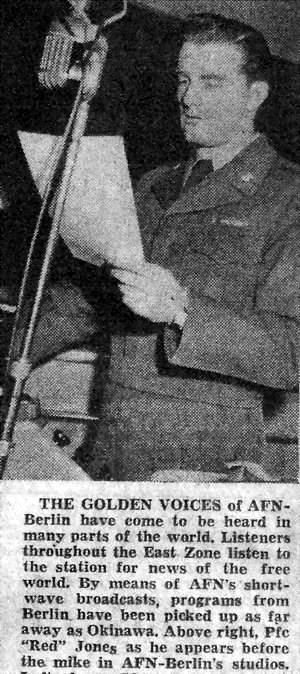 Curiosamente, Red se jubiló este año tras 60 años como locutor de radio. Nacido en Baird, Texas, Red Jones trabajó en la radio local con su tío a la temprana edad de 14 años, fregando, tirando la basura y haciendo todo aquello que fuera necesario. Estudió en la Universidad de Texas, graduándose en radio y televisión. Estando en Austin trabajó para la KVET. Tras la universidad estuvo destinado en Alemania durante tres años.
Cuenta Red: "Estuve en la radio de la fuerzas Aéreas norteamericanas entre 1954 y 1956 donde realicé diversos shows como "Hillbilly Gastehaus" o "Duffle Bag". La única cinta que conservo de aquella época es esta. Lo pasé muy bien en AFN en aquellos tiempos. Tras licenciarme en 1956, volvía a la radio de Texas donde había pedido excedencia y trabajé brevemente en Austin antes de irme a la KILT en 1956".

En Houston trabajó con el prestigioso Gordon McClendon especialista en Top 40. Red fue nombrado uno de los mejores presentadores de América por el Gavin Report.
En 1961, Red se trasladó a la WQXI como director de programas. En 1963, fue a la WDGY de Minneapolis durante un año pero volvió a la WQXI de Assistant Manager, Director de Programas, y presentador del show matinal, pero estando allí también presentó las tardes, ayudó a montar la Atlanta Falcons Radio Network, y lanzó la WKXI FM (ahora WSTR).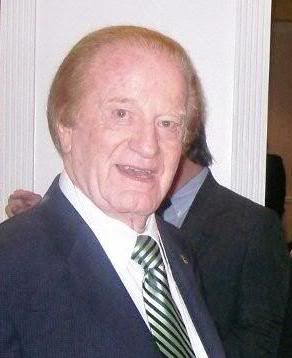 Estando Red en la WQXI AM, la emisora fue nombrada por la revista Billboard como una de las radios Top 40 más destacadas de América y Red fue considerado como uno de los mejores presentadores.
Red dejó la WQXI y trabajó en la WFOM de Marietta. Entonces se trasladó a Georgia donde fue copropietario de una emisora en Valdosta. Además fue manager de la WLAG en LaGrange antes de trasladarse a Carrollton.
Red dice: "Estuve mis últimos 10 años de carrera en la emisora de 50.000 vatios WKNG Carrollton antes de retirarme este año después de un total de 63 años en el negocio y a punto de cumplir los 80 años. Pensé que era suficiente".

Red Jones es miembro del Georgia Radio Museum and Hall of Fame. Un auténtico maestro de radio.
El Show
.
Del Western Swing al Honky Tonk
Este show de Red Jones contiene grandes momentos musicales de la época desde el tema 'Just Because' interpretado por The Jimmy Wakely Trio al 'Settin´ The Woods On Fire' del ya fallecido por entonces Hank Williams, pasando por 'Heartbreaker' de Jimmy Heap and The Melody Masters, o 'I Miss You So'Justin Tubb con Goldie Hill. Un brillante show que nos muestra la increíble variedad musical country de la época.
Descárgate el show
Fuentes:
AFRTS ARCHIVE
GRHOF