Nuevo single y vídeo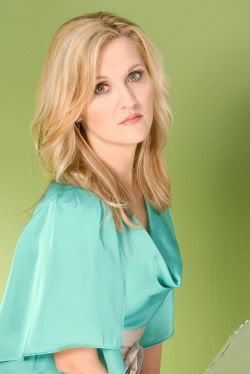 Comentábamos recientemente que no todo está perdido en Nashville. Mientras el nashpop arrasa con casi toda la herencia musical de raíces hay unos cuantos bravos luchadores en recordarnos que la música country es otra cosa, que el ayer, tiene continuación en el presente y quizás un mañana. Una de esta heroínas de la nueva hornada country es Teea Goans. Teea podía haber escogido el camino fácil, tiene una excelente presencia y una maravillosa voz, y podría haber cantado nashpop pero esta artista nacida en el viejo Missouri, que creció escuchando la radio de onda media de su abuela y a todas las grandes leyendas de la música country, optó por ser ella misma, por cantar lo que ama: la auténtica música country.
Ya a los tres años de edad, Teea cantaba en la iglesia local y a los 8 ya había ganado su primer concurso de talento musical en el Truman Lake Opry, donde entraría como miembro tan sólo un año más tarde y donde siguió tocando hasta los 17 años de edad. Durante ese tiempo conoció a estrellas inmortales del country como Bill Anderson, Little Jimmy Dickens y Grandpa Jones.
Precisamente hoy se cumple el 50 aniversario de la entrada de Bill Anderson como miembro del Grand Ole Opry y Teea participó en el show de homenaje que la cadena rural RFD-TV (la misma que produce el show de Marty Stuart) con un sentido homenaje a su viejo maestro con 'Walk Out Backwards'
El country music hall of famer, Bill Anderson, ha dicho de ella: "Teea Goans es el pack perfecto, es guapa, tiene una gran voz y un estilo que se apoya en la tradición y aún así es fresco como el sol de esta mañana".
Tras graduarse en el instituto, consiguió trabajo en el Longview Community College de Kansas City y en 2003 se casó con su amor de toda la vida. Unos años más tarde dejó su trabajo y se mudó a Nashville para seguir una carrera musical y comenzó a escribir canciones y a cantar demos para otros compositores. Lo primero que hizo Teea en Nashville fue trabajar con Ray Price en el Ryman Auditorium en 2006. En la WSM le ofrecieron trabajo llevando la contratación de artistas para el show previo del Grand Ole Opry. Mientras tanto Teea continuó cantando demos y componiendo.
En el Station Inn quedó prendada de los Time Jumpers, una selecta banda de western swing y comenzó a colaborar con ellos. Precisamente en este local conoció a su productor Terry Choate. Fruto de esta amistad nació el primer ábum de Teea: "The Way I Remember It". Una colección de recuerdos musicales de la artista. Con temas compuestos, entre otros, por varios miembros del Country Music Hall of Fame como 'Walking The Floor Over' de Ernest Tubb o 'I'm Still Not Over You' (grabado por Ray Price en 1967).
Otros artistas cuyas canciones fueron elegidas por Teea fueron Willie Nelson, Merle Haggard y Red Lane con 'I Didn't Mean To Love You', Curly Putman y Sonny Thronkmorton con 'Made For Loving You' (un top ten para Doug Stone), el clásico de Joe Allen 'Lying In My Arms' y el mencionado tema de Bill Anderson 'Walk Out Backwards'.
El álbum presenta una impresionante escuadra de colaboradores como varios de los músicos de Time Jumpers con el multiinstrumentalista Joe Spivey a la cabeza -además como productor asociado-, el guitarrista de steel Paul Franklin siempre eficaz y los fiddlers Aubrey Haynie y Kenny Sears. Finalmente Dan Tyminski, de la Union Station de Alison Krauss pone la guinda a este trabajo como partenaire en la balada 'Made For Loving You'.
Ahora Teea Goans nos presenta su último single y vídeo 'Letter From God' (carta de Dios). Otro pulido tema que demuestra la calidad de esta nueva artista a la que esperamos le aguarde un futuro brillante en la música country. Little Jimmy Dcikens dijo de ella: "Si hay una joven dama que se merece ser una super estrella esa es Teea Goans". Te creemos Jimmy.