Estas sesiones (1927-1928) marcaron un hito en la historia de la música country y constituyeron las primeras grabaciones de músicos legendarios como Jimmie Rodgers y la Carter Family.
Por Antón García-Fernández. Memphis, Tennessee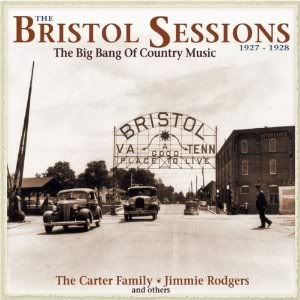 Johnny Cash lo dijo en una ocasión con claridad meridiana:
"Fue el acontecimiento más importante de la historia de la música country"
. Ni más ni menos. Las palabras se refieren a las sesiones organizadas por Ralph Peer para la compañía discográfica Victor en 1927 en la pequeña ciudad de Bristol, que se encuentra a caballo entre los estados de Tennessee y Virginia, y el bueno de Johnny no exageraba. No en vano, esas sesiones supusieron el descubrimiento de dos grandes leyendas del género como son Jimmie Rodgers y la Carter Family, pero además, en ellas participaron importantes nombres del old-time como Ernest V. Stoneman, Blind Alfred Reed o B.F. Shelton.
Sin duda, el productor Ralph Peer se encontraba, como suele decirse, en el lugar perfecto en el momento adecuado. Era la segunda mitad de la década de los 20, un par de años antes de la caída de la Bolsa de Wall Street, y el mercado discográfico estaba en plena efervescencia. Además, hacía relativamente poco que los responsables de sellos discográficos como Columbia, Okeh y Victor, habían descubierto una mina de oro aún por explotar escondida en las regiones sureñas, esa música que todavía no se llamaba 'country' ni 'country and western', sino que empezaba a conocerse mediante etiquetas como 'hillbilly' u 'old familiar tunes'.
Hasta la edición de las primeras grabaciones del dúo formado por Eck Robertson y Henry Gilliland
(fotos izquierda y derecha respectivamente)
en 1922 y el posterior éxito sin precedentes de los discos del pionero Fiddlin' John Carson, las discográficas eran reticentes a publicar discos de música campestre. Pero la popularidad de las grabaciones mencionadas demostró a estas compañías que existía un mercado potencialmente muy lucrativo para este tipo de música. Por esta razón, algunos de los sellos más potentes del momento empezaron a viajar por los estados sureños con la intención de descubrir y promocionar nuevos talentos dentro de este estilo que se encontraba todavía inexplorado.
En su papel de gigante de la naciente industria del disco, Victor era una de estas compañías, y Ralph Peer, productor y cazatalentos con un olfato inigualable para identificar a aquellos artistas con mayor potencial de ventas, inició una serie de excursiones por el Sur armado con un equipo portátil de grabación. Al encontrarse en una zona de rica tradición musical, Bristol era una elección lógica para Peer, y en 1927 llegó a la ciudad y se instaló en un hotel cerca del centro, que utilizaría como cuartel general para las sesiones, y lo primero que hizo fue poner un anuncio en el periódico local con la intención de atraer talento local con mayor facilidad.
Jimmie Rodgers y la Carter Family
La respuesta no se hizo esperar, y el destino quiso que en la pequeña localidad de Bristol se dieran cita un grupo de músicos de indiscutible calidad que dejaron para la posteridad una serie de grabaciones ahora consideradas históricas. Entre ellos, Jimmie Rodgers y el conjunto formado por A.P., Maybelle y Sara Carter, la Carter Family, no tardarían en convertirse en superestrellas de un negocio de la música country que todavía se hallaba por entonces en estado embrionario.
Hace ya más de una década, la Country Music Foundation editó un disco doble que reunía parte de estas importantes sesiones, y en 2005 vio la luz el libro "The Bristol Sessions: Writings about the Big Bang of Country Music" ("Las sesiones de Bristol: escritos sobre el big bang de la música country"), una obra coordinada por los estudiosos Charles K. Wolfe y Ted Olson que es imprescindible para comprender el alcance de estas sesiones. Y ahora Bear Family, con el cuidado que siempre ha caracterizado a este sello germano de reediciones, ha puesto a la venta una caja de 5 CDs que, bajo el título de "The Bristol Sessions: The Big Bang of Country Music 1927-1928", recoge por vez primera al completo las sesiones realizadas por Peer en Bristol en los años 1927 y 1928.
Como de costumbre, la caja de Bear Family es modélica, tanto por su contenido como por su presentación, y se trata, sin lugar a dudas, de la edición definitiva de estas grabaciones de elevado interés histórico y musical. Los cinco discos vienen acompañados de un libro de tapa dura que recoge nuevas notas escritas para la ocasión y que está repleto de fotos y datos. Si bien el precio es, como en todos los productos editados por Bear Family, un tanto elevado, esta caja debe figurar en las estanterías de todo aficionado serio
a la música country.
Lost Highway : The Story of Country Music: Part 1: Down From The Mountain 4/4