Fue inventada por Alvino Rey, un guitarrista de steel
También se utilizó en la música country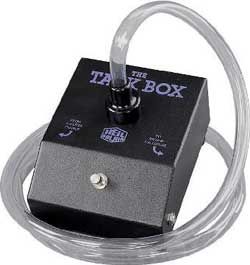 Los aficionados musicales más veteranos aún recuerdan al cantante de pop rock Peter Frampton cantando a través de un tubito que deformaba la voz. Fue en 1976, Frampton editó el álbum "Frampton Comes Alive!" grabado un año antes en San Francisco. Aquel álbum que llegaría a vender 16 millones de copias contenía dos temas 'Show Me the Way' y 'Do You Feel Like We Do' grabados con Talk Box, un aparato con micrófono de carbono que modulaba el sonido de la guitarra eléctrica utilizando la garganta humana como filtro.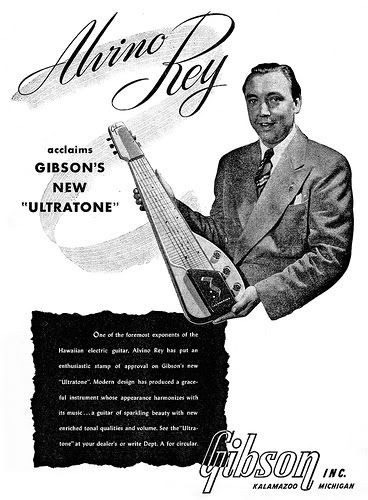 Pero curiosamente el aparato en cuestión no fue inventado por músicos de rock and roll sino mucho antes, concretamente en 1939 por un músico jazzista de steel guitar llamado Alvino Rey, a partir de un aparato para pilotos de avión. Alvino (Alvin McBurney 1908-2004) que llegó a dirigir una de las orquestas big band de jazz y swing más famosas de los años 30 y 40 combinaba sus inclinaciones musicales con las técnicas. Y mientras se forjaba el sonido musical del siglo XX, Alvino colaboró en desarrollar este invento con el que su mujer tarareaba detrás de una cortina creando la ilusión de que un muñeco-guitarra hablaba. Fue llamado la "Guitarra Cantante". La mujer de Rey, Luise, formaba parte de las King Sisters que se integraron en la banda de Rey.
Alvino Rey, sin embargo, contribuyó decisivamente a crear otros prototipos e instrumentos. En 1935 trabajaba en la Gibson Guitar Corporation produciendo un prototipo de guitarra eléctrica en Chicago. El resultado fue la primera guitarra eléctrica Gibson ES-150. El prototipo está guardado en el museo Experience Music Project, más conocido como Hendrix Museum. El artista también es conocido por ser uno de los primeros intérpretes de la Electraharp, una de las primeras pedal steel guitars.
Otro guitarrista de steel Peter Drake, ya en el ámbito country, volvió a utilizar este aparato de curioso sonido en su álbum "Forever" en 1964. En vista del éxito publicó tres álbumes más "Pete Drake & His Talking Guitar", "Talking Steel and Singing Strings" y "Talking Steel Guitar". Esta melodía de puro Nashville Sound de la época nos sirve como ejemplo para observar como sonaba el curioso invento: