Por Alberto García, Cuenca.
La trascendencia del grupo en la especialidad, con una corta historia en las décadas ochenta y noventa, viene marcada por la unión de cinco especialistas notables y queremos recordar, en principio y entre ellos a un personaje singular, el fiddle Eddie Stubbs que siguió muy comprometido con la country music y su rama, el bluegrass.
A Eddie Stubbs lo hemos visto repetidamente en la presentación de artistas en el Grand Ole Opry y en el Ryman de Nashville. Hay quien le da tanta importancia a sus intervenciones como a los vocalistas e instrumentistas que actúan y es que es muy interesante escuchar su voz grave, ágil, de enorme personalidad. A primera vista se observa el dominio del tema que va a tratar, sin guión, sin papeles sobre el atril. Toda la "country music" en su mente. Amigo de las figuras y de las limpiadoras, su figura estilizada se desplaza de manera fantasmal por el escenario y el "backstage". Realmente, Eddie Stubbs, impresiona.
Y así, nos encontramos con uno de los componentes de esta importante agrupación, cuyas grabaciones en disco se espaciaron, en contraste con la frecuencia de actuaciones, esencialmente en el área de Washington, D.C.
La formación.
The Johnson Mountain Boys se formó, inicialmente, con:
Dudley Connell, guitarra y líder vocal.
David McLaughlin, mandolina,
Eddie Stubbs. Fiddle,
Richard Underwood, banjo
Larry Robbins, bajo. Tanto banjo como bajo, permutaron en años siguientes con Tom Adams y Marshall Willborn.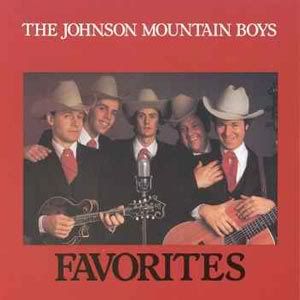 La intensidad emocional y devoción al bluegrass clásico contaron con gran número de seguidores, verdaderos devotos del grupo, que en los ochenta llevaron a cabo una serie de cuatro LPs para Rounder, el primero en abril de 1981, temas grass, que ampliaron con viejas country honky tonk. Lo mejor de estos vinilos se encuentra en su CD "Favorites" (1987).
En alguna ocasión Stubbs comentó: "Nosotros no tocamos en clubs, lo hacemos en honky tonks". Hacía referencia a que, seguramente, el público asistente a éstos era más pacífico, interesado por la música, más entregado. Dudley era estricto, siempre consideró la seriedad del trabajo y exigió un respeto a sus actuaciones, insistiendo a su mentor, Bill Harrell, en ello. La atmósfera de los honky tonks, fue propicia para experimentar nuevo material, improvisando cada noche distintas formas.
La banda, además de en su base, Washington, inició actuaciones en el terreno natural del bluegrass, lo que le trasladó magníficas sensaciones al ser aceptada por una audiencia que la consideraba su propia música, si bien Eddie Stubbs llegó a criticar la corta asistencia a algunos conciertos para disfrutar de la rica herencia musical. Sin embargo, para Dudley, cuando en 1981 se presentaron en el Lavonia Festival, Georgia, su actuación fue de enorme acogida, una de las más demandadas presencias.
Cada músico que sustituyó al anterior aplicó nuevas ideas en la textura y en la global concepción de la música. Con talento, Eddy, Dudley y David, en 1986, tomaron los servicios de Tom Adams y Marshall Wilburn en lugares que ocupaban Richard y Larry, dos grandes músicos, si bien lamentaron la salida de una gran voz como la de Underwood. Por otra parte, el mismo Earl Scruggs celebró la llegada de Adams, procedente del grupo de Jimmy Martin, "Sunny Mountain Boys", donde se mantuvo entre 1983 y 1985. Se juntó a los Johnson en octubre de 1986. Sin la menor duda, Tom es uno de los más creativos e innovadores banjos de la música bluegrass. También Marshall era un experimentado bajo, que estuvo antes en "Whetstone Run" y con el citado de Jimmy Martin.
Como bien recuerda Bill Vernon en su crítica acerca de la banda, una faceta importante de Johnson Mountain Boys es el apego mutuo con Rounder Records, iniciada en 1980. Nunca hubo imposiciones y Ken Irwin jamás dirigió una línea política a desarrollar, dejando trabajar a la banda en sus ideas.
A lo largo de nueve años en la carretera, los Johnson recorrieron treinta y seis estados de la Unión y diez en otros países, exactamente seis en Africa, Inglaterra, Ontario, Nova Scotia y British Columbia. Varias actuaciones en el Opry y una en la Casa Blanca. Siempre con dignidad, sencillez y profesionalidad.
Un pequeño pueblo de Virginia, Lucketts que apenas aparece en mapas de carretera, fue el punto de despedida en sus apariciones públicas. El 20 de febrero de 1988, Dudley Connell, guitarra; David McLaughin, mandolina; Eddie Stubbs, fiddle; Tom Adams, banjo y Marshall Willborn, bajo, ofrecieron su último concierto en el Old Schoolhouse de Lucketts, que se grabó en vivo y dio lugar, después, al mismo título de disco, que la Rounder sacó al mercado en 1989 con veintitrés temas. Una obra espectacular. Según el profesor Charles Wolfe, el mejor álbum de la JMB.
La Johnson Mountain Boys en discos
Su discografía en CD más importante y trascendente en el bluegrass, la detallamos seguidamente:
"Live At The Birchmere"
(1984) dieciocho números, que incluyen 'Sugarloaf Mountain Special' y 'Georgia Stomp', nominadas Para los Grammy Awards 'Best Country Instrumentals".
"Favorites" (1987) con veinte hits, cinco de ellos procedentes de "Working Close" – editado luego en CD en 1997: 'Tomorrow I´ll Be Gone', 'Five Speed', 'Misery Loves Company', 'The Waves On The Sea' y 'Don´t Throw Your Life Away', tres de su trabajo "Walls Of Time" y seis de "At The Birchmere".

'Sugarloaf Mountain Special'



"Let The Whole World Talk"
(1987), que se abre con el número que da título al disco y que fue enorme éxito en las estaciones de radio por su fuerza instrumental. Siguen composiciones de McLaughlin, Wilborn, Connell y Underwood. El resto son clásicas de conocidos personajes del grass.
"Requests" (1988), doce tonadas de country tradicional y con la creación de Bill Monroe 'Blue Grass Twist'. Interesante la visión que tenía JMB de melodías compuestas por Jimmie Rodgers, Marty Robbins, Bill Anderson y el tan versionado Black Eyed Susie, que extendió Ernie Ford.
El año 1989 fue el de
"At The Old Schoolhouse"
, ya citado anteriormente. La variedad de estilos es reconocida por la audiencia. Se inicia con instrumental 'Black Mountain Blues'. El disco recoge otros exentos de vocal: 'Ricestrow', 'Five Speed', 'Georgia Stomp', 'Wake Up Susan' y el más versionado bluegrass, 'Orange Blossom Special' de Ervin Rouse, donde el virtuosismo al fiddle de Eddie Stubbs es evidente. Muy atractivos son gospel de la talla de 'Sweetest Gift', 'Now Just Suppose' o el eterno 'Daniel Prayed'. Se adicionan temas de los propios componentes, Bill Monroe, etc.
"Blue Diamond"
es álbum del año 1993 e incluye trabajos de conocidos compositores del country, el folk y el gospel.
Obras de Little Jimmy Dickens, Buck Owens, Bob Dylan, Carter Stanley, Jean Ritchie y tres composiciones del líder Dudley Connell, que siempre está presente en todos los discos con su inventiva aportación.
Trabajo cerrado, trabajo terminado
La Rounder lanza al mercado, en 1997,
"Working Close"
apropiado título en el total sentido de la frase.
Vuelve la mezcla de estilos, cinco canciones que ya se habían traspasado a "Favorites", como detallamos antes. Pero llegan renovadas ideas de los componentes.
Otra vez el talento de Connell aporta cuatro nuevas creaciones y se completa la obra con 'Granite Hill' de McLaughlin, el homenaje a los Stanley, 'Say you´ll Take Me Back', auténticos ídolos de la banda y 'Are You Afraid To Die?' de los Louvin.

'Granite Hill'



Trabajar por el bluegrass es ofrecer una ampliación de su historia y esencialmente de los personajes que, desde Bill Monroe, han escrito los más trascendentes momentos en forma de grabación o en la escena. Son vocalistas, instrumentistas o sencillos grupos que los recogen. Por ello, en las últimas fechas estamos insistiendo en esta faceta, intentando entrar a fondo en la historia de los más importantes. Luego de la "Nashville Bluegrass Band", era de justicia recoger a Johnson Mountain Boys, otro ejemplo de trabajo, dedicación y buen hacer para que el grass diera un gran brinco. Ahora es responsabilidad de otros, que andan escalando en listas oficiales, la confirmación de su clase para poder contar entre los que han dicho algo en la especialidad.