El caricaturista y escritor catalán publica una obra magna
En esta nueva publicación "Country Music Stars", Jordi Guasch nos desvela otra faceta de su exhuberante mundo artístico multidisciplinar: el dibujo, componiendo una colección insustituible de caricaturas, en su mayoría de las mejores estrellas country de todos los tiempos.
Pero este libro no es simplemente un compendio de dibujos y caricaturas de artistas country, que ya, por si mismo, sería un interesante planteamiento. Durante los más de 3 años de intenso trabajo que ha empleado Jordi en este libro, ha investigado profundamente en la historia de nuestro género y ha trazado con mano firme una completa ruta "interestelar" para saltar de una estrella a otra de la música country con la guía de su libro y completar un fascinante mapa del universo country. Por eso, lo que tenemos entre manos es una obra abrumadoramente sólida.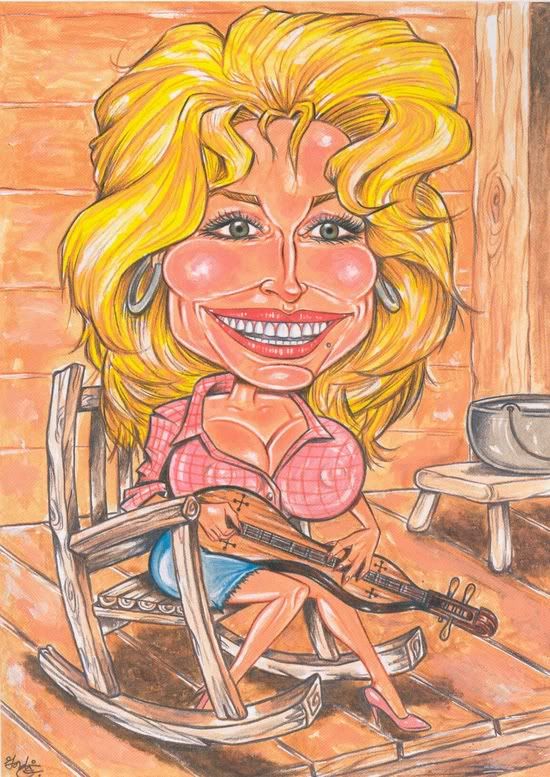 En definitiva, "Country Music Stars" no es sólo una completísima colección de caricaturas de artistas country, cada una de ellas personalizada con gags visuales autobiográficos o interesantes y descriptivos pies de página (en inglés), sino que es un soberbio repaso a la historia de la música country. Un trabajo casi diría enciclopédico, pero concentrado en un bello libro de apenas 140 páginas que no puede faltar en la biblioteca de un aficionado a la música country que le guste esbozar una sonrisa y recordar a sus artistas favoritos.
"Country Music Stars" es, además, un libro único en su género en todo el mundo, ya que nunca se había abordado un proyecto tan ambicioso que recopilase las caricaturas de tantos artistas en un sólo trabajo.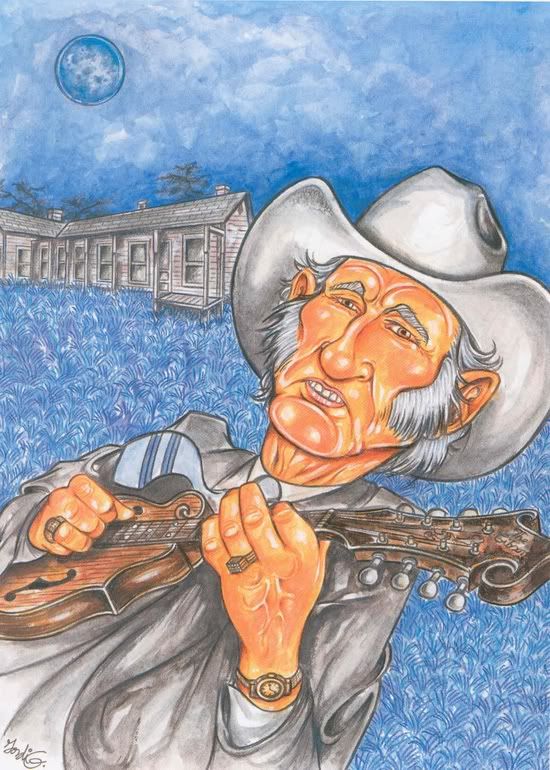 Jordi Guasch es un artista meticuloso que sabe captar la esencia del personaje y recrear su personalidad con gran fidelidad. Como el impresionante retrato de Bill Monroe con la hierba azul cimbreándose en las laderas de Kentucky frente a una añeja "cabin" de madera, el divertido retrato de los Texas Tornados, los simpáticos retratos de Webb Pierce o Buck Owens o la caricatura de Hank Williams antes de subirse a su Cadillac y emprender su viaje al hillbilly heaven. Es difícil resistirse al arte de Jordi Guasch.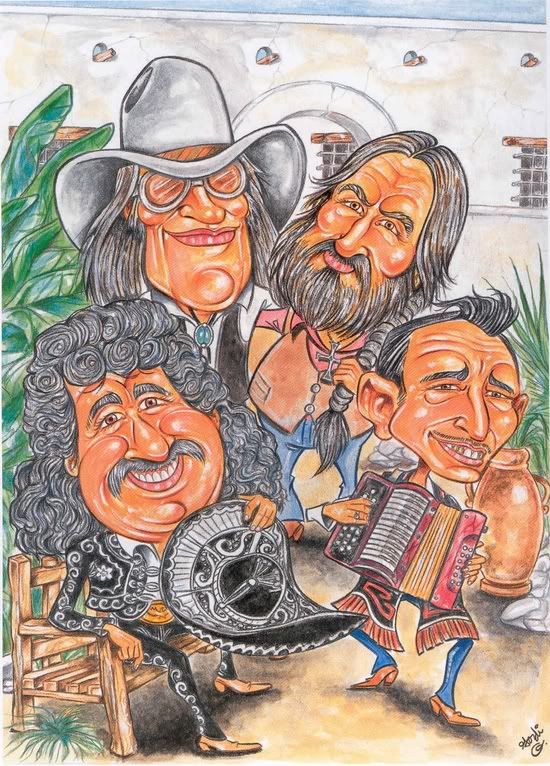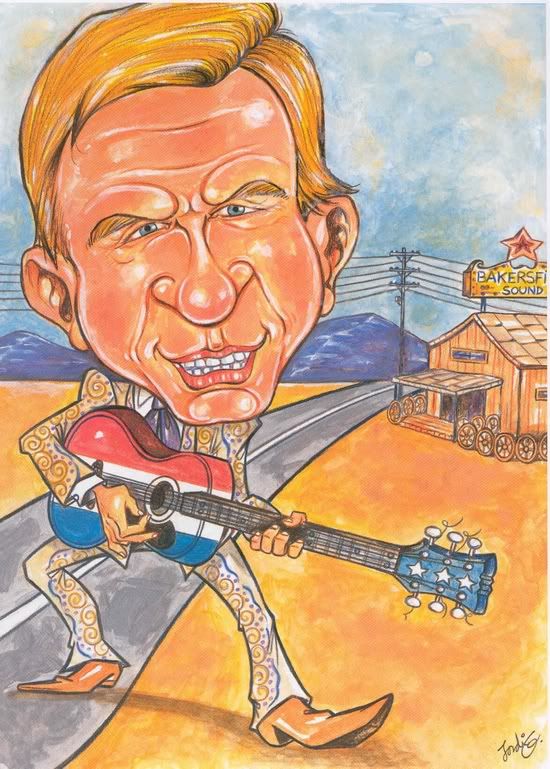 Me han llamado mucho la atención las increíbles solapas del libro sobre las que Jordi compone dos "fotos" de familia con artistas country que no pasaron la criba para figurar en el libro. Y he aquí, precisamente, una de las pocas críticas que se le pueden hacer a este libro: el criterio de selección de los artistas.

Intérpretes como Ronnie Milsap, Faron Young, Carl Smith, Jerry Reeed, John Denver, Hank Locklin, Johnny Paycheck, Tex Williams, Wilburn Brothers, Don Gibson, Wynn Stewart, Ferlin Husky, etc, que figuran en estas solapas podrían tener, por méritos musicales, personalidad, impronta o influencia, una caricatura en el interior. Así como otros que ni siquiera figuran en estas solapas, como Hawkshaw Hawkings o Jimmy Dean. Sin embargo, otros artistas de menor peso específico como The Blue Sky Boys, The Stonemans, Red Stegall, Riders In The Sky, Jason & The Scorchers, Steve Earle o, incluso, el one hit wonder Billy Ray Cyrus tienen su página.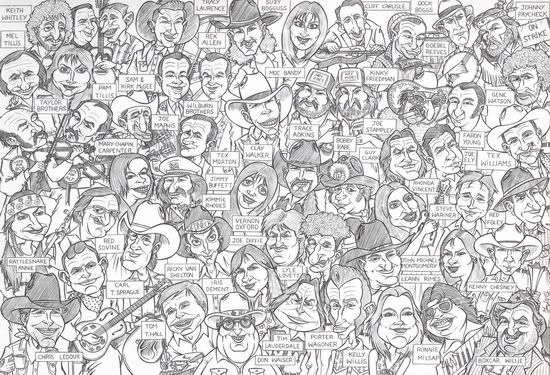 Por ejemplo, la aportación de k.d. lang ha sido puntual y menor comparada con la de Ronnie Milsap -con más de una veintena de números uno- o la de Ferlin Husky -Hall of Famer-, recientemente fallecido. La primera tiene caricatura y los segundos, no. Jordi tendrá sus propios criterios y sabrá responder a estas cuestiones.
Jordi Guasch ha utilizado colores acrílicos y lápices de colores en sus dibujos, con excelentes resultados visuales, excepto en las solapas en las que ha utilizado tinta china. El gurú del comic underground
Robert Crumb
, otro artista fanático del old time como Jordi Guasch, al realizar sus magistrales dibujos sobre los artistas primigenios del country de los que ya hablamos en este blog empleaba una técnica mixta de tinta china con colores acrílicos y un trazo realista. Creo que Jordi Guasch, dada su maestría con la tinta china debería explorar estas rutas artísticas alternativas. Quien sabe que historias más increíbles podrían salir de su mente creativa, a partir de este sensacional trabajo titulado "Country Stars".
Y lo curioso de esta obra, absolutamente recomendable, es que es un proyecto 100% nacional, no producido en Estados Unidos aunque con ambición de ser exportado a ese país y a aquellos que gustan de la música country. Una muestra más de que el country es una música universal.
Finalmente, el libro ha sido esponsorizado por el filántropo country catalán Josep Juliá a quien hemos de agradecer que esta magna obra salga a la luz.
Con este tercer apasionante libro, junto a sus libros anteriores "Corrido del Guero Errante" y "Camino de Varanasi", Jordi Guasch se perfila como uno de los artistas multidisciplinares más interesantes, integros, originales y menos convencionales del panorama cultural español. Estoy seguro que seguiremos descubriendo nuevas rutas artísticas gracias a Jordi.