Por Alberto García, Cuenca.
Fue por el mes de diciembre de 1945 cuando un miembro de la banda de Bill Monroe y sus Blue Grass Boys, un tennessiano de nombre Lester Flatt era requerido por el líder, a las puertas del Gran Ole Opry de Nashville, con la intención de solicitud de informes. Bill le dijo a Lester: "Escucha a ese joven banjo que viene de North Carolina y dime que te parece, porque creo que es el estilo que estoy buscando para la banda, ahora que Stringbean nos deja. Me recuerda el "old-time" de Uncle Dave y su elegancia". Realmente, Monroe estaba muy preocupado por la marcha de David Akeman "Stringbean", que fue su primer bajo y banjo y que se le unió en la grabación de la siempre recordada historia del bluegrass el 13 de febrero de 1945.
La respuesta de Flatt, a los dos días, fue clara: "Contrátalo, cueste lo que cueste". Naturalmente, el banjo era Earl Scruggs, que vino a juntarse con los Blue Grass Boys al lado de Lester Flatt, Chubby Wise, Howard Watts y el propio Bill Monroe. Desde 1945 a 1948 ellos fueron los auténticos arquitectos de esa música que ahora conocemos como bluegrass. La banda sonaba increíble, siempre bajo la dirección del genio de Bill Monroe y sus propias composiciones, inicialmente 'Mighty Dark To Travel', 'Will You Be Loving Another Man?', 'Little Cabin Home On The Hill' o 'Wicked Path Of Sin'. La Columbia Records fue marca de acogida.
Bill Monroe: 'Mighty Dark To Travel'
Bill Monroe:'Will You Be Loving Another Man?' (& Lester Flatt, 1974)
Bill Monroe:'Wicked Path Of Sin'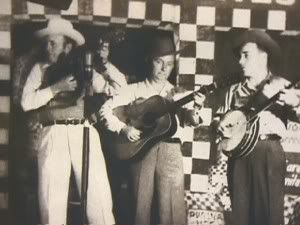 La enorme demanda de conciertos para la banda dejó boquiabierto al nuevo valor. Earl no podía creer que apenas tenía tiempo de dormir y además dentro de la estrecha limousina, de viaje. El salario, sesenta dólares semanales. Cansados, en la Navidad de 1948, Flatt y Scruggs hablaron de la posibilidad de abandonar a Bill Monroe. Lester era un guitarra experimentado, de prestigio, además de compositor y arrastró a Earl, banjo, que había instalado el estilo de sólo tres dedos y con él, iniciado la revolución del instrumento.
No podemos olvidar que la ruptura con Bill Monroe fue total, pero debemos paliar el orgullo del genio de Kentucky cuando veinte años después los invitó a tocar en el prestigioso festival de Bean Blossom, Indiana, reunión que en 1970 fue un auténtico acontecimiento del grass, y que ha trascendido. La posterior relación entre Flatt-Scruggs y Monroe fue cordial y las recíprocas visitas, frecuentes.
Después de su separación de Monroe, y a final de los cuarenta e inicio de los cincuenta, Flatt y Scruggs encontraron acogida en actuaciones nocturnas en pequeños núcleos y estaciones de radio. Fue decisiva su intervención en la prestigiosa WSM de Nashville y seguidamente su presentación en el Ole Opry, con fuerte eco.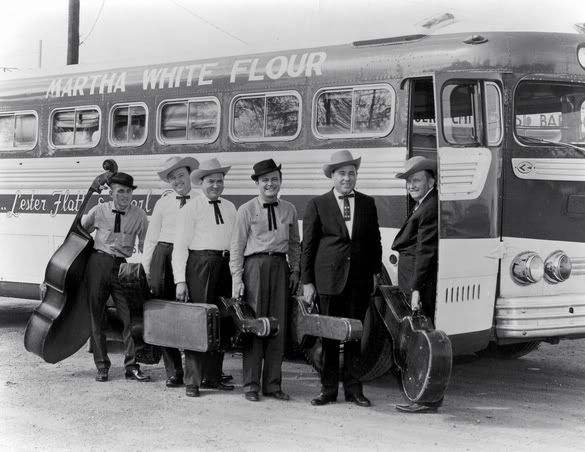 Lester Flatt fue un gran maestro de ceremonias y un excelente vendedor de cualquier producto. También se ocupó de captar a miembros para la nueva banda, que tomó el nombre de "Lester Flatt, Earl Scruggs and the Foggy Mountain Boys", y que procedía del tema de A.P. Carter 'Foggy Mountain Top'. Durante este tiempo, el grupo grabó 'Foggy Mountain Breakdown', 'Down The Road', 'Old Salty Dog Blues' o 'Doin´My Time'. Se trabajó duro en estaciones de radio de Lexington, Kentucky; Roanoke, Virginia; Raleigh, North Carolina; Tampa, Florida o Bristol y Knoxville, Tennessee, entre otras. Flatt y Scruggs fueron excelentes hombres de negocio, ofreciendo al público el sonido que deseaba y basando su fuerza en el banjo de Earl Scruggs.
Lester Flatt, Earl Scruggs and the Foggy Mountain Boys: 'Doin´My Time'
Earl Scruggs consiguió del productor Cohen Williams en 1955 un show para la cadena de televisión WSM que tuvo gran repercusión, si bien pronto se vio afectado fuertemente por la incidencia del rock and roll de Elvis Presley. Su respuesta inmediata fue una gira de tres mil millas en una semana por seis diferentes ciudades. Durante el día, televisión y por la noche, shows y radio.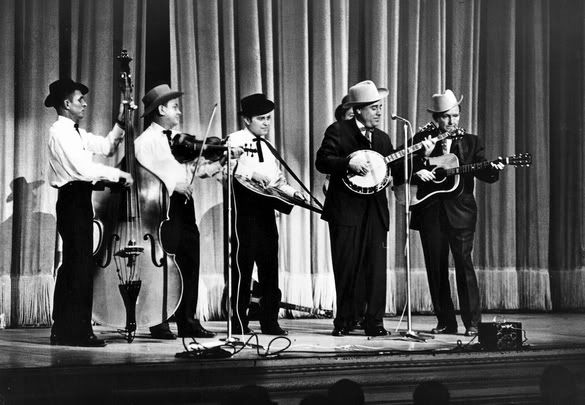 El mismo año 1955, de forma sorprendente, agregaron a la banda un dobro, lo que resultó escandaloso a los puristas y llegó Josh Graves. En la mandolina, Curly Seckler, en el fiddle Benny Martin y Paul Warren, el bajista Jake Tullock y vocal Mac Wiseman. Ellos eran "The Foggy Mountain Boys".
Destacable que en los cincuenta se integra en los "Foggy" un nombre especial que como manager tendría trascendencia: Louise Scruggs, una real "bussineswoman" que recoge todo el peso de la banda, una pionera de la industria de la country music y una inteligente esposa de Earl.
A nivel popular uno de sus mayores éxitos fue 'The Ballad of Jed Clampett' que daba título a la popular serie de los 60 "The Beverly Hillbillys":
El 22 de febrero de 1969 tuvo lugar en el Opry el último concierto de Flatt y Scruggs. A partir de ahí, el gran banjista y sus hijos dan conciertos y graban bajo el nombre de "Earl Scruggs Revue".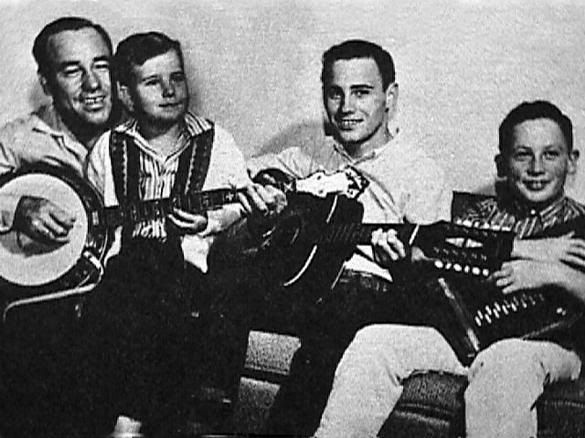 La historia musical del maestro que nos acaba de dejar viene marcada por su trabajo de años al lado de Lester Flatt. Es difícil escribir sobre Scruggs sin hacer continua mención de aquél, que se fue para siempre el 11 de mayo de 1979, a la edad de 64, luego de una larga enfermedad.
Los últimos años, Earl ha mantenido un semiretiro, sólo trabajando en puntuales demandas para puntuales actuaciones. El y Louise – que también nos dejó – han vivido la reciente década en Madison, Tennessee, con cierto velo misterioso.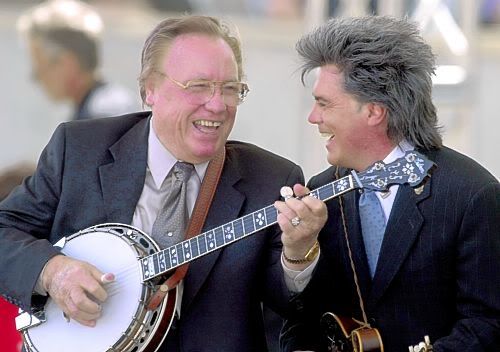 En el año 2007 tuve ocasión de ver en el Ryman a Earl Scruggs, al lado de Marty Stuart. Fue, para mí, la confirmación de su clase. Cada tema, una lección. Es difícil compararlo con otro músico en el banjo y he oído a muchos especialistas.
Su seguimiento del tema central en cada instrumental, intervención sencilla y la brillantez que daba a sus entradas le marcaron como el gran especialista, referencia de la "country music" y más en concreto del bluegrass.
La discografía del dúo se condensa en catorce LP´s y CD´s. Destacamos su título "The Fabulous Sound Of Lester Flatt & Earl Scruggs", que salió al mercado el 2 de enero de 1965; "Flatt & Scruggs Greatest Hits", del 26 de noviembre de 1966 y "Changin´ Times" de 30 de marzo de 1968, producidos por Don Law y Frank Jones. Luego, como "Earl Scruggs Revue", son de gran interés su "Anniversary Special" de 1975 y "Artist´s Choice, Best Tracks 1970-1980", al lado de Gary, Steve y Randy Scruggs y con la presencia nuevamente de los maestros Graves, Clements y Jody Maphis.
Es recomendable la adquisición de dos CD´s en una caja que la Columbia puso a disposición del comprador en 1997 bajo el título "The Essential Flatt & Scruggs" con un total de treinta y cuatro números que recogen lo notable de la carrera de los maestros que, ya y debemos acostumbrarnos, son historia de esa música que cada día recordamos más, porque cada día se extingue algo.