Del nashpop a la crítica velada al "star system"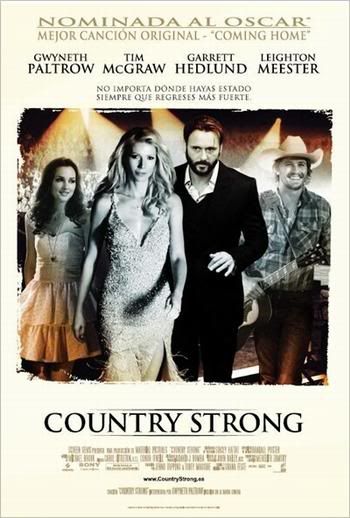 El próximo miércoles 20 de abril se estrena "Country Strong", película cuyo tema central gira en torno a cuatro artistas dedicados al mundo a la canción "country" y a sus tormentosas vivencias. Un country entendido en el filme como un mix entre el pasado más glorioso de la música country con canciones que suenan a lo largo de la proyección como 'Honky Tonk Blues', 'She´s Got You', 'Friends In Low Places', 'Sea of Heartbreak' o 'Chug-a-Lug' y la nueva hornada de canciones nashpop que suenan en cualquier radiofórmula americana como presunta evolución de lo anterior.
Una falsa sensación de continuidad donde no hay más que una ruptura entre un estilo que crece desde las raíces y un nuevo estilo urbano nacido de una completa reforma estructural musical auspiciada desde las compañías discográficas. En la película Gwyneth Paltrow rescata una cría de codorniz a la que llama Loretta Lynn. El pájaro cautivo acaba abandonado a su suerte en un honky tonk mientras a la dueña le da un subidón. Una anécdota metafórica sobre la situación de la música country, rehén del nashpop.
La película "Country Strong" tiene elementos de
road movie
así como préstamos de películas country antecesoras como "La Hija del Minero" o "Crazy Heart", aderezados con la tópica historia de estrella cargada de píldoras y alcohol y atormentada por su pasado. Un retrato nada afortunado del mundo de Nashville cargado de intereses económicos, repugnantes seres oportunistas, la búsqueda despiadada del éxito y, en definitiva, el escaso respeto a la música country en sí misma. Por tanto, quien piense que va a encontrar una apología del nashpop está equivocado, como también lo está quien vea en esta película una reivindicación de la tradición. Aquí no se casan con nadie.
Echemos un vistazo al argumento. "
Afectada por la adicción y el escándalo, la estrella de música country Kelly Canter (Gwyneth Paltrow) se enamora de Beau Hutton (Garrett Hedlund), un joven guitarrista con talento que trabaja en el centro de rehabilitación donde ella se está recuperando. Su relación, sin embargo, se complica cuando el apuesto cantautor, se encuentra inmerso sin previo aviso en el tambaleante mundo de Kelly a medida que ésta se prepara para reaparecer en público. Mientras Kelly se recupera, su marido y a la vez manager, James (Tim McGraw), distante en el ámbito romántico pero dedicado en lo profesional, organiza una gira de tres ciudades para celebrar su vuelta a los escenarios. La tensión aumenta cuando se decide que la gira sirva además para presentar a la nueva protegida de James: una ambiciosa reina de un concurso de belleza convertida en cantante: Chiles Stanton (Leighton Meester). Cuando el cuarteto emprende la fatídica gira, los enredos amorosos, los demonios dormidos y las exigencias del espectáculo amenazarán con destruir a todos los implicados en este cuento moderno de Nashville".
(Estrenos de cine)
A pesar de contar , a priori, con buenos mimbres los intentos de la directora Shana Feste -a la sazón guionista del filme-, por tejer una historia creíble para los personajes, sus sentimientos y sus experiencias fracasa en el intento, creando una sucesión de escenas poco cohesionadas, sin una trama convincente, lo que convierte a esta película con goteras argumentales en pasto de telefilme de sobremesa y siesta.
Las actrices Gwyneth Paltrow -la estrella "country"- y Leighton Meester -la debutante-, hacen lo que pueden con los papeles de
Barbie Country
que les tocó en juego. Lloros, lamentos y sufrimientos femeninos no despiertan empatía en el espectador. Tim McGraw hierático y soso, aburre lastimosamente. Pero de su boca sale una de las frases épicas del filme. Le pregunta la joven debutante interpretada por Leighton Meester que si Townes Van Zandt era famoso, Tim responde:
"En algunos círculos si, pero ni de lejos como Carrie Underwood".
Una curiosa perspectiva. La fama parece más importante que la calidad. Pero como dicen en otro momento de la película:
"El amor y la fama no pueden estar en el mismo sitio".
Una de cal y otra de arena.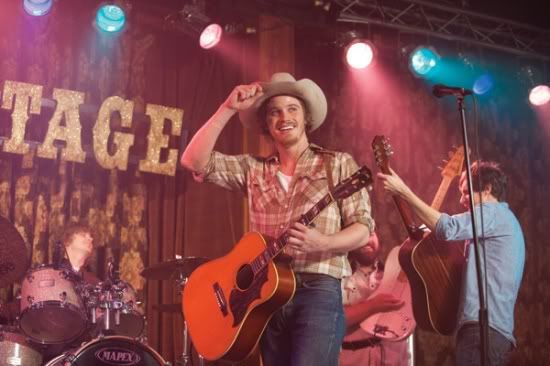 El único que mantiene el tipo a duras penas es el actor Garrett Hedlund al que le cayó en suerte el mejor papel, el del joven cantante rebelde y
outlaw
que dice que tendrían que sustituir el himno americano por 'Mama Tried' de Merle Haggard, que prefiere actuar en honky tonks antes que en estadios o que denuncia que con canciones country pop se consigue salir por la radio pero que esto para un artista, en realidad, no significa nada si no conecta con sí mismo y con su auténtico público. No obstante este personaje presenta sombras como sus pocos creíbles aventuras sentimentales con la dopada Kelly Canter (Paltrow) o con la descerebrada Chiles Stanton (Meester). Aún así Garrett nos deja los mejores momentos musicales de la película con una voz estupenda que recuerda a la de Jamey Johnson:
Garrett Hedlund: 'Chances Are'
Garrett Hedlund: 'Hide Me Babe'
Garrett Hedlund: 'Turn Loose The Horses'
Garrett Hedlund: 'Hard Out Here'
Garrett Hedlund: 'Silver Wings'
Garrett Hedlund & Leighton Meester: 'Give In To Me'
Gwyneth Paltrow interpreta en la película diversas canciones nashpop con las que el aficionado al country auténtico conecta poco. La más destacada y cercana al género es 'Country Strong' que vemos en esta versión countrificada especialmente para los CMA Awards con la inestimable ayuda de Vince Gill:
Durante la película aparecen diversos músicos de Nashville, entre los más destacados Jimmy Lauderdale, Chris Scruggs, o incluso el cantante Ed Bruce, que tiene un pequeño papel. También aparece el local nashvilliano The Stage On Broadway donde se han rodado varios vídeos como 'The Band In The Window' de Pam Tillis:
Críticas seleccionadas por FilmAffinity
"Falla en lo más básico -no dar al público algún tipo de interés particular, o cualquier interés en general, en estas cuatro personas problemáticas" (Kirk Honeycutt: The Hollywood Reporter)
"Paltrow merece algo mejor que los clichés de los que está plagada 'Country Strong' (...) La película funciona mejor cuando la música se apodera de ella" (Joe Morgenstern: The Wall Street Journal)
Ficha Técnica
Director: Shana Feste
Guión: Shana Feste
Música: Michael Brook
Fotografía: John Bailey
Reparto: Gwyneth Paltrow, Leighton Meester, Garrett Hedlund, Tim McGraw, Kayla Perkins, Sean Symons
Productora: Maguire Entertainment / TVM
Web oficial:
http://www.countrystrong-movie.com/
Premios 2010: Globos de Oro: nominada a la mejor canción original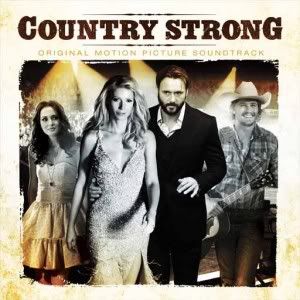 Banda sonora original
Poco hay que destacar en esta banda sonora (que no se corresponden integramente a todas las canciones que aparecen en el filme), excepto el dúo de Chris Young y Patty Loveless, el tema de Lee Ann Womack 'Liers Lie' o 'She's Actin' Single I'm Drinkin' Double' de Gary Stewart interpretada por Ronnie Dunn.
Curiosamente alguna crítica la tacha de country "tradicional". Increíble.
01. Country Strong -
Gwyneth Paltrow
02. Love Don't Let Me Down - Chris Young y Patty Loveless
03. A Little Bit Stronger - Sara Evans
04. Chances Are - Garrett Hedlund
05. Liars Lie - Lee Ann Womack
06. She's Actin' Single (I'm Drinkin' Doubles) - Ronnie Dunn
07. Shake That Thing - Gwyneth Paltrow
08. Thirsty - Hank Williams Jr.
09. Give In To Me - Faith Hill
10. Timing Is Everything - Trace Adkins
11. Words I Couldn't Say
- Leighton Meester
12. Coming Home - Gwyneth Paltrow
13. Me And Tennessee - Tim McGraw y Gwyneth Paltrow
Fuentes: