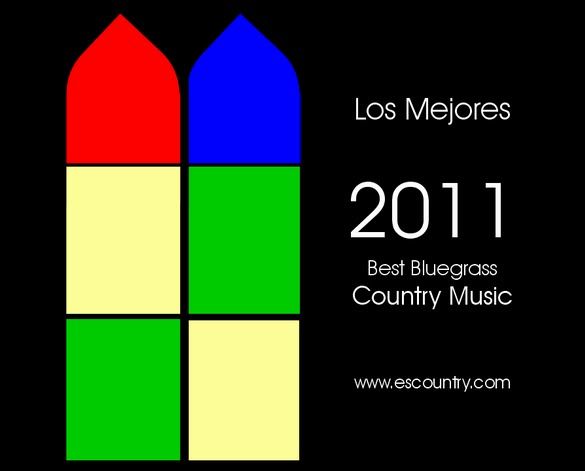 La música bluegrass también tuvo sus propios
highlights
en 2011. Esta música country que imperturbablemente sigue apegada a las raíces y a las esencias de la música americana original nos ha deparado estupendos momentos que pasamos a disfrutar con la inestimable ayuda de nuestros colaboradores Miguel Montana desde Toledo y Alberto García desde Cuenca.
En el mundo del bluegrass ha habido diversos dúos de hermanos como Jim & Jess o los legendarios Louvin Brothers. Esa familiaridad concede a los hermanos una intensa compenetración musical y una riqueza armónica especial. Los
Gibson Brothers
comenzaron su carrera como artistas estrictamente country en los 80 e incluso colaboraron con Ricky Skaggs pero como él, acabaron dándose cuenta que lo que querían era tocar bluegrass. Ambos hermanos, Eric y Leigh, componen lo que les coloca con ventaja para conseguir un puesto especial dentro de la música bluegrass como la que hoy consiguen. Partiendo de los sonidos primigenios de Bill Monroe evolucionaron haciendo covers de gente como Tom Petty, Tom T. Hall, Gordon Lightfoot o Kieran Kane covers. Para finalmente volver a la senda de los Louvin y compañía en su álbum "Help My Brother".
Mejor Artista Femenina de Bluegrass: Dale Ann Bradley
Dale Ann Bradley
es un caso común en la música bluegrass ya que para la gran mayoría del público country es una total desconocida y, sin embargo, ha ganado el premio a la Vocalista femenina del Año de la IBMA, la Asociación de Bluegrass, en los años 2007, 2008, 2009 y 2011. El responsable en buena medida de este último galardón al que nos sumamos es su último y excelente álbum "Somewhere South of Crazy" con nuevas canciones originales, una versión de un rock y un tributo al gran Bill Monroe.
Dale Ann creció cerca de la casa de Loretta Lynn y la vida para ella no fue muy distinta de la diva de Butcher Holler y el ambiente country bluegrass que vivió forjó en ella a una de las mejores intérpretes actuales del género.
La canción que da título al disco 'Somewhere South of Crazy' fue planeada, compuesta y cantada junto a Pam Tillis, con la que pasó momentos memorables en todo este proceso. Por el contrario el tributo a Bill Monroe 'In Despair' fue espontáneo y coincidió con el 100º aniversario de su nacimiento.
Hay tiempo para nuevos temas y para canciones grabadas que han estado en su repertorio durante años como 'I Pressed Through The Crowd' o 'Will You Visit Me On Sundays'. También hay momentos emotivos ligados a su niñez como cuando recuerda en 'Come Home Good Boy' un hecho de su infancia, cuando trajeron el féretro de un vecino que había muerto en la guerra de Vietnam. Y momentos sorprendentes como cuando se atreve con una versión de 'Summer Breeze' de Seals & Crofts, de forma que para ella suena casi celta.
Nos encontramos con una artista excepcional que vive un momento dulce, el de volver a ser coronada reina del bluegrass un año más, allí en Estados Unidos y aquí, en www.escountry.com.
Mejor Artista Masculino de Bluegrass: Larry Cordle
Larry Cordle
nació en una pequeña en el este de Kentucky y fue iniciado en el bluegrass, country y la música gospel por su bisabuelo Harry Bryant, un banjista, fiddler y bailarín de old time. Su amigo de la infancia y vecino fue nada menos que Ricky Skaggs quien le prometió grabar uno de los temas de Larry 'Highway 40 Blues', llegando al número 1 en 1983. Un éxito que le llevó a componer más temas para Ricky Skaggs, Alison Krauss, Rhonda Vincent, Garth Brooks, George Strait, Trisha Yearwood, Reba McEntire, Diamond Rio, Alan Jackson, Trace Adkins y muchos otros alcanzando unas ventas de 55 millones de discos con sus temas. Al mismo tiempo conoció a la flor y nata de los compositores: Jim Rushing, Carl Jackson, Lionel Delmore, Johnny Russell, Dickey Lee, Bob McDill...
Pero la composición no le bastaba. En este tiempo ha cantado coros para gente como Garth Brooks, Blake Shelton, Bradley Walker, Billy Yates o Rebecca Lynn Howard. Y ya en 1992 podíamos conocer a
Larry Cordle
junto a Glen Duncan y su grupo Lonesome Standard Time y en aquel año lo vimos como algo de lo mejor de la nueva generación en los escritores de bluegrass. A Cordle lo arropaban nada menos que el propio Duncan en fiddle, el enorme mandolina Butch Baldassari y el bajo Mike Bub. Su producción desde entonces ha ido apareciendo con cuentagotas si bien de excelente calidad.
Su último disco 'Pud´s Marcum´s Hangin' contiene bluegrass, country, americana, gospel... e historias del Kentucky profundo, tres de ellas sobre asesinatos. Como la canción que da título al álbum que nos habla del último hombre colgado en el este de Kentucky: Pud Marcum. También hay lugar para el gospel con la intervención del Oak Ridge Boy Richard Sterban y Carl Jackson en 'Uncle Bob Got Religion' o la agridulce 'Hello My Name Is Coal' a dúo con Jenee Flenor sobre la minería en Kentucky y West Virginia que trae trabajo pero también muerte a las comarcas mineras.
Desde niños los hermanos Roy, Lee y Elaine, The Roys, han vivido rodeados de un ambiente musical. Elaine aprendió a tocar la guitarra y Lee la batería, el bajo, la guitarra, la mandolina y los teclados. Tocaban en concursos de talentos y acontecimientos familiares.
Decididos a emprender una carrera profesional se trasladaron a Nashville, Tennessee. Kenny Royster produjo un CD independiente que tuvo cierta repercusión. Pero ya sabemos lo que pasa con la música tradicional actualmente. No obstante su empeño les llevó a fichar por el sello independiente Pedestal Records, con el que editaron "Good Days" y continuaron escribiendo, grabando y haciendo giras hasta que finalmente grabaron un álbum con Rural Rhythm Records en el estudio de Ricky Skaggs con músicos invitados como Mark Fain (bajo), Justin Moses (banjo), Randy Kohrs (dobro), Cody Kilby (guitarra, Steve Brewster (dbatería en 4 temas) y Andy Leftwich (fiddle, mandolina, bouzouki). Ricky Skaggs y The Whites (Sharon y Cheryl) hacen coros en 'That's What Makes it Love'.
En este disco The Roys cubren registros de bluegrass, country, gospel... 'Right Back At You', 'Lonesome Whistle' y 'My Oh My How Time Flies' son potentes temas bluegrass, pero en las baladas también se manejan con soltura como en 'I Wonder What God's Thinking'. Otros momentos estelares son 'Trailblazer' un tema emotivo para las mujeres o 'Coal Minin´ Man' que abre el disco.
Gran disco el de los Roys. Nos cuenta Miguel Montana: "Normalmente el primer disco de un artista suele ser bueno y éste es superior, muy moderno pero con estilo tradicional". Y Alberto García apostilla "Excelente debut del dúo Lee y Elaine Roy. Compositores al tiempo, pero con enorme influencia de los grupos originales del grass: Lilly Brothers, Louvin o Blue Sky Boys. Sonido dulce, muy convincente(...)".
Créditos
Producido por The Roys y Andy Leftwich
Grabado en Skaggs Place Studios
Ingeniero de Sonido: Lee Groitzsch
Voz grabada en Pedestal Records
Mezclado en Skaggs Place Studios
Ingeniero de mezcla: Brent King asistido por Lee Groitzsch
Masterizado porAndrew Mendelson en Georgetown Masters
Canciones
01. Coal Minin' Man (3:06)
02. That's What Makes It Love (featuring Ricky Skaggs & The Whites) (4:04)
03. Nothin' I Can Do About It Now (2:46)
04. Right Back At You (3:17)
05. Give A Ride To The Devil (4:13)
06. Lonesome Whistle (3:17)
07. Everything I Ever Wanted (3:34)
08. My Oh My How Time Flies (2:24)
09. I Wonder What God's Thinking (3:55)
10. Trailblazer (3:27)
11. High Road (4:21)
Categoría Bluegrass
Mejor Grupo de Bluegrass: The Gibson Brothers
Mejor Artista Femenina de Bluegrass: Dale Ann Bradley
Mejor Artista Masculino de Bluegrass: Larry Cordle
Mejor Álbum de Bluegrass: "Lonesome Whistle" de The Roys