El artista calienta la gira española en sus declaraciones exclusivas para Escountry.com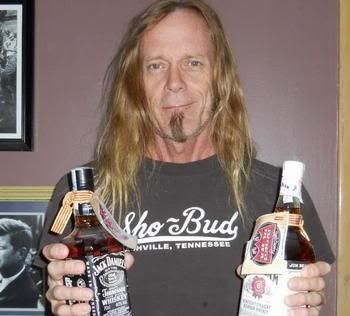 Quien piense que cuando vaya al concierto de
W.C. Edgar
va a ver un
show
de música country más, ya puede ir cambiando de idea. Edgar
(en la foto de la izquierda sosteniendo un "reconstituyente" cortesía de nuestros amigos de Dímelo Country)
viene dispuesto a dar caña de la buena, desde lo que habla a lo que toca. Y lo que habla no puede complacer a los ejecutivos discográficos de Nashville dedicados, en la última década, a derribar la cultura original americana country y convertir Nashville en un parque de atracciones para adolescentes adictos al algodón de azúcar. Qué "desagradable" les tiene que resultar escuchar que la música en Nashville apesta o que hay cantidad de artistas auténticamente country a la sombra de artistas nashpop mediocres. Las verdades como puños siempre golpean duro donde más duele.
La primera andanada de W.C. Edgar es un órdago a la grande. Cuando le preguntamos por qué habiendo tocado la steel guitar para "grandes" cantantes decidió convertirse en artista en solitario respondió:
"Me aburrí de tocar para gente que cantaba la mitad de bien que yo".
Y teniendo en cuenta que la nómina de artistas para la que ha tocado la steel guitar abarca artistas consagrados desde
Alan Jackson
,
Tim McGraw
,
Marty Haggard
,
Ty England
,
Jeff Carson
,
Dale Watson
,
Leroy Van Dyke
a
Johnny Lee
, entre otros, estas declaraciones podrían sonar a encender una tea en el
Grand Ole Opry
. Pero tranquilos, W.C. Edgar, lo deja bien claro:
"Es el caso de Tim McGraw y otros artistas (...)"
. Y continúa:
"Aprendí muy rápido en Nashville que los músicos y miembros de las bandas eramos prescindibles y que valíamos a 10 centavos la docena".
Pero a nosotros nos gusta la sinceridad de Edgar, porque no se corta, porque habla sin temor, al estilo del texano de
Jarrod Birmingham
o al de Oklahoma de
Jamie Richards
. Aunque, nos confiesa, que no es nada fácil luchar contracorriente y mantenerse leal al sonido genuino country. Con su camiseta de
Johnny Cash
, su pelo hippy y su sempiterno sombrero
cowboy
desprende un genuino aire
redneck outlaw
. Todo un personaje que viene a dar lo mejor de si sobre el escenario:
"Los aficionados españoles van a ver un buen show country, con un montón de fiddle y de steel guitar"
. Nada más y nada menos. Oro en paño, como diría mi buen amigo y colaborador de Escountry José María Cuenca. Y, ahora, el oro está por las nubes.
Junto a este gran artista nos llega una banda de lujo, los catalanes
Back To Texas
. La historia de esta colaboración surgió tal y como nos cuenta W.C.:
"DCWR radio, Dímelo Country, fue muy amable haciendo la premier mundial de mi nuevo CD en internet un mes antes de su edición oficial y así conocí el trabajo de Back To Texas con la emisora".
Country Music Catalunya
recogió el testigo de DCWR y organizó esta espectacular gira que en apenas 15 días nos traerá en vivo a uno de los artistas más interesantes del panorama independiente americano. W.C. Edgar viene a tocar un amplio repertorio basado en sus dos excelentes discos "Alcohol of Fame" y "Old School Survivor". Dos álbumes en los que, nos comenta, se sintió muy cómodo escribiendo sus canciones originales. Además, Edgar siempre tiene tiempo para los clásicos como temas de Johnny Cash o
Merle Haggard
.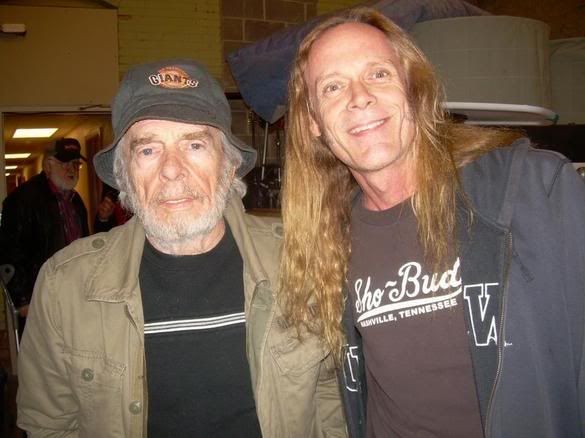 Vamos a asistir a un completo show de música country rebelde, honky tonk con potentes pinceladas de rock y mucha autenticidad. La de W.C. Edgar. Un superviviente de la vieja escuela. Prepárate para vivir una noche inolvidable.
GIRA DE W.C. EDGAR. DICIEMBRE.
Día 01- Madrid, "La Boite"
Día 02 - A Coruña, "Mardi Gras"
Día 03 - Vitoria (Álava), "Hell Dorado"
Día 04 - Rubí, (Barcelona), "Barn d'en Greg"
Día 05 - Valencia, "Club Durango"
Día 06 - San Sebastián (Guipúzcoa), "Sala Le Bukowski"
Día 07 - Luanco (Asturias), "La Taberna de Hank"
Día 08 - León, "El Gran Café"
Día 09 - Oviedo (Asturias), "Tribeca"
Día 10 - Cangas de Onís (Asturias), "Son de Cangas"