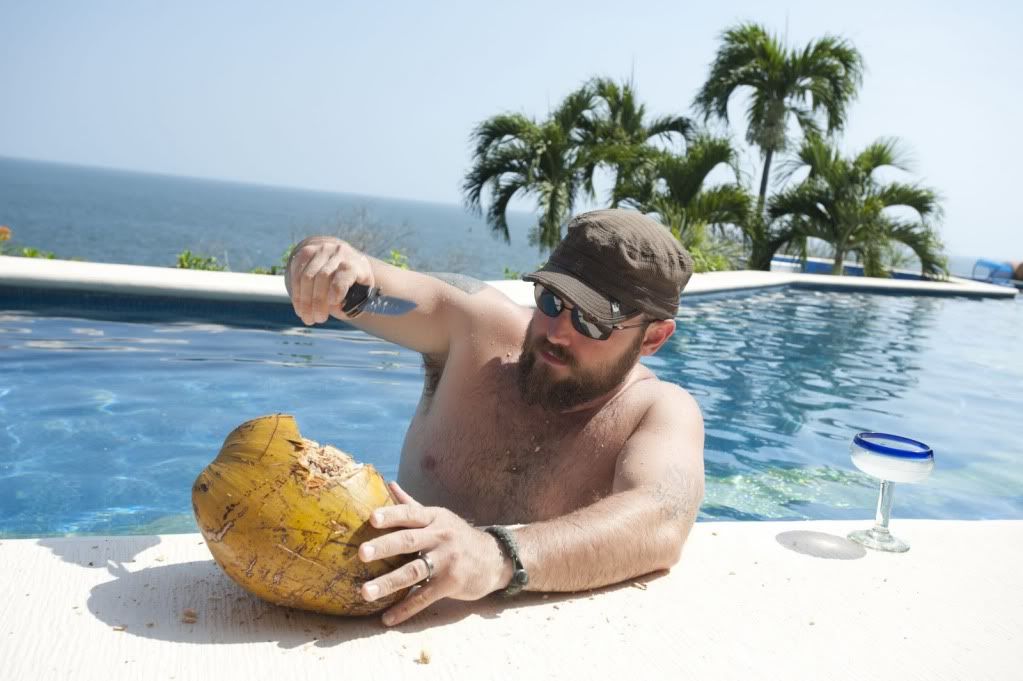 Zac Brown en México. ¿De vacaciones o rodando un vídeo?
Este verano ha sido prolífico en videos a nivel internacional. Desde Nueva Zelanda a Australia, pasando por Estados Unidos y Canadá, incluso desde Argentina, nos han llegado videos musicales de gran nivel e interés que fueron actualidad por diversos motivos y que muestran que el tejido country no lleva impreso la bandera estadounidense exclusivamente. En otros países se hace country comercial de buen nivel y, en ocasiones, de gran nivel.
Comenzamos:
25. Kirsty Lee Akers & Bob Evans: 'In Spite of Ourselves'
Muñequitos a lo Muppets en el último vídeo de Kristy Lee Akers y Bob Evans, el adelanto del álbum "Naked" (Desnuda) el tercer álbum de esta pequeña australiana de tan sólo 23 años.
24. Frankie Ballard: 'A Buncha Girls'
Ya lo hemos comentado muchas veces. No falla, pones a unas Buncha Girls lavando un coche, riendo y bailando y ya tienes un vídeo. No es que sea desagradable a la vista, pero a lo mejor necesitaba desarrollar una historia más elaborada.
23. Dan Murphy: 'Trip Around The World'
A veces la profesión de cantante country puede ser arriesgada. Que se lo digan al australiano Dan Murphy cuando saltan en moto encima de él, aunque parece que se lo está pasando en grande.

22. Scotty McCreery: 'I Love You This Big'
Scotty McCreery es la nueva "sensation" de American Idol. Con sólo 17 años podría tener un futuro prometedor dentro de la música country, pero su segundo single 'The Trouble With Girls' nos muestra la faceta más pastel y aburrida del country. Pronto empieza. 'I Love You This Big' ha sido su primera aproximación a las listas country.

21. Lee Kernaghan & Dierks Bentley: 'Scars'
Reunir a dos grandes estrellas de la música como Lee Kernaghan -australiano- y Dirks Bentley -americano- no siempre significa que te vaya a salir un gran tema. Y este podría ser uno de esos casos con 'Scars' (Cicatrices). Exceso de revoluciones poprock para esta canción que ha llegado al uno en listas australianas.
20. Justin Townes Earle: 'Slippin' and Slidin''
Primer vídeo oficial del álbum "Harlem River Blues" de Justin Townes, dirigido por Joshua Black Wilkins. Consiste, básicamente, en Justin Townes dándose una vuelta por Nueva York. Elegante pero lejos de la música country. A ver si vuelve al sur...
19. David Adam Byrnes: 'She Only Wanted Flowers'
Este joven artista de 23 años fue telonero de Hank Jr.. 'She Only Wanted Flowers' es el segundo single de su primer álbum "Sweet Distraction". El primero titulado igual que el álbum fue el debut más alto de un single indie en el Country Breakout Chart.
18. The Zac Brown Band & Jimmy Buffett: 'Knee Deep'
Video tropical rodado en Careyes, México, con la inestimable ayuda de Jimmy Buffett. Seguro que se lo pasaron muy bien rodándolo pero el resultado final no es todo lo apetecible que se espera de una lujosa colaboración de este tipo.
17. Hey Romeo: 'That's What I Am'
Y del lujo a la simplicidad. Los canadienses Hey Romeo se subieron a una azotea para rodar este video 'That's What I Am' (Eso es lo que soy) dirigido por Dylan Pearce. La canción de Hey Romeo ha sido nominada a mejor canción en los Western Canada Music Awards que se celebran en octubre en Yukon.
16. Chad Brownlee: 'Carried Away'
Curioso video country pop rodado en Cuba del también canadiense Chad Brownlee. Incluyendo el detalle del señor leyendo El Mundo. Fue dirigido por Antonio Hrynchuk.
15. Chris Young: 'Tomorrow'
Un número uno en USA: Chris Young. El nuevo ídolo de las nenas en aquel país. De voz aterciopelada, le posicionan como un nuevo tradicionalista, pero me temo que eso hay que demostrarlo en serio.
14. Trace Adkins: 'Just Fishin´'
Su single 'Just Fishin´' un tema más reposado y campero que sus habituales devaneos country rock (with a little bit of blues) es el primero de su último álbum "Proud To Be Here" producido por Mark Wright. Tal vez el álbum más country desde hace años.
Antes del verano su casa en Brentwood, Tennessee, se incendió y ha estado viviendo en su casa de fin de semana desde entonces. Trace ha podido sentir el cariño y la solidaridad de sus vecinos y amigos. Una solidaridad y un altruismo que él mismo practica con sus habituales actuaciones para organizaciones caritativas o para los soldados norteamericanos desplazados fuera de Estados Unidos. Sin ir más lejos el 11 de septiembre Trace Adkins actuará en una base americana en Alemania para conmemorar el aniversario del 11-S. También actúa ese mismo fin de semana en el Country Night Gstaad, de Suiza.
13. Adam Harvey: 'You Don't Know My Love'
Adam Harvey es, posiblemente, la mejor voz australiana del country. Y ahora anda promocionando su nuevo single 'You Don´t Know My Love', nuevo vídeo dirigido por Duncan Toombs y nuevo álbum "Falling Into Place" editado el pasado 8 de julio. Todo un gran artista.

12. Jayne Denham: 'A Farmers Wife'
Seguimos sin salir de Australia. Jayne Denham se baja del camión, se da una vuelta por el campo y nos regala los oídos con este tema 'A Farmer´s Wife' (Una esposa de granjero) en la onda alegre de las Sunny Cowgirls. Una canción producida por Garth Porter y un vídeo dirigido por Paul Denham.
11. Terri Clark: 'Northern Girl'
La canadiense Terri Clark ha evolucionado como artista y como persona. La chica sexy en la cresta de la ola a la que le ofrecieron posar en Playboy ha dado paso a una interesante mujer y artista. Ahora lanza el anticipo de su nuevo álbum "Roots & Wings" (Raíces y Alas -sugerente título-) con 'Northern Girl'.
Mañana el top 10.