El tsunami Swift arrasa la música country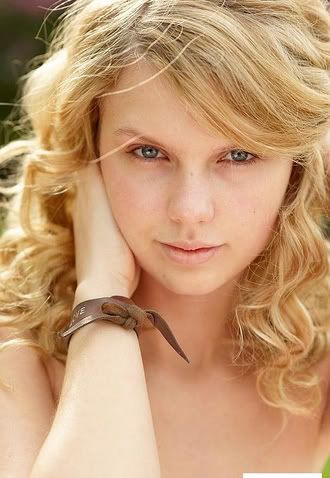 ¿Acaso es Taylor Swift (en la foto de la izquierda al natural, sin maquillaje) el mayor estandarte del "country" actual?. Cualquiera lo diría. Protagoniza las galas de la CMA y la ACM, suena y resuena en la radio comercial, aparece hasta en la sopa siendo portada y noticia de infinidad de webs y revistas, incluso españolas. Cuidado, que a fuerza de posicionarla como country ¡alguien se lo va a creer!. Pero ¿qué escuchamos por el contrario los fans country cuando la joven diva abre el pico? A una cantante teen cantando sus cositas de adolescente tierna (como, por ejemplo, que le gusta la separación de los dientes de su chico), a ritmo de pop adolescente.
El problema, de proporciones devastadoras para la auténtica música country, es que esta palabra: "country" aparece ineludiblemente asociada a nuestro género favorito canibalizándonos y contaminando nuestros canales tradicionales de expresión como si de un tsunami y una nube radiactiva se tratase. Algunos como The Triggerman en
SavingCountryMusic.com
dan a la música country por muerta. Dale Watson también y propugna el término
Ameripolitan
. Me resisto a creer en su muerte. Así que, de una vez por todas y para que se entere todo el mundo, vamos a aclarar conceptos:
¿Qué es el Nashpop?.
Es un nuevo estilo pop-rock sureño norteamericano con influencias blues y country. Estilo este último del que evolucionó a mediados de los 90 desde el country pop y del que ha heredado la utilización ocasional de instrumentos como fiddle, banjo, steel guitar y mandolina principalmente pero no interpretados habitualmente de la forma en la que se toca en los distintos estilos de música country.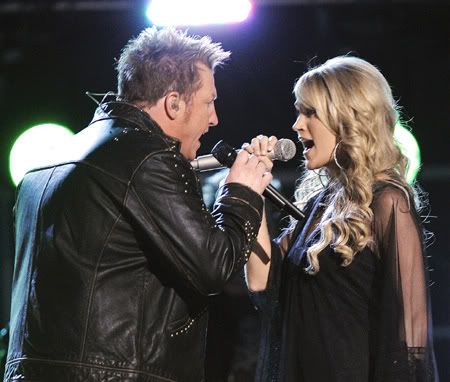 ¿En qué se diferencia el nashpop de la música country?
En que no presenta una conexión formal musical con las raíces anglocélticas rurales de la música country sino que ha evolucionado como estilo diferenciado contemporáneo urbano con públicos fundamentalmente jóvenes y femeninos, habiendo sido creado sintéticamente por las compañías discográficas major americanas a partir de constantes y metódicos estudios de mercado basados en grandes masas de públicos fronterizos a la música country.
Además, a nivel de letras el nashpop es un estilo que apuesta por lo políticamente correcto. Los temas tradicionalmente country han sido eliminados. No hay compromiso ni crítica social, no hay honky tonk angels, no hay un reflejo de la realidad actual, no hay hechos delictivos ('Folsom Prison Blues', 'In The Jailhouse Now'), etc. etc. Todo es simple, bueno y "maravilloso". Una manipulación de la realidad.
¿Por qué lo llaman country cuando es poprock?
Era mucho más sencillo y económico para la industria discográfica y mediática fomentar una evolución estilística y sustituir el country por este nuevo género sugiriendo, o más bien imponiendo en la sombra, que es la misma música cuando no lo es. En apenas 10 años, desde 1995 a 2005 la transformación fue radical y un hecho consumado.
¿Cuál es el objetivo de la industria que lo promociona?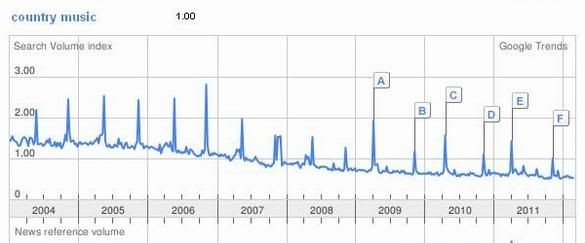 Su objetivo era y es, ante todo, aumentar las ventas discográficas a partir de la explosión country de los 90, crear un gran público urbano fan teen que asegurase la continuidad de sus ingresos. Desgraciadamente en Estados Unidos la bajada en ventas año tras año (datos Nielsen) y la pérdida de influencia mediática (Google Trends) demuestran que la apuesta es fallida y peligrosa salvo por estrellas muy determinadas fuertemente posicionadas en el mundo pop como Taylor Swift. La mala noticia para el couuntry es que la convergencia con el pop prosigue. La mala noticia para el nashpop es que hay mucho mejores artistas pop que los que se suben al escenario en Nashville.
¿Qué cambió en Nashville con el cambio?
Cambiaron progresivamente las cúpulas directivas de las grandes compañías. Los directivos, anteriormente artistas, compositores y músicos fueron sustituidos por expertos en marketing (hace tiempo un ejecutivo de una compañía declaró que sabían que estaban haciendo mala música pero que era lo que se "vendía"). Los artistas "neotradicionalistas" no compositores fueron los primeros en desfilar de las listas, luego les llegó el turno a los demás. Eran demasiado country. Había que "evolucionar". Del vendaval de los 90 apenas entran en listas dos artistas: Alan Jackson y George Strait. Hoy la presencia de artistas country "tradicionalistas" en listas mainstream es del 5%-10%, simplemente un nivel testimonial.

Ni siquiera perviven artistas como Rick Treviño, con juventud y varios números 1 en listas, y casi 10 años esperando a editar un disco que nunca llegó, teniendo talento y canciones suficientes. Pero claro, Rick reivindicó su herencia latina y lo latino no es cool, salvo para que los latinos pasen por caja en los conciertos "country".
¿Los artistas country pop continúan grabando con éxito en listas?



Con la excepción de la televisiva Reba McEntire la respuesta es no. Los grandes artistas de los 80 y 90 fueron arrinconados y olvidados, como Ronnie Milsap, Lee Greenwood, TG Shepard. T. Graham Brown, Exile, Restless Hearts… Es decir el country pop de gran éxito desde los primeros 60 a los 90 ha sido otro de los géneros musicales country perjudicados y abandonados por las compañías discográficas frente al huracán nashpop.
¿Quién asiste a los conciertos "country" mainstream en Estados Unidos?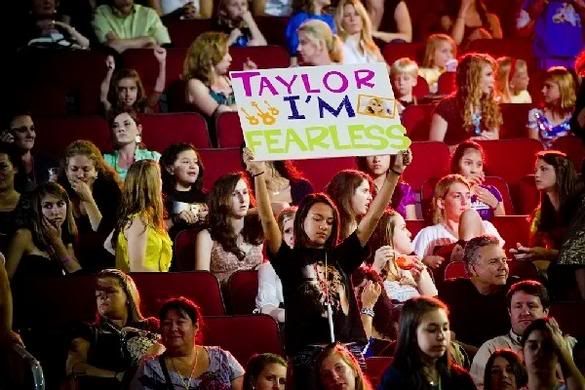 Nuestros colaboradores Antón García Fernández desde Tennessee y José María Cuenca, posiblemente el fan country con más CMA Fest a sus espaldas, nos confirman que el público mayoritario son mujeres adolescentes, prototipo fan. Ah! y algún papá acompañante.
¿Que ha pasado con los fans de la música country?
Sólo hay que pasarse por las redes sociales o YouTube para leer cientos de comentarios de fans country expresando su impotencia y su rabia sobre la música que suena actualmente en la radio americana.
¿Qué dicen los artistas country del nashpop?
Sólo hablan de ello los artistas consagrados que nada tiene que perder o los que trabajan en circuitos regionales o alternativos, que tampoco tienen nada que perder o directamente ya lo han perdido todo. Recopilamos algunos de sus comentarios:

* Merle Haggard lo llamó "Bad rock" (rock del malo).

* George Jones dijo: "Eso no es country".

* George Strait y Alan Jackson cantaron "Murder On Music Row" (asesinato -del country- en la industria musical). Algo olía mal para ellos en Nashville. Y no diré la palabra cochambre.
* Shooter Jennings, el hijo de Waylon Jennings, denunció recientemente la impostura de los falsos autoproclamados nuevos outlaws de Nashville en 'Outlaw You'. Para outlaw Waylon Jennings... dí que si.
* Hank III lleva años intentando reivindicar la figura de su abuelo en el Grand Ole Opry sin éxito mientras utilizan su figura como coartada continuamente.
* Billy Yates denunció el cliché de "demasiado country" en "Too Country" (y orgulloso de serlo)
* Joey + Rory denunciaron la manipulación discográfica en 'Play That Song'
* Artistas como Dale Watson o Hank Cockran huyen como de la peste de la etiqueta "country" que les identifique con Nashville. La mayoría han huido en masa al bluegrass como Patty Loveless o a la americana como hicieron Johnny Cash, Rosanne Cash, Emmylou Harris, Rodney Crowell... ¿Por qué? Hoy no hay lugar para ellos en la música "country" actual.
* Todo el que quiso pudo ver a W.C. Edgar cuando vino a actuar a España cantando 'Old School Survivor', una canción que rige los principios de su carrera: la auténtica música country. Un artista integro y honesto que no se anda por las ramas y que critica abiertamente el
establishment
de Nashville.
* Heather Myles cantó hace unos pocos años "Nashville´s Gone Hollywood" (Nashville se ha convertido en Hollywood) criticando abiertamente el cambio estilístico. Está llena de verdades como puños e, incluso, premoniciones:
Crecí en el campo: una buena dosis de Haggard y Jones,
Conway y Loretta, estaban siempre en la radio.
Pero todo cambió desde entonces, dicen que es para bien.
Pero creo que es una vergüenza que Nashville se haya convertido en Hollywood.
No necesitas una steel guitar en tu rock aguado
Y podrías encontrarte en la portada de Rolling Stone.
Parecerás muy elegante con tus ropas de diseño
Y no necesitarás el Opry, cantarás en el late night show de Jay Leno
Te pondrán en películas
Tendrás tu vídeo
Si eres joven y sexy
Estarás en la pomada
Venderás un millón de discos.
Oh, eso debe significar que eres bueno
Quita de ahí, Ernest Tubb
Nashville se ha convertido en Hollywood
Todavía actúo en Broadway y doy vueltas por la Music Row.
Esperando que algún día escuche mi canción en la radio
Pero dicen que soy demasiado country: no lo cambiaría aunque pudiera.
Porque creo que es una vergüenza que Nashville se haya convertido en Hollywood.